Local News
The NAACP convention is coming to Boston this week. Here's what to expect.
"We're doing everything we can to make sure that this convention is the most accessible convention that the NAACP has ever held."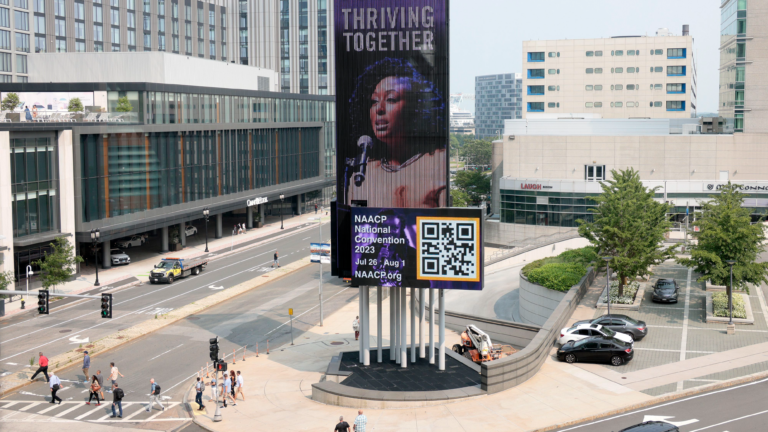 Boston will host the NAACP's 114th national convention this week from July 28 to 31. An array of panels, lectures, and workshops will celebrate this year's theme, "thriving together." Among the featured speakers are Vice President Kamala Harris, former Secretary of State Hillary Clinton, Rep. Ayanna Pressley, and rapper Meek Mill.
The annual convention is a time for NAACP members and locals alike to gather and discuss issues affecting the Black community today, from student debt and affirmative action to voter suppression and police brutality.
"Each year, NAACP members and friends gather at the Convention in a shared space that has proven vital for our collective growth and advocacy," NAACP President and CEO Derrick Johnson said in a press release. "Now more than ever, this sacred convening is crucial to our continued fight for the preservation of democracy."
The Afro-Academic, Cultural, Technological and Scientific Olympics, or ACT-SO for short, will precede and overlap with the convention from July 26 to 29. The ACT-SO offers a chance for high school students from across the country to present projects and performances across the arts and STEM subject areas for a chance to win scholarships.
Who is invited?
Everyone. The convention is for NAACP members and the Black community more broadly. But it's also open to other members of the public who want to participate, Boston NAACP President Tanisha Sullivan told the Boston Globe.
"Sometimes people hear the NAACP, and they think, 'Oh, that's not for me,'" Sullivan said. "We're doing everything we can to make sure that this convention is the most accessible convention that the NAACP has ever held."
Although some events are ticketed or limited to NAACP members, The Hub — an immersive experience showcasing Black art, culture and entrepreneurship — is free and open to the public from Friday to Sunday. A block party on Friday to celebrate its opening will feature DJ Jazzy Jeff, and Boston Mayor Michelle Wu will make an appearance.
Sunday afternoon's GospelFest, featuring local gospel artists including the Mayor's Gospel Choir, is also free and open to all.
Who is speaking?
Headlining the convention is Vice President Kamala Harris, the first Black woman to hold that office. Harris' visit to Boston is part of a month of speaking engagements meant to highlight the Biden administration's achievements and energize key Democratic voting blocs in the lead-up to the 2024 presidential election.
"We look forward to hearing from [Harris] on how the administration is enacting its commitment to addressing the issues that are top-of-mind for Black America," Johnson said.
Aside from Harris, the convention's speaker list is full of big names in politics, entertainment, business and the arts.
Rapper Meek Mill, Patriots CEO Robert Kraft and Harvard professor and historian Henry Louis Gates will sit down for a panel discussion on racism, white nationalism and antisemitism in the U.S. on July 30.
Former Secretary of State Hillary Clinton and U.S. Rep. Ayanna Pressley, who represents the 7th District in Massachusetts, will also speak. The complete convention schedule can be found here.
Workshops featuring leading advocates and policymakers will touch on subjects including environmental and climate justice, racial equity in veterans' affairs, and building Black political power through campaigns.
The Boston of it all
The convention will be hosted out of the Boston Convention and Exhibition Center at 415 Summer St. in the Seaport.
The city's tourism bureau, Meet Boston, is spending at least $350,000 to offset the cost of hotel rooms for out-of-town convention attendees, according to the Globe. And the state is contributing another $2 million to subsidize outreach and free, public events like The Hub. (The NAACP also has a host of corporate donors and partners for the convention.)
The last time the NAACP hosted its convention in Boston was over 40 years ago in 1982, when the city's violent resistance to school desegregation was a not-so-distant memory. Boston's reputation as a racist city dates back at least that far and persists today.
"I believe that we should not run away from our history but really lean into it as an opportunity to learn from it," Sullivan said on WBZ on Sunday. "What I am hoping is that we see more dialogue among residents and neighbors."
Newsletter Signup
Stay up to date on all the latest news from Boston.com