Local News
Motorcyclists, dirt bikers stop Leverett Connector traffic to do donuts
The group of about 40 riders brought traffic to a standstill and showed off some tricks before riding away.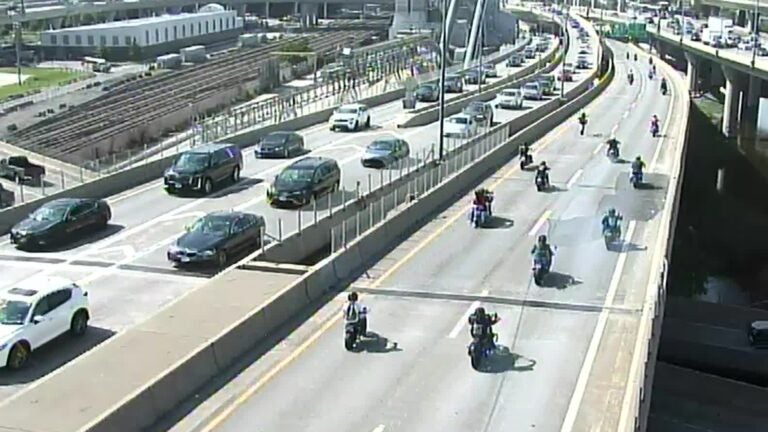 Dozens of riders on motorcycles and dirt bikes brought traffic on the Leverett Connector near TD Garden to a standstill Saturday afternoon.
A Massachusetts State Police spokesperson said troopers received several calls around 3:30 p.m. reporting that approximately 40 riders had stopped on the Leverett Connector Bridge, which connects Leverett Circle to I-93 and the Zakim Bridge and to Route 1 north in Boston.
"The stopped bikes were blocking both lanes while some riders did donuts," MSP spokesperson David Procopio said in an email.
Video obtained by WBZ shows some riders doing donuts or burnouts on the bridge as traffic backs up behind them. Eventually, the riders begin to roll out as the clip ends.
Another video released by the Massachusetts Department of Transportation shows several riders popping wheelies as they speed away.
State police said a trooper responded to the scene, but the riders had already left by then.
An unnamed rider in the biker community told NBC10 Boston that Saturday's incident was a "stunt scene" meant to demonstrate the need for local lots to ride in.
"Basically they're just saying that all of the lots that they ride are getting shut down by cops," the man told the news station. "And they have nowhere to ride, and all the cops just think that they just want dirt bike trails, dirt trails. No one wants that. They want stunt lots, pavement. … Cops won't let us ride the stunt lots so we just take it to the streets."
Watch the MassDOT video of the motorcyclists leaving:
Newsletter Signup
Stay up to date on all the latest news from Boston.com