Local News
Ticket purchased in Somerville yields state's first-ever $25 million instant winner
The odds of winning one of the two remaining $25 million prizes are 1 in 10,080,000.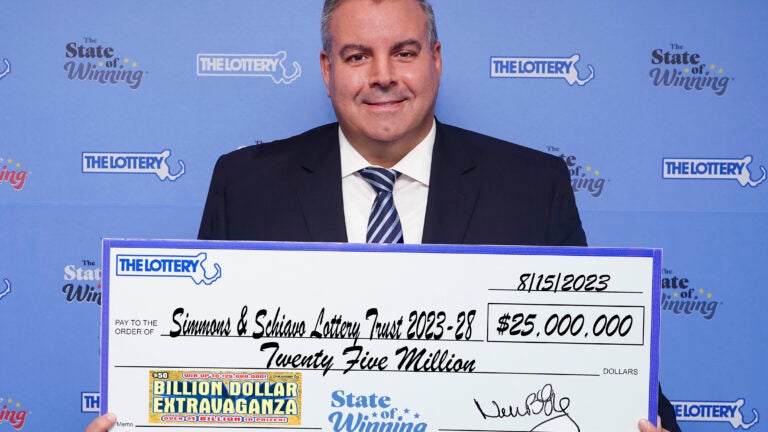 The Massachusetts State Lottery just awarded its largest-ever prize for an instant "scratch and win" game to Simmons & Schiavo Lottery Trust 2023-28 of Woburn. Trustee Marco Schiavo claimed the $25 million grand prize for the "Billion Dollar Extravaganza," a $50 scratch-off game, on Tuesday on behalf of his client.
It's not uncommon for big lottery winners to collect their prize money in the name of a trust in order to keep their identities secret. The Massachusetts Lottery requires winners to be photographed when they collect their winnings, so to avoid unwelcome publicity, some opt to create a trust and send a trustee to collect the payout in their place.
Schiavo, the trustee in this case, said his client plans to use their winnings on real estate and other investments. They chose a one-time cash payment on their prize, receiving $16,250,000 before taxes.
With one $25 million grand prize in the "Billion Dollar Extravaganza" game off the table, there are two left. The likelihood of winning one of the remaining prizes is 1 in 10,080,000, according to the Mass. Lottery's website.
These odds may be astronomical, but the chances of scoring a humbler payout playing "Billion Dollar Extravaganza" are much better: 1 in 4.55 for a $100 prize and 1 in 4.1 overall. The game has an 82% prize payout and offers $1.2 billion total in prizes, both record highs for the Mass. lottery.
The winning ticket was sold at the Speedway at 709 McGrath Highway in Somerville, which will receive a $50,000 bonus from the lottery for the sale.
Newsletter Signup
Stay up to date on all the latest news from Boston.com