Local News
MBTA announces September service disruptions to Red Line, Commuter Rail
Trains on the Red Line and various Commuter Rail lines will be replaced by shuttle buses at times over the next month.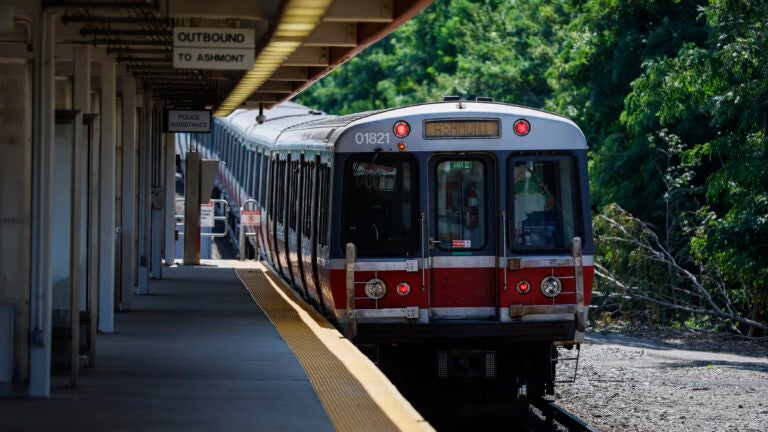 MBTA officials announced a rash of service disruptions this week that will impact those trying to get around the city over the next month. Notable changes will affect the Red, Green, and Orange lines, as well as the Commuter Rail.
Red Line
In order for workers to repair rail tracks on the Red Line's Braintree Branch, shuttle bus service will replace subway service between North Quincy and Braintree stations during some weeknights.
The buses will run from about 8:45 p.m. through the end of service from Sept. 5-7, Sept. 12-14, and Sept. 19-22. Buses will also run instead of train service on this portion of the T all day during the weekend of Sept. 23-24.
Red Line trains running between Quincy Center and Braintree stations will be replaced with shuttle buses beginning the night of Sept. 8 and through the following weekend, until the end of service on Sept. 10.
Shuttles will also replace service between Broadway and Ashmont stations and between Broadway and North Quincy stations all day on the weekend of Sept. 30. This is being done so that workers can access the Savin Hill Avenue and Dorchester Avenue bridges, inspect tunnels on the Ashmont Branch, and install lighting at JFK/UMass Station.
Last week, the T announced that the Red Line's Ashmont Branch and Mattapan Lines will be closed for large portions of October so that some of the serious speed restrictions can be addressed.
About 31% of the Red Line remains under speed restrictions as of Tuesday, according to the T's speed restrictions dashboard. This amounts to 14.8 miles of track.
Commuter Rail
The Kingston, Middleborough, and Greenbush Commuter Rail lines will all be affected by the service changes.
Shuttle buses will replace trains between South Station and Braintree beginning at 7:30 p.m. on Sept. 5-7, Sept. 12-14, and Sept. 19-22. Service will be disrupted all day during the weekends of Sept. 9-10, Sept. 23-34, and Sept. 30-Oct. 1.
Shuttles will also run directly between South Station and Braintree Station.
Regular Commuter Rail fares will be collected between Kingston, Middleborough, Greenbush, and Braintree stations.
Shuttle buses will run on the Newburyport/Rockport Line between Swampscott Station and North Station on the weekend of Sept. 9-10. Crews will perform work on a platform at Lynn Station.
There will be no service at Chelsea Station during this time, and passengers are being urged to use the Silver Line 3 route. Regular Commuter Rail service will still be in place between the Rockport and Swampscott stations.
The Haverhill Line will be significantly impacted over the next few months. Shuttles will replace trains between Ballardvale Station and North Station for 58 days from Sept. 9 through Nov. 5. This is being done so that the MBTA can improve its Automatic Train Control system, which sends signals between trains about unsafe conditions and automatically slows or stops trains if needed.
Orange and Green lines
As a result of the ongoing demolition of the Government Center Garage by a private developer, the Orange and Green lines will be impacted all day from Sept. 18-Oct. 12.
During this time, Orange Line trains will bypass Haymarket Station. Green Line trains will not run between North Station and Government Center. Accessibility vans will be available for riders that need on-demand transportation.
As of Tuesday, 22% of the Orange Line remains under speed restrictions, amounting to about 5 miles of track. The speed restrictions are also in place on 22% of the Green Line, which equals just over 12 miles of track.
Across the entire subway system, 26% of track, or 36 miles, remains under speed restrictions. Over the past 30 days, 30 restrictions have been put into effect while 23 have been cleared, amounting to a net gain of seven restrictions throughout the whole system.
Newsletter Signup
Stay up to date on all the latest news from Boston.com