Local News
Giant inflatable ducks are floating in a Maine harbor, and no one knows where they came from
They are named Joy, Greater Joy, and Greatest Joy.
Inflatable ducks are spreading joy at a Maine harbor and still no one knows who's responsible for it.
In 2021, someone placed a giant inflatable duck in Belfast Harbor with "Joy" printed in black letters across the front.
"It was kind of magical," Scott Smith of the Belfast Area Chamber of Commerce told News Center Maine. "It brought a lot of attention to the harbor. It brought a lot of visitors. It brought a really positive feeling that everyone could see this and enjoy it."
"I truly have no idea who's behind it," Dorothy Havey, executive director of the Belfast Area Chamber of Commerce, told The Boston Globe. "They come in under the cover of darkness and disappear the same way."
This year, Joy is accompanied by two more ducks: Greater Joy and Greatest Joy. They first appeared on August 28.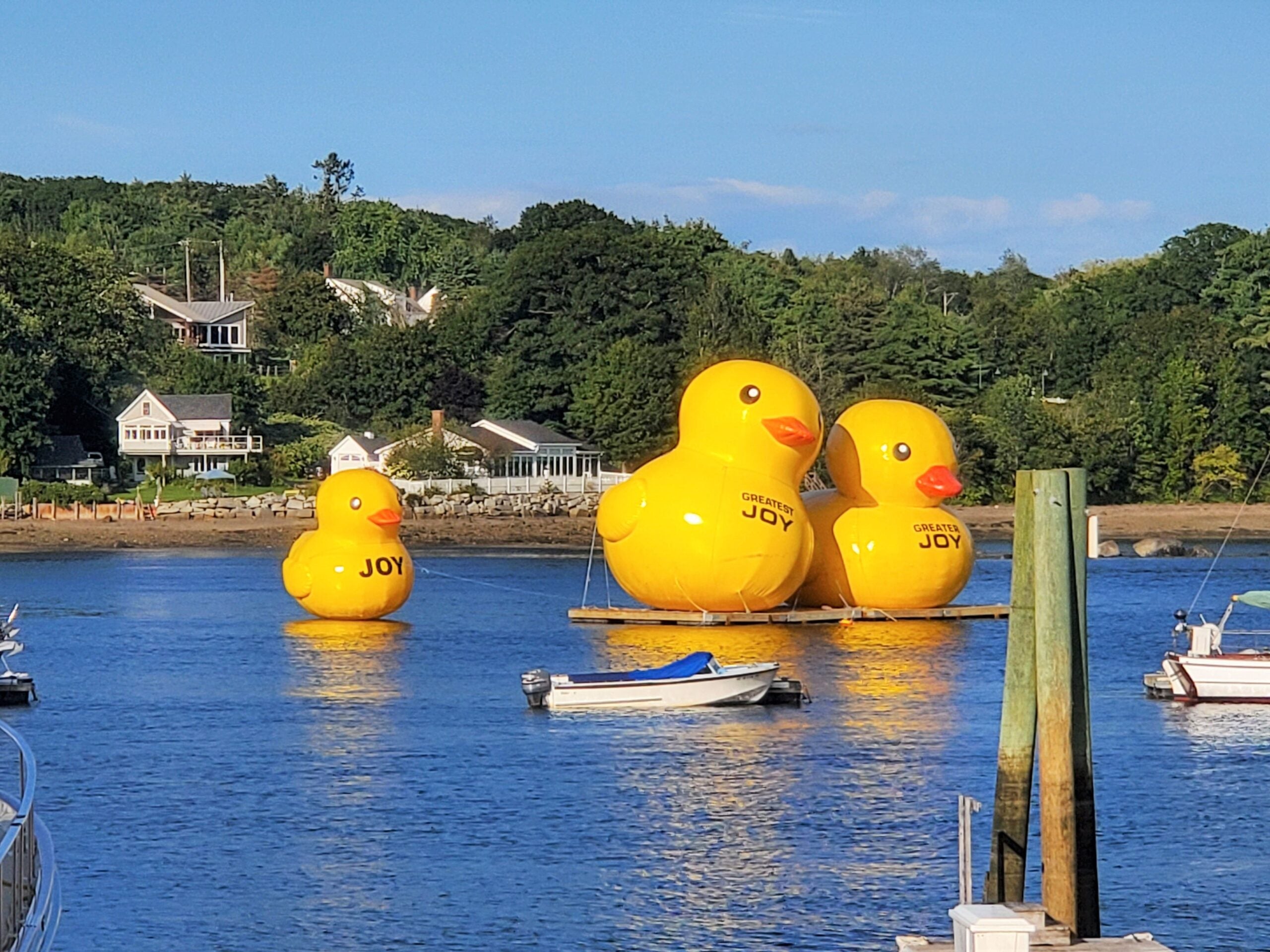 The chamber is having fun with the mystery, even channeling rapper Eminem on its social media account.
"Guess who's back, back again? JOY is back! Tell a friend! And it looks like Mom and Dad have joined her too!" the chamber wrote on social media.
And duck fever has spread throughout the area.
Local artists and photographers have been photographing and painting the ducks. Businesses are getting in on the fun: Splendiferous Sweet Shoppe in Searsport has baked "Joy Duck" cookies and noted on its social media account that they're "going fast!"
Tiny rubber ducks have been spotted around town, in store windows and on top of gas pumps — all inspired by the inflatables, Smith told CNN. The chamber has even featured the ducks on the cover of its 2023 Belfast regional guide.
For those seeking a selfie with the joyous ducks, time is of the essence. The ducks aren't expected to stick around long: They make their swift exit after just a few weeks, according to News Center Maine.
Need weekend plans?
The best things to do around the city, delivered to your inbox.