Local News
Climate protest prompts closure of Isabella Stewart Gardner Museum, again
The same group behind the protest that closed the Gardner Museum on the anniversary of its infamous art heist had planned a "peaceful field trip" to the museum Thursday.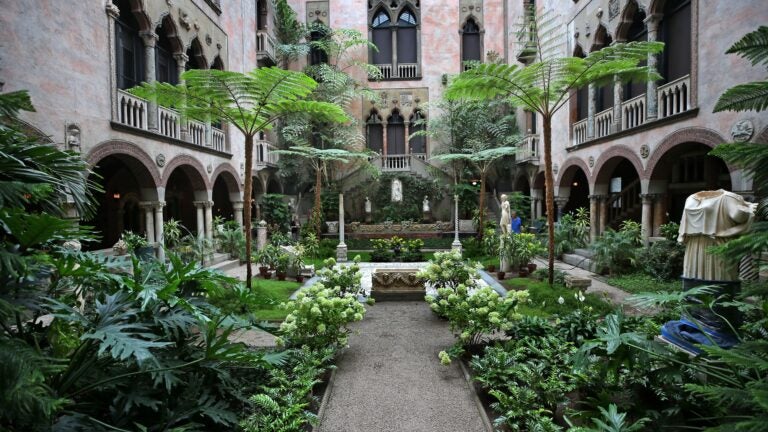 For the second time this year, the Isabella Stewart Gardner Museum closed its doors as climate activists planned a demonstration inside the museum.
The Gardner Museum closed early and cut its "Free First Thursday" event short due to a "planned protest by climate activists that would put our community and collections at risk," museum director Peggy Fogelman wrote in an email to patrons.
The museum resumed regular hours on Friday and offered Thursday evening ticket holders the chance to receive a free voucher to visit at a later date.
The Boston chapter of environmental movement Extinction Rebellion had planned a "regenerative visit" to the museum for 5 p.m. Thursday. XR Boston was also behind a thwarted protest that prompted the Gardner Museum to close on the 33rd anniversary of its infamous art heist back in March.
On its website, XR Boston described Thursday's planned demonstration as a "peaceful field trip."
"We will not be disrupting the museum, its visitors, its staff, or its collection," a disclaimer on the event page reads. "We will be enjoying the museum with reserved tickets like any social group."
In her email, Fogelman wrote that the group — which she did not name — "sought to insert their own artworks into the empty frames in the Dutch Room as one element of their protest."
The frames, "important and fragile historic objects in their own right," memorialize the masterpieces stolen in 1990, Fogelman explained.
"It is heartbreaking to associate the painful reminder of this loss with any scenario that would jeopardize the frames themselves or the experience of our staff and visitors," she wrote.
However, XR Boston Media & Messaging Director Jamie McGonagill clarified that the group didn't plan to put art in the empty frames during Thursday's demonstration, which was intended to raise awareness of biodiversity loss.
"For the originally-planned demonstration on March 18, participants planned to hang original art in the Gardner museum's empty frames, after researching how to accomplish this action with no damage to museum property," McGonagill explained in an email to Boston.com. "The museum responded by closing their doors."
This time around, the group said it planned to "reveal our art on our T-shirts" and use the museum as a "space of public discourse."
The event planned for Thursday was intended "to allow members of our community to experience the Gardner Museum's collection while discussing the parallels and divergences of loss between the 13 paintings stolen during the Gardner heist in 1990 and the loss of over 1 million species since that day," McGonagill explained.
She added: "This event was, publicly and honestly, planned to be in no way destructive to the museum, its collection, its staff, or its guests. We do not understand the museum's decision to close their doors citing our organization without reaching out to us beforehand, or without properly reading our website material on the event."
XR Boston: Gardner is a 'conversation-starter'
Climate activists all over the world have been targeting art museums and famous masterpieces in recent years, throwing soup on a Van Gogh, splashing oil and smearing paint on works by Klimt and Degas, gluing their hands to a Monet, and staging a die-in on the steps to the Metropolitan Museum of Art.
Yet McGonagill emphasized that the Gardner Museum is not, and never will be, a target of protest for XR Boston.
"The Gardner museum simply serves as a conversation-starter, because Isabella Stewart Gardner dedicated so much of her life to protecting other species on our planet, and because the museum is a place where our society openly discusses loss after the heist of 13 paintings in 1990," McGonagill wrote.
In her email Thursday, Fogelman wrote that the Gardner Museum's founder and namesake "made horticulture a central part of the museum experience, and she valued conversation and the free exchange of ideas."
"While we may support constructive efforts to address and elucidate the climate crisis – as do many of the artists featured in our current exhibition, Presence of Plants in Contemporary Art – public discourse entails respectful dialogue in which participants engage by choice," Fogelman added. "We cannot condone tactics that impose risk and confrontation on audiences and objects."
For its part, XR Boston said it hopes to harness the attention and fervor that has surrounded the museum's notorious heist, and apply it to the conversation around the climate crisis.
"Our culture's understanding of loss and grief is so limited that we are able to enthusiastically discuss this small disappearance, but willfully ignore the rapid and irreversible disappearance of our livable future," McGonagill wrote.
Newsletter Signup
Stay up to date on all the latest news from Boston.com