Local News
The 'One Chip Challenge' strikes again: Holliston middle schoolers sickened
The seventh grade students experienced physical distress from the super-spicy tortilla chip, school officials said.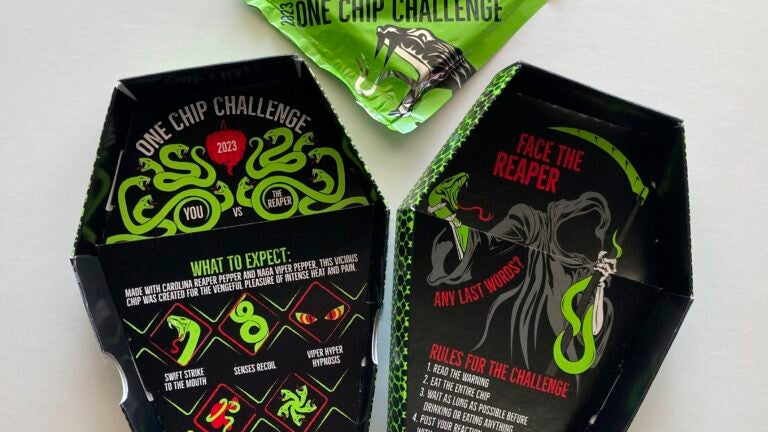 A group of middle school students in Holliston were picked up from school early on Monday after taking the "One Chip Challenge" and experiencing physical distress due to the extremely spicy tortilla chip.
David Jordan, principal of Robert Adams Middle School, said in a message to families Monday that about 10 students participated in the social media challenge, which dares people to eat a chip seasoned with some of the hottest peppers in the world.
"This was discovered immediately due to the physical distress the chip created for all of the students involved," Jordan wrote.
School nursing staff monitored the students, whose families picked them up immediately, he said. The nurse also recommended that the seventh graders go to the emergency room.
The incident in Holliston comes just weeks after Harris Wolobah, a 14-year-old Worcester boy, reportedly participated in the viral challenge and died hours later. Autopsy results are pending, though his family believes he died of health "complications" from eating the chip.
Paqui, the company behind the "One Chip Challenge," later announced it would pull the product from retail shelves and offer refunds "out of an abundance of caution."
In a statement posted to its website, the company said its product is "intended for adults only, with clear and prominent labeling highlighting the chip is not for children or anyone sensitive to spicy foods or who has allergies, is pregnant or has underlying health conditions."
According to the National Capital Poison Center, capsaicin — the compound that gives chili peppers their kick — often results in mouth irritation, pain, or burning, as well as intestinal discomfort.
However, the poison control center also notes that capsaicin consumption can cause more serious health problems, including shortness of breath, allergic reactions, chest pain, heart palpitations, and even heart attacks or strokes.
While none of the Holliston students who participated in the "One Chip Challenge" became seriously ill, "This challenge is a serious health and safety concern for our students, so we ask that students not bring these Paqui chips into school buildings and that families communicate with their children about this serious safety concern," Superintendent ​​Susan E. Kustka told families.
Jordan noted that the viral challenge "is another example of one of the highly risky, and sometimes life threatening, Tik Tok challenges that middle schoolers are particularly vulnerable to participating in due to their age-related development and interests."
He added: "I ask that all families please speak to their children about the risks of 'challenges' of this nature and be aware that your child may have or may be considering participating in a challenge such as this."
Newsletter Signup
Stay up to date on all the latest news from Boston.com