Local News
Reminder: Closures, bypasses in effect on Green and Orange lines
The Union Square branch will be closed for 25 days, as will a portion of the Green Line between Government Center and North Station.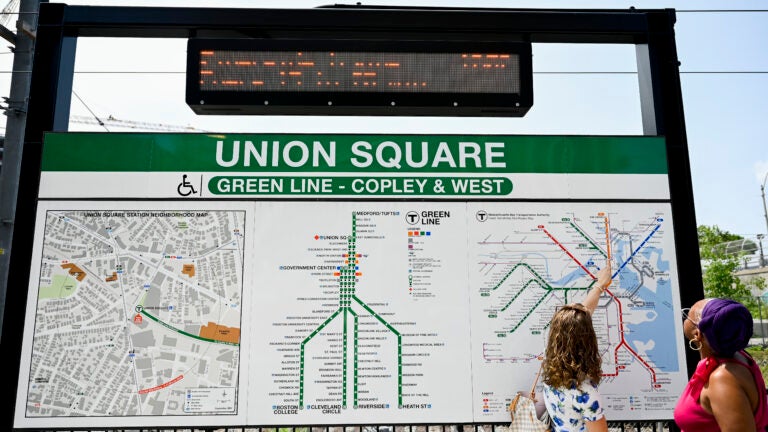 A partial Green Line shutdown kicked off on Monday with a 25-day closure of the Union Square branch between Cambridge and Somerville.
The MBTA previously said the closure will allow the Massachusetts Department of Transportation to make critical repairs to Squires Bridge, which runs over the tracks near Union Square.
The Green Line Extension branch, which opened in March 2022, will remain shuttered through Oct. 12. The bridge work was initially supposed to begin in July and last 42 days, though the Healey administration later postponed the project and changed the timeline after blowback from local officials.
For the most part, T riders will need to find an alternate route while the Union Square branch is down — the MBTA won't be running daily shuttles in lieu of trains.
The agency instead encouraged riders to lean on nearby bus routes. According to the T, the 86, 91, and CT2 bus routes travel between Union Square and East Somerville Station on the Green Line's Medford branch, while the 87 bus goes from Union Square to Lechmere.
MassDOT will, however, run three shuttle buses between East Somerville and Union Square for the Fluff Festival on Sept. 23.
Work on the Union Square branch coincides with another Green Line closure between North Station and Government Center. The portion of track will be down through Oct. 12 due to the ongoing Government Center garage demolition, which will also impact the Orange Line at Haymarket Station.
With Green Line service suspended between three stops and the Orange Line bypassing Haymarket in both directions, the MBTA is asking riders to walk instead.
According to the T, Orange Line riders should exit at North Station or State and make their way to the Haymarket area on foot. Green Line riders are looking at about a 13-minute walk between Government Center and North Station, though they can also switch to the Orange Line via the Winter Street Concourse between Park Street and Downtown Crossing.
And for those who can't make the journey on foot, the MBTA is offering accessibility vans on-demand. Riders can ask MBTA personnel at the station for assistance, according to the T.
Newsletter Signup
Stay up to date on all the latest news from Boston.com