Local News
'Failure of the federal government': Healey maintains pressure for shelter help
To deal with an overburdened emergency shelter system, Gov. Maura Healey is asking federal officials for funding and expedited work authorizations.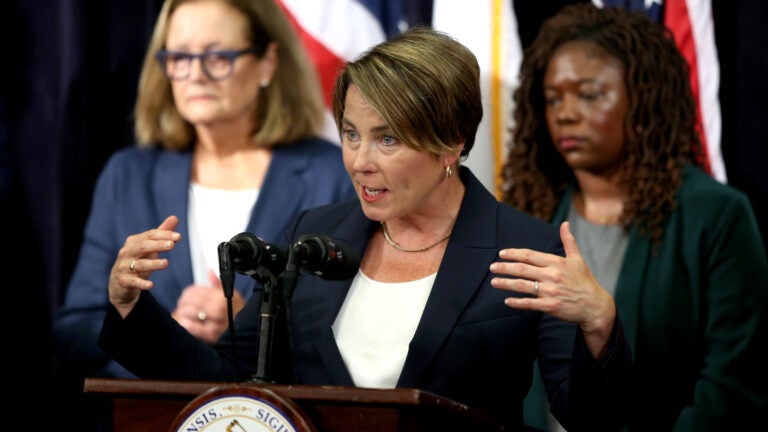 Gov. Mauara Healey kept up pressure on federal officials Wednesday, continuing to call for actions that she says will help Massachusetts deal with an overburdened emergency shelter system.
"This is a failure of the federal government and we need resources," Healey said on WBUR's Radio Boston.
Specifically, Healey is calling on the Biden administration to distribute more federal funds and accelerate the work authorization process for new arrivals. Healey declared a state of emergency in early August, saying that a surge in migrants coming to the state combined with the ongoing housing crisis has put immense strain on the emergency shelter system.
Healey said Wednesday that there are about 22,000 people in the shelter system, including about 10,000 children. Roughly half of all the people in the system are new arrivals, she added, up from a third being new arrivals earlier this year. Between 30 and 40 families arrive in the state daily, she said.
At the end of August, Healey activated up to 250 members of the Massachusetts National Guard to help those working at shelters provide food, medicine, transportation, and other basic needs. The state has also created two new "family welcome centers" in Quincy and Allston, as well as a temporary shelter on Joint Base Cape Cod.
Healey stressed the importance of streamlining the work authorization process multiple times during her interview Wednesday morning with WBUR host Tiziana Dearing.
"We've given them exactly what they need to do," Healey said, referring to her correspondence with officials like Secretary of Homeland Security Alejandro Mayorkas. The specifics of how work authorization could be sped up were detailed in a letter sent to Mayorkas earlier this month.
In the letter, Healey said that tens of thousands of jobs in Massachusetts were going unfilled as new arrivals who desperately wanted to work were stymied.
"It's common sense. We've got a workforce crisis," Healey told Dearing. "We have people who are desperate to put people to work today, and we have people who are desperate to work today… isn't it in our interests both as a state and as a nation to make sure people are plugged in, and set up, and are able to get to work?"
Last week, Healey included a request for $250 million to help the shelter system in a $2.15 billion supplemental spending bill. But on Tuesday House Speaker Ronald Mariano cast doubt on whether lawmakers would support it without more information from Healey and her team.
"We're looking to get hard numbers, and it's very difficult for them to give us hard numbers," Mariano said following a meeting with Healey and Senate President Karen Spilka, according to The Boston Globe. "We know how many there are now, today. We don't know how many there will be tomorrow."
Healey said Wednesday that the Legislature has been very supportive of her efforts and that she is working closely with lawmakers to get the necessary money. Instead of expounding on those details, she called out the federal government for its lack of action.
Joining Healey in the push for speedier work permits is a collection of statewide and regional organizations including the Massachusetts Business Roundtable, the Greater Boston Chamber of Commerce and MassBio. A total of 21 organizations signed a joint letter to Mayorkas Monday, Boston Business Journal reported. They cited the state's low unemployment rate and said that employers are struggling to find talent and fill positions of need.
Newsletter Signup
Stay up to date on all the latest news from Boston.com