Local News
Climate activists arrested after disrupting rush hour traffic in downtown Boston
The Extinction Rebellion members called for a ban on new fossil fuel infrastructure in Massachusetts.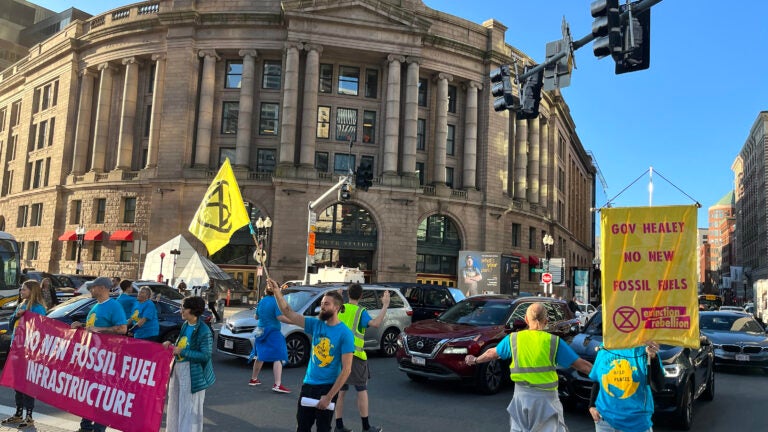 Several climate change activists were arrested after disrupting rush hour traffic in downtown Boston Thursday morning as part of a push to ban new fossil fuel infrastructure.
The Boston chapter of Extinction Rebellion said more than 35 activists shut down traffic in the Financial District early on Thursday, with groups marching in the street and creating traffic gridlock near South Station.
The same group was behind a planned demonstration that recently prompted the Isabella Stewart Gardner Museum to close early on Sept. 7.
XR Boston explained in a press release that it is calling on Gov. Maura Healey to commit to a policy opposing new fossil fuel infrastructure in Massachusetts and to work with state legislators to introduce a permanent ban.
"When you find yourself stuck in a hole the first step is to stop digging," XR Boston organizer Alex Chambers said in a statement. "I don't understand why the Governor and her Climate Chief are not taking the first step to dealing with the climate emergency. As a young person, my entire future is riding on our government taking action this decade, and not waiting until 2050."
On social media, Boston police acknowledged traffic impacts near South Station and asked drivers to seek an alternate route.
A Boston Police Department spokesperson confirmed several people were arrested in connection with the protest, telling Boston.com shortly after 8:30 a.m. that traffic was flowing.
XR Boston wrote an open letter to drivers impacted by Thursday's demonstrations, offering an apology and an explanation.
"We gave you a bad morning. We made you late to work, or to a dentist appointment, or to an interview. Whatever you needed to do this morning, whatever you got up early for, we got in your way," XR Boston wrote. "We all had a difficult day today, because we think it will make a better tomorrow."
The organization cited some tangible effects of climate change, including disastrous flooding in Vermont and lethal heat in Phoenix over the summer. XR Boston said it has also brought its concerns directly to lawmakers, but asserted that disruptive protests are a more effective way of getting their message across.
"We don't enjoy spending our mornings in front of cars, but we're blocking these roads because it's proven to be the best way to actually change how our society approaches this disaster," XR Boston said.
Newsletter Signup
Stay up to date on all the latest news from Boston.com