Local News
Officials want to replace the Tobin Bridge, starting with a study
MassDOT also approved $109 million in maintenance to the bridge, which sees about 87,000 trips a day.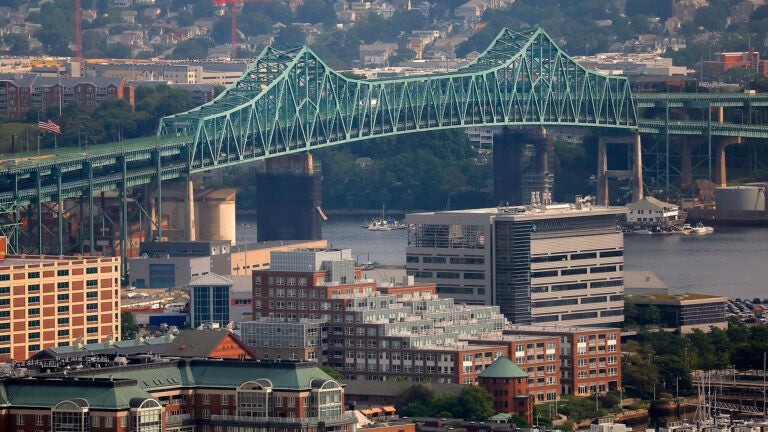 With several other major transportation projects underway, state officials are also setting their sights on the Tobin Bridge, with an eye towards updating — or even replacing — the infrastructure of the busy roadway.
Acting Transportation Secretary Monica Tibbits-Nutt said during a MassDOT meeting Wednesday that the Healey administration wants to first study replacement options for the bridge, which connects Chelsea to Charlestown over the Mystic River. As early as Friday, the state will release a request for proposal for a transportation planning and engineering consultant to review replacement options.
"The time is now," said Tibbits-Nutt, who emphasized to the MassDOT directors that this degree of redesign should be considered now while the Tobin Bridge is still in good shape. "We need to be taking the steps needed with the planning and engineering decisions to replace the Tobin Bridge with a similar, but also an alternative, infrastructure."
But actual changes won't happen for years. The study, once approved to move forward, could take two years and will include a public engagement process. That could involve stakeholders from the city of Chelsea, the city of Boston, Massport, U.S. Army Corps of Engineers, U.S. Coast Guard, as well as advocacy groups and community organizations.
For now, the MassDOT board approved over $109 million in structural cleaning and painting and steel and concrete repairs to the Tobin Bridge.
The two-mile bridge is over 70 years old and sees a daily average of 87,000 trips during the week, the State House News Service reports. MassDOT did structural repairs on the Tobin as recently as late spring, and closed lanes of traffic from 6 p.m. to 5 a.m.
It isn't immediately clear when the newly approved repairs will begin. Replacement of the Tobin, if and when it moves forward, would join several other big infrastructure projects ongoing in Massachusetts, including Sumner Tunnel repairs and the I-90 Allston project.
Readers: How do you feel about the 'eventual replacement' of the Tobin Bridge?
Newsletter Signup
Stay up to date on all the latest news from Boston.com