Local News
'The status quo is not acceptable': MBTA shuts down contractor work amid safety concerns
Last week, the Federal Transit Administration flagged several recent "near misses" where MBTA workers were almost struck by oncoming trains.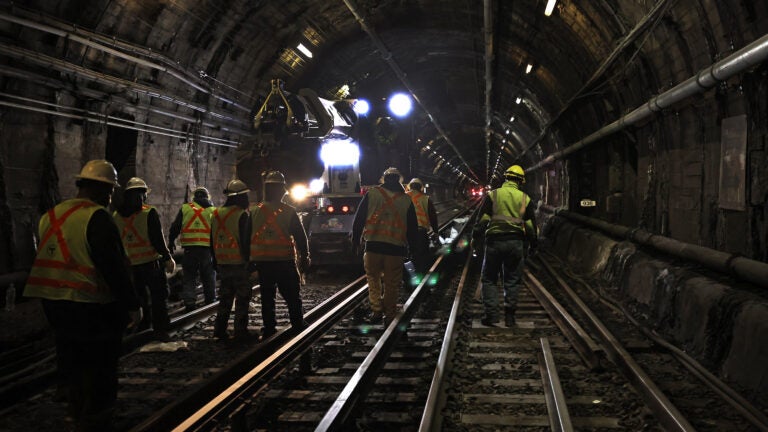 The MBTA has temporarily put some of its contractor work on hold amid several recent incidents where workers were almost struck by oncoming trains.
On Wednesday, the transit agency ordered a 48-hour pause on work that is not taking place inside an established diversion area, citing worker safety.
"The MBTA is working to establish more rigorous levels of protection for work crews on our rights of way," the T said in a statement. "The first priority is to ensure safety for our internal workforce supporting critical inspections and maintenance."
The pause is set to expire later on Friday. An MBTA spokesperson said there will be contractor work this weekend, with shuttle buses replacing Red Line trains between JFK/UMass and Braintree stations beginning around 8:45 p.m. on Friday and lasting through the end of service on Sunday.
The 48-hour pause comes a week after the Federal Transit Administration ordered the MBTA to take immediate action after several recent incidents where oncoming trains almost crashed into workers on the tracks. The latest close call happened on Monday, when a Red Line train reportedly ignored a stop signal and blew past some track workers at 25 mph, The Boston Globe reported.
In a letter to MBTA General Manager Phil Eng, the FTA said it "has determined that a combination of unsafe conditions and practices exist such that there is a substantial risk of serious injury or death of a worker."
Gov. Maura Healey reportedly met with the head of the FTA on Tuesday and described the near misses as "unacceptable" during an appearance on WBUR's "Radio Boston" this week. She also voiced confidence in Eng's ability to get the T back on track, according to a State House News Service report.
Eng said in a statement that the T is committed to workplace safety.
"The status quo is not acceptable, and we will continue to focus on the safety of our riders and employees," he said. "As general manager, it is my job to ensure our employees have the appropriate tools, clear direction and resources to enable them to successfully perform their functions."
Eng added: "We are rebuilding and reorganizing the workforce, top to bottom, to ensure we have the right people in place at all levels to implement the changes required to bring meaningful, long-lasting systemic solutions."
Newsletter Signup
Stay up to date on all the latest news from Boston.com