Local News
Explaining the 'stuffie,' a uniquely Rhode Island food that's trying to attract tourists
The stuffed quahog is part of Rhode Island's latest campaign to draw in new visitors. But what exactly is a stuffie?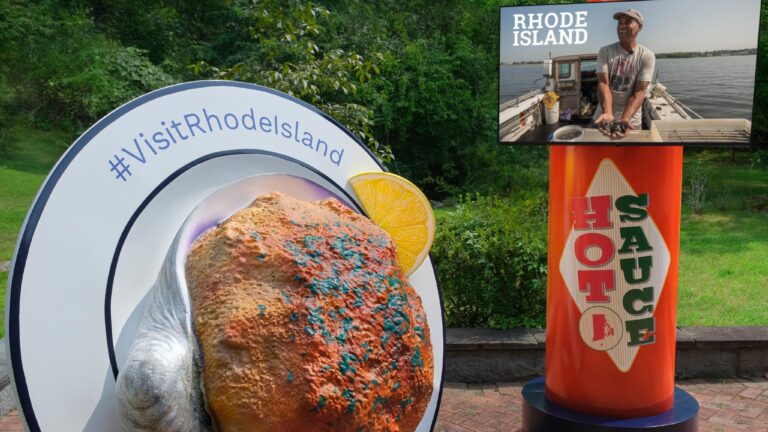 Massachusetts is known for its seafood. More specifically, clam chowder, fried clams, and oysters, and the food is just one of the reasons why millions of visitors come to the Bay State every year.
But what about the rest of New England? Like, Rhode Island, for example? Also known for its seafood scene, a food that might come to mind is calamari, the state appetizer that's tossed with hot peppers.
Instead of capitalizing on that dish's reputation, the Rhode Island Commerce Corporation is using a food in its recent campaign that is uniquely Rhode Island.
The "stuffie."
In an attempt to draw in visitors to Rhode Island, the agency responsible for statewide economic development created a campaign starring a whopping 200-pound version of the stuffed quahog. It's made of styrofoam, and it sits on a large plate next to an 8-foot-tall bottle of hot sauce. The agency had two of them made by local company Lance Industries.
The stuffie, which is making its way around parts of the country that offer flights to and from Providence, has been subject to some online criticism by the agency's strongest detractors — Rhode Islanders themselves.
"We have a great culinary scene and having a giant baby pooh on a clam is not going to bring in more tourists," one commenter said below a Boston Globe article.
When it comes to looks alone, these oven-baked clams aren't the most attractive plate of food, though Stephen Bucolo, president of Anthony's Seafood in Middletown, thinks they make up for it in taste.
His business, which includes a restaurant, a seafood market, and wholesale, sells plenty of stuffies (though they sell a lot more of their calamari appetizer). Often they're asked to explain what a stuffie is.
"Outside of Rhode Island, very few people know what they are," he said. "When they ask, we say stuffed quahog, and then they ask what a quahog is."
Anika Kimble-Huntley, the chief marketing officer of the Rhode Island Commerce, said that's part of the point of the campaign. They want people in their target markets — Los Angeles, Detroit, Atlanta, and Baltimore — to ask about the stuffie. And they are, she added.
"I think it's great that people are talking about it," Kimble-Huntley said. "We want people to talk about it. That's really what the goal is, to create buzz and to raise awareness of the unique cuisine in Rhode Island."
Kimble-Huntley said they have ambassadors on site to explain the beloved stuffie to passersby and to pump them up about a potential Rhode Island trip. There's also a video screen next to the stuffie that shows people how they're made, from clamming to cooking.
So, what is a stuffie?
Outside of the boundaries of the country's smallest state, stuffed quahogs really aren't a widely-known (or eaten) food. They show up on some menus in southeastern Massachusetts, mostly near waters where quahogs are found (like Buzzards Bay), which is the clam used when making a "stuffie."
But quahogs are found in abundance in Narragansett Bay in Rhode Island. Shellfish culture is important in Rhode Island, its industry worth hundreds of millions, and recreationally people enjoy clamming.
They also, obviously, really enjoy eating the catches.
Bucolo sells nearly 600 stuffies a week during peak summer season, he said. It helps that his stuffies were advertised on "Diners, Drive-Ins, and Dives;" it also doesn't hurt that not many people serve them.
But when they are on the menu, they're usually always a different take on the stuffie.
"The reason it's so beloved here is that every family makes it their own way," Kimble-Huntley said.
Aside from the quahogs, the recipes usually call for peppers, onions, the Portuguese sausage chourico, a breading, and reserved clam juice. You can opt for a different kind of sausage — or not use one at all, and people use various breadings to put in their stuffie dish, like sourdough, Portuguese sweet bread, bread crumbs, or croutons.
Bucolo, who uses his grandmother's recipe, puts the latter in his stuffies.
After the clams are steamed, chopped, and mixed in with the other ingredients, you bake it all together. Many serve it with hot sauce drizzled on top, but you can also use melted butter in the same way.
Bucolo said the dish is really popular during the summer months, an appetizer of choice for a football game watch party, and it pairs well with an ice-cold beer.
Now back to this giant stuffie. There is actually a chance for some Bay Staters to view the stuffie (or, as one Reddit user called it, a "creature from Star Trek") in person at this year's Big E in West Springfield.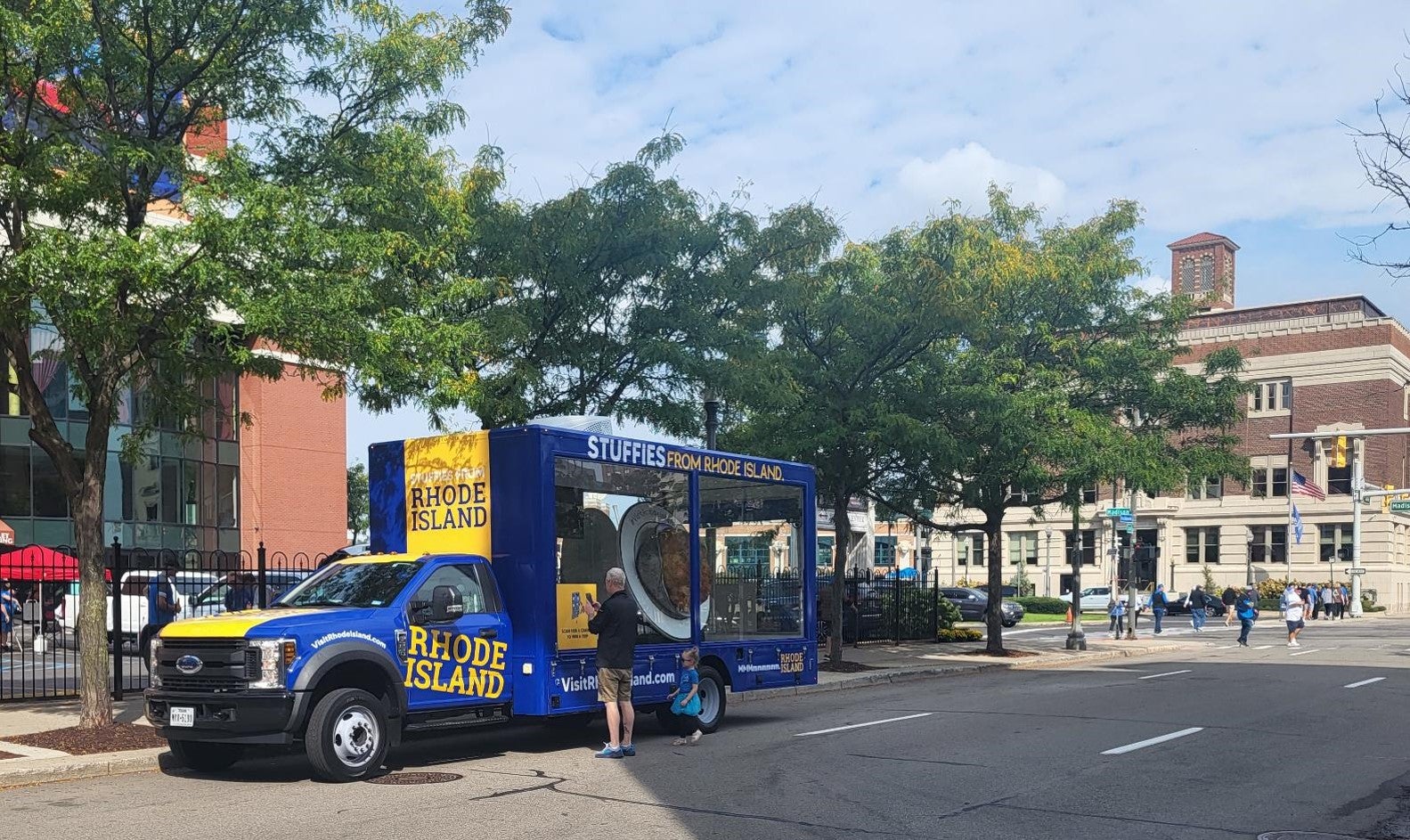 Kimble-Huntley said the stuffie will be stationed in front of the Rhode Island Building.
The second stuffie is currently being driven around Michigan and Ohio, attempting to entice residents there to visit Rhode Island via Detroit's airport.
The stuffie will eventually journey to Los Angeles, where it will join another Rhode Island-specific installation of a Newport mansion, as well as Atlanta and Baltimore.
Newsletter Signup
Stay up to date on all the latest news from Boston.com