Local News
Watertown police investigate 'hate' note left on Armenian church's bulletin board
The note, left at St. Stephen's Armenian Apostolic Church, reads "Artsakh is dead, Karabakh is Azerbaijan."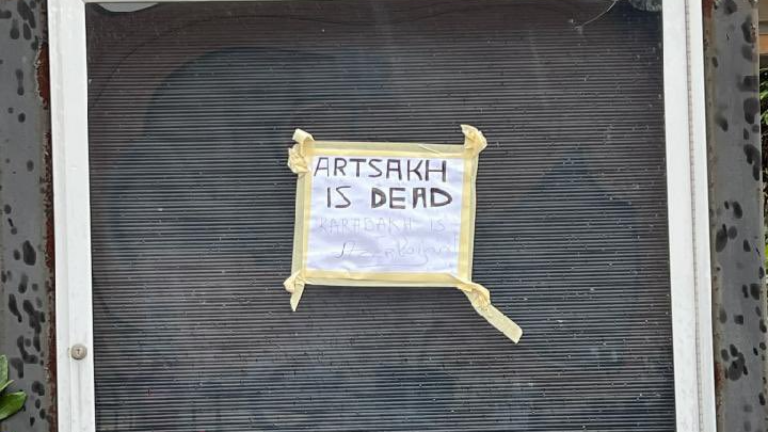 Watertown police said Monday they are investigating a note left on an Armenian church's bulletin board that the church characterized as hateful.
Police were called to St. Stephen's Armenian Apostolic Church on Elton Avenue Monday morning to investigate a "suspicious note," the department wrote on Facebook. The note, which was taped to the church's message board, reads "Artsakh is dead, Karabakh is Azerbaijan."
"Hate towards Armenians is everywhere. Stay vigilant. We cannot let this deter our fight for survival and justice," the church wrote on Facebook.
The note's message is a reference to disputed territory in the Nagorno-Karabakh region in the South Caucasus, the Armenian name for which is Artsakh. The territory, which is largely populated with ethnic Armenians and has made efforts to split from Azerbaijan several times in the last century, is internationally recognized as part of Azerbaijan.
Conflict began again in the region on Sept. 19 when Azerbaijan used military force against an Armenian separatist enclave to reassert control, killing over 200 people, according to the Armenian government. Within days, Azerbaijan regained control, but on Sunday, over 1,000 ethnic Armenians fled the region as Armenia's president warned of ethnic cleansing.
St. Stephen's pastor of nearly 30 years, Antranig Baljian, said the note was discovered by parents dropping off their children at the church's elementary school.
"There can be no other reason for something like this other than somehow trying to scare us," he said.
Baljian said police responded right away and are checking the church's security camera footage to try to find out who left the note. He said nothing like this has ever happened before at the church.
"Why did this person have to do this?" he said. "We understand [the current geopolitical situation]. What happened is reality. There's nothing that we can do here that will change that."
St. Stephen's congregation prayed for Armenians in Nagorno-Karabakh Friday night, Baljian said. Now, he said, church members' children are their foremost concern.
"What are they going to do next? We have to protect ourselves," the pastor said. "All of our parents are in turmoil. They are afraid for their children."
Police said they are increasing patrols around the church in response to the note.
"Please know that your police department will go to great lengths to ensure all community members feel welcome and safe in the City of Watertown," the department wrote on Facebook.
Anyone with information about the incident is asked to contact Watertown Det. Ken Swift at 617-972-6538 or [email protected].
Newsletter Signup
Stay up to date on all the latest news from Boston.com