Local News
Here's what to know about Mayor Wu's appointee to the MBTA board 
Boston's new representative on the T's oversight board is a regular Orange Line and bus rider with years of experience in climate and transportation policy.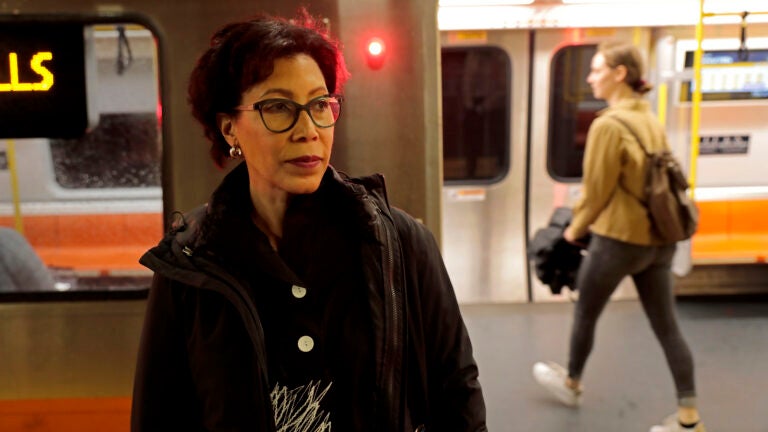 Boston finally has a seat at the table when it comes to overseeing the MBTA, and Mayor Michelle Wu on Monday tapped Mary Skelton Roberts — an Orange Line rider who works in clean energy — to fill the new role.
"I've known Mary for years, from running into her on the Orange Line during our morning commute, to collaborating on transportation policy advocacy at the MBTA and City of Boston," Wu said in a statement.
The mayor added: "With her passion and expertise in transportation policy, deep involvement in community, and daily experience as a regular T rider, Mary will work closely with our team to ensure that Boston residents are fully represented in building the transit system our communities deserve."
Last month, the Massachusetts Legislature and Gov. Maura Healey created a seat for Boston on the MBTA Board of Directors, a major step toward giving a voice to the biggest municipality in the T's service area.
A Jamaica Plain resident and regular Orange Line and 39 Bus rider, Skelton Roberts will begin representing Boston at Thursday's MBTA board meeting.
"The urgency for efficient transportation and transit systems that value the safety of both workers and riders has never been more apparent," she said in a statement, adding, "I'm excited to start contributing to critical conversations and decisions that help create a healthier City."
Who is Mary Skelton Roberts?
Skelton Roberts has a long track record of work in climate policy, as well as service to community organizations.
She's currently serving as president of the Climate Beacon Conference and senior adviser to the Climate Beacon Project, "a newly established non-profit committed to ensuring Massachusetts achieves an equitable energy transition," the city said in a news release. She also sits on the Governor's Council on Latino Empowerment and on the board of directors for both the Point32Health Foundation and the business group Amplify Latinx.
Previous roles include stints at the Energy Foundation and the Barr Foundation, where Skelton Roberts "developed strategies focused on transportation, climate resilience, and land-use, all critical levers for reducing emissions and protecting those most vulnerable to the impacts of climate change," the city said.
According to the news release, she holds an undergraduate degree from the University of Southern California, a master's degree from the Massachusetts Institute of Technology, and accreditations from Harvard Law School's Program on Negotiation and from the Center for Dispute Resolution in London.
What does her new role with the MBTA board entail?
With her position on the MBTA board, the city said Skelton Roberts will help advance Wu's transit goals, including expanding fare-free transit, making bus trips faster, streamlining Commuter Rail pricing in Boston, and providing riders with more transparent communication.
Speaking on WBUR's "Radio Boston" Monday, Wu said it was difficult to choose who should represent Boston's interests on the board.
"There are a ton of people who are extremely qualified to do this, and choosing just one was very hard," she said. "It's also been years that the city has been waiting for this moment, to actually have a direct voice in governance, so it felt like a big decision for us."
Wu explained that Skelton Roberts will have a role not only during MBTA board meetings, but also when it comes time to engage riders and transit advocates.
"We have experts on every single train car and bus across the city," Wu said. "Those who are living this every single day know exactly what needs to be done, and we need to make sure that makes its way to the board."
And as Skelton Roberts steps into her new role, some might say she has her work cut out for her amid safety concerns and low ratings from riders.
During her "Radio Boston" appearance, Wu reflected on the T's decline since she arrived in Boston for college.
"It was a stress free experience," she said. "There weren't these 20 minute delays in between trains, there weren't slow zones all over the place. The experience of riding the T has very much changed. … We are in a very, very dire place in terms of service delivery. We are far from having a system that is barely adequate for the needs of a world-class economic engine and hub for our workforce."
However, the mayor also said she believes Healey and MBTA General Manager Phil Eng "have done more in eight months for the MBTA than we've seen in decades of previous Republican governors' tenure."
She added: "There were 22 years where we saw the T routinely ignored, dismissed, and funding pulled away from it to go to other places."
Speaking to The Boston Globe, Skelton Roberts said now is "really the time to lean in" to support public transit.
"The T deserves the time and attention that we're going to give it, and if we do it well, we're going to have an economy that's even stronger, we're going to have equity because people will be able to benefit from … the jobs that are all over the Commonwealth and all over the city," she said. "And equally important, we have to address climate change, and you can't do it without a functioning transit system."
Boston.com Staff Writer Ross Cristantiello contributed reporting.
Newsletter Signup
Stay up to date on all the latest news from Boston.com