Local News
Dana-Farber nurses go on strike in Methuen
After more than nine months of negotiating, nurses at Dana-Farber Cancer Institute-Merrimack Valley took to the picket line Wednesday.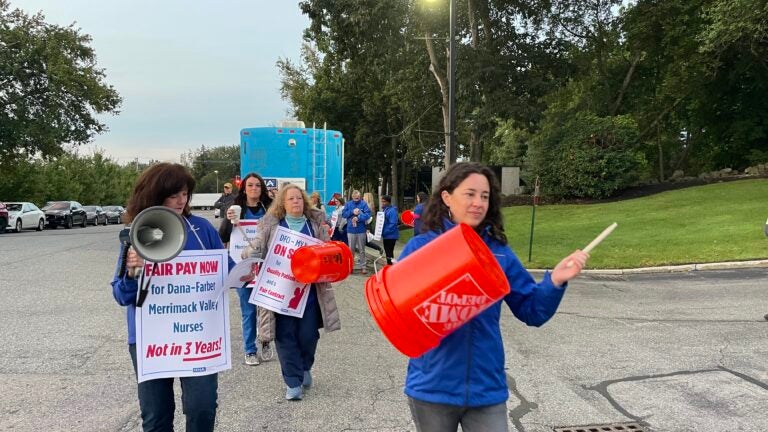 Nurses at Dana-Farber Cancer Institute in Methuen went on strike this week after contract negotiations broke down between them and executives.
The strike began at DFCI's Merrimack Valley center at 6:30 a.m. Wednesday and is only planned to last until 5 p.m. However, a work stoppage will continue through Friday. DFCI contracted traveling nurses to work during this time instead, angering the striking nurses.
"It is outrageous that Dana-Farber executives would rather spend untold money on travelers and lock us out rather than simply meet the needs of nurses and support the cancer care we provide in Merrimack Valley," Nurse Practitioner Kate Mitchell said in a statement.
"What does it say about Dana-Farber executives that they cannot compromise with nurses on wages and benefits, but they can bring in outside nurses to extend a one-day strike into three days? Dana-Farber's decision confounds us and will undermine cancer care access in our community," she said.
The striking nurses say they are taking action to secure existing benefits and get competitive pay increases. The nurses at DFCI-Merrimack Valley represented by the Massachusetts Nurses Association voted 33-1 to authorize a strike back on Aug. 2. A federal mediator was brought in to help negotiations earlier this year, to no avail.
The two sides have been in talks for more than nine months, meeting for 19 bargaining sessions, according to DFCI.
"We are deeply disappointed that the nurses and nurse practitioners at Dana-Farber Merrimack Valley, represented by the Massachusetts Nurses Association (MNA), have chosen to strike rather than focus their attention on working with us to reach an agreement on a first contract," DFCI said in a statement to Boston.com. "The proposed contract is very competitive in the market and includes retroactive retirement contributions, significantly raised salaries, and step increases in wages. The MNA rejected every one of those concessions, choosing to walk away from negotiations and our patients."
During the negotiations, MNA representatives sought step increases of 4.5% each year, Boston Business Journal reported. DFCI proposed increases of 3.75% instead.
The increases proposed by the MNA would lead to salaries about 10% to 15% less than what DFCI nurses make in Boston, the Journal reported. The hospital's proposed increases would give nurses in Methuen around 24% less than what DFCI nurses make in Boston.
DFCI – Merrimack Valley opened in 2020. With 24 exam rooms and 32 infusion bays, it offers cancer and blood disorder care and outpatient services for adult patients. Last summer, nurses there voted to form a union and join the MNA. A total of 87% of the nurses voted to join, in an election overseen by the National Labor Relations Board, according to the union.
In a release, the MNA highlighted statistics like DFCI's total operating revenue for the first six months of fiscal year 2023 increasing by almost 16% over the same period a year before. The union also called out DFCI President and CEO Laurie Glimcher, who reportedly saw a pay increase of more than 15% during the pandemic.
At least two elected officials, state Rep. Estela Reyes and state Rep. Ryan Hamilton, joined the nurses on the picket line Wednesday.
"The CEO of Dana-Farber got almost a $2 million raise over the course of one year about two years ago," Hamilton said, to boos from the striking nurses. "And yet they expect all of you to take scraps. And they don't expect you to take what you're worth … I'm going to be here however long it will take for all of you to get a fair contract."
Newsletter Signup
Stay up to date on all the latest news from Boston.com