Local News
High tides expected to invade key Dorchester roadway this weekend
High tides could cause flooding on Morrissey Boulevard in Dorchester beginning Thursday.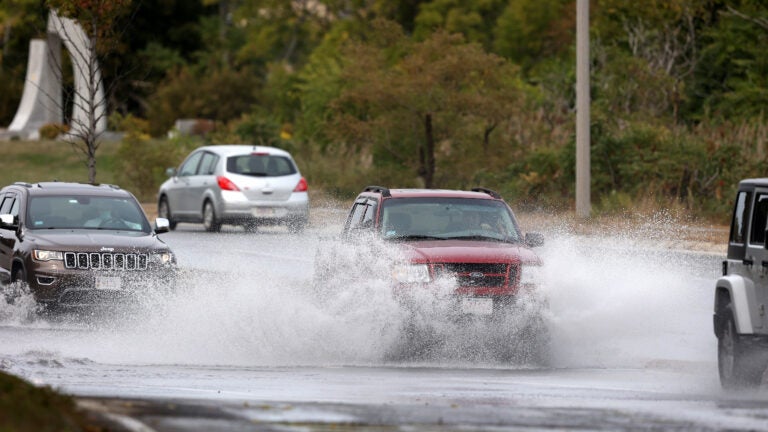 Those traveling along Morrissey Boulevard in Dorchester this week may have to reroute their vehicles due to high tides.
High tides and possible flooding will impact the roadway starting Thursday and continuing through Monday, the Massachusetts Department of Conservation and Recreation said in an advisory.
High tides are expected at the following times:
Thursday, Sept. 28, at 11:07 p.m.
Friday, Sept. 29, at 11:35 a.m.
Saturday, Sept. 30, at 12 a.m. and 12:23 p.m.
Sunday, Oct. 1, at 1:10 p.m.
Monday, Oct. 2, at 1:57 p.m.
Officials with the DCR are preparing for the possibility of closing Morrissey Boulevard from Freeport Street to UMass Boston during these times. Both the inbound and outbound sections of Morrissey would likely be closed in the event of flooding.
New traffic patterns will be clearly marked, the DCR said, and staff from the department will be on site. A police detail could also be necessary if the off-ramp from I-93 needs to be closed.
For the most part, Boston is expected to experience gorgeous fall weather during this stretch of time. Aside from a slight chance of rain Friday night, the city should have partly sunny skies and daily high temperatures ranging from the mid-60s to the mid-70s. Therefore, rain is not expected to make the flooding worse.
The stretch of Morrissey that would be impacted runs along the Dorchester waterfront, next to Savin Hill and Malibu Beach. High tides regularly impact Morrissey. While campaigning in 2020, Mayor Michelle Wu scheduled a press conference on Morrissey during a high tide to call for a "Boston Green New Deal."
Developers are interested in building new streets in the area that are at higher elevations and better accommodate pedestrians and cyclists, according to StreetsblogMASS. In 2017, after a multi-year study, the DCR presented a proposal to redesign Morrissey with an eye toward climate resiliency and transportation safety. That was eventually scrapped, and a new plan to study the area was announced in 2021.
In 2022, a state bond bill established "a special commission to study and examine the transportation, resiliency, infrastructure and multi-modal needs of the regional corridor of Morrissey boulevard in the city of Boston." That commission was still being formed and had not yet met as of May 2023, StreetsblogMASS reported.
Newsletter Signup
Stay up to date on all the latest news from Boston.com