Local News
Sharon police officers slapped with fines after one sneaked the other into pricey suite at Gillette 
Before a Patriots game last year, one Sharon police officer helped another sneak into Gillette Stadium's Putnam Club.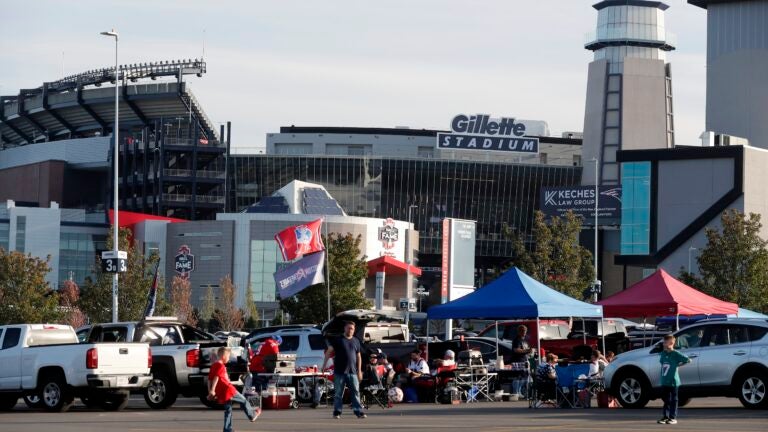 Two Sharon police officers were fined this month after one officer helped the other sneak into Gillette Stadium's exclusive Putnam Club without tickets, according to the State Ethics Commission.
Officer Robert Awad was working a security detail at the Dec. 1, 2022, New England Patriots game when he helped officer John Avelar and a friend enter the Putnam Club, a "high-end indoor suite at Gillette Stadium where fans can watch the game from indoors, enjoy upscale food and drinks, and access exclusive outdoor seats," the Ethics Commission said in a press release.
Putnam Club tickets are only available to the general public as part of season ticket packages that range from $6,000 to $10,000 per season, the commission noted.
Several weeks before the game, Avelar asked Awad — a new Sharon police officer at the time and still in his probationary period — to get him and a friend into the suite, according to the commission. Awad did as asked, and when a security supervisor told Awad to help the security team find and remove Avelar and his friend, Awad reportedly responded, "What's wrong, don't you like cops?" and, "Why don't you trust me?"
Avelar and his friend left the suite, and Awad was removed from the security detail.
Both officers admitted to violating conflict of interest law, which prohibits public employees from using their position to obtain valuable privileges for themselves or others that are otherwise not properly available to them. Avelar also violated the law's prohibition against public employees soliciting or receiving valuable, unwarranted benefits due to their position.
Avelar and Awad each waived their right to a hearing and have paid $8,000 and $4,000 civil penalties, respectively.
Per his disposition agreement, the Sharon Police Department suspended Awad for three days without pay and extended his probationary period for an additional year, also barring him from working details at Gillette Stadium "until further notice." Awad also forfeited the "blue light permit" for his personal vehicle.
Sharon police suspended Avelar for five days without pay and prohibited him from working Gillette details, according to his disposition agreement. Avelar also forfeited his traffic specialty stipend for two months.
"This case is a reminder that public employees are prohibited from using their official positions to get themselves and their friends into sports and other entertainment venues and events without paying the admission price others have to pay," Ethics Commission Executive Director David A. Wilson said in a statement.
Newsletter Signup
Stay up to date on all the latest news from Boston.com