Local News
Bear sidles past school, hunts fake deer in East Bridgewater
Wildlife officials are not concerned about the presence of black bears in southeastern Massachusetts, as the animals are not inherently aggressive.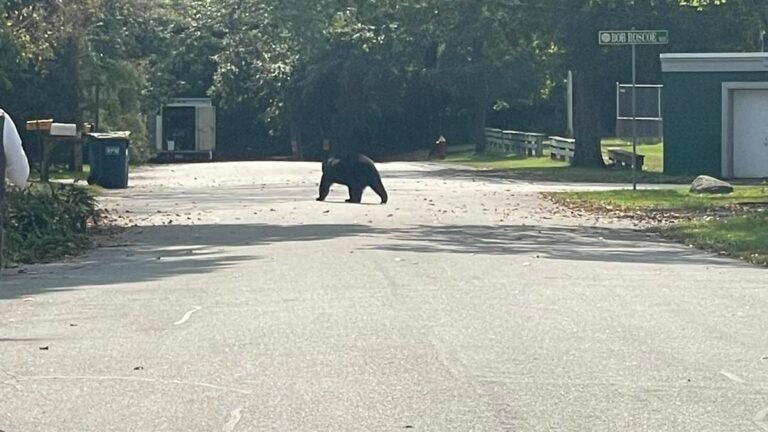 East Bridgewater was abuzz with two black bear sightings this week, and while no people were injured, one lawn ornament wasn't so lucky.
Local police said there was no threat to the community after a black bear was spotted meandering around the Gordon W. Mitchell Middle School during an early dismissal Wednesday.
"Just a little excitement around town today. We had a black bear roaming around while the kids were getting out of school for their half-day. We kept him in our sight the whole time. No safety concerns at this time and it is best to just let him/her be. If you have any questions or concerns please call," East Bridgewater Police wrote on their Facebook page.
The next day, a video shared with Boston 25 showed a black bear taking down a faux deer in an East Bridgewater backyard. In the video, the bear is seen biting the deer's neck and then carrying its top half into the woods. It's not clear if the buck-loving bear was the same one that showed up at the school, as police said there is more than one bear in the area.
In the past few years, black bear sightings have been a common occurrence in southeastern Massachusetts, often prompting ruffled residents to call the authorities. In a recent Enterprise report, MassWildlife's Black Bear and Furbearer Biologist Dave Wattles said two or three bears are currently roaming around southeastern Massachusetts—but officials aren't concerned.
"They're using very developed places, but we can allow black bears to be there because they're not inherently aggressive towards people," Wattles told the Enterprise. "If they posed a public safety threat, we wouldn't tolerate it. But simply having them there in the community isn't a threat."
To prevent conflicts with black bears, MassWildlife recommends removing food sources around residential properties, including bird feeders and pet food. Experts also advise using electric fencing around livestock and crops and storing garbage in closed containers.
Newsletter Signup
Stay up to date on all the latest news from Boston.com