Local News
DeSantis calls out Mass. after reports of fans losing hotel rooms to migrants around Gillette
People from all over the country are flocking to Foxborough for the Army-Navy game at Gillette Stadium.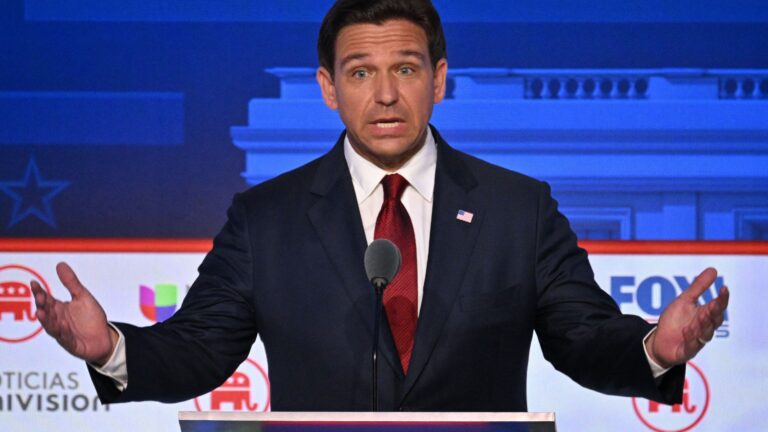 This week, it was reported that military veterans and their families were being shut out of hotel rooms around Gillette Stadium for the upcoming Army-Navy game to accommodate the recent surge of migrants entering Massachusetts. Florida Gov. Ron DeSantis blasted that news in a social media post Wednesday.
DeSantis, a presidential hopeful who was recently overtaken by Nikki Haley in New Hampshire polling, said that the situation was a "farce" and promised to not prioritize "illegal aliens" if he ascends to the Oval Office.
Massachusetts Gov. Maura Healey declared a state of emergency regarding the state's overburdened shelter system in early August, and later activated National Guard members to help out at the shelters and hotels housing those without anywhere else to go. Healey has been maintaining public pressure on President Joe Biden and federal officials to provide additional money to the state to deal with the crisis. She has also frequently called for the Biden administration to expedite the process through which new arrivals can obtain their work permits.
DeSantis, posting on X, was responding to a Boston Herald report that hotel rooms were being "taken back" to make room for migrants.
The Army-Navy college football game, scheduled for Dec. 9, is a major event that draws military service members and their families from all over America. It is being played in New England for the first time in its 124-year history.
Massachusetts has been contracting with hotels and motels to house families in its emergency shelter system. The state's "right-to-shelter" law requires it to house families with children and pregnant women.
DeSantis claimed that Massachusetts is "housing illegal aliens on the taxpayers' dime." But undocumented immigrants are not eligible for services under the "right-to-shelter" law unless at least one member of their household has a legal status, according to the Massachusetts Law Reform Institute.
Foxborough officials announced on Aug. 24 that rooms at a hotel there would serve as long term, temporary housing for as many as 93 migrant families. By Sept. 7, 30 rooms had been filled by 110 total people. Just over two dozen students had registered to start at Foxborough public schools. As of Sept. 20, there were 29 rooms in use by 107 total people.
There were between 51 and 200 families enrolled in the shelter system in Foxborough as of Wednesday, according to data from the state.
Across Massachusetts, 6,773 families were enrolled in the shelter system as of Wednesday. There were 3,594 staying at traditional shelters and 3,075 staying at hotels and motels. Between Tuesday and Wednesday, 25 new families entered the system.
Healey said Wednesday that she was concerned about the reports, but did not address DeSantis' post specifically. Her office would contact those affected, she said, according to The Boston Globe.
"I am very distressed to learn that any veteran has been moved from a hotel who had booked the hotel for that game," Healey said, according to the Globe. "As I understand it, those are decisions made by area hotels … I do understand that those hotels are working with people with bookings to find other locations that are available. But I was very concerned and troubled to hear that any veteran may have had their rooms canceled."
A spokesperson for Giri Hotel Management, which operates Comfort Inn in Foxborough, confirmed to the Herald that it was providing shelter to "refugees" and said it would "seamlessly relocate guests" who needed to be moved. A local travel agent told the paper that the prices for hotel rooms were very high and that his clients were concerned about their safety while staying near the migrants.
Healey has asked lawmakers for $250 million in extra funding to support the shelter system. If the flow of new arrivals continues at the current pace, the Healey administration could run out of its allotted money for the system by January, Politico reported. There is $325 million in the state budget, and this could be used up only halfway through the fiscal year.
The state created two new "family welcome centers" in Quincy and Allston, as well as a temporary shelter on Joint Base Cape Cod to accommodate more new arrivals. Funding for these, and for the hotel contracts, could run out before January, Politico reported.
Newsletter Signup
Stay up to date on all the latest news from Boston.com