Local News
Here's what's behind the new public mural in East Boston
"Generational Spirit" was recently unveiled at the East Boston Social Center at Central Square.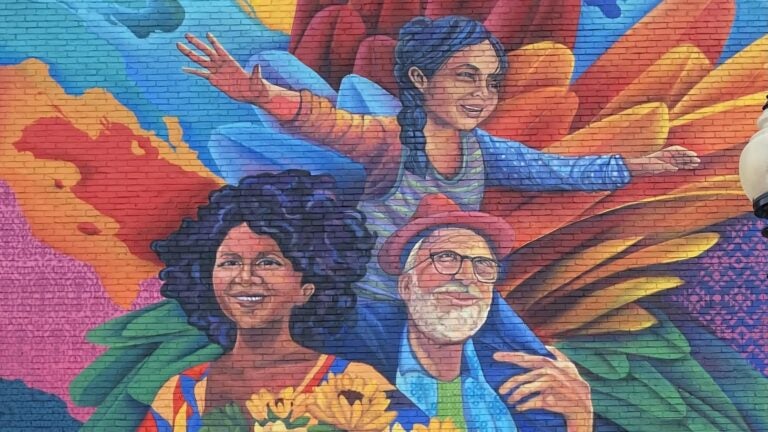 A vibrant new mural in East Boston celebrates the community's unique generational strength and diversity.
The mural, called "Generational Spirit," was unveiled in Central Square on Sept. 27 as the inaugural piece in Beautify Main Streets, a pilot initiative by HarborArts in partnership with East Boston Main Streets.
According to its website, the organization's mission is to "breathe new life into local communities by strategically placing engaging sculptures, vibrant murals, and interactive artworks in our Main Streets."
The colorful 30-foot-by-40-foot mural was created on the brick wall of the East Boston Social Center at 68 Central Square and depicts three generations — a girl, a woman, and an older man.
According to the organization, the mural will be "a beacon of neighborhood pride," featuring the work of local artists Silvia Lopez Chavez and Felipe Ortiz.
The artists began painting the mural in early September. They say the message behind the piece is a celebration of local diversity and the support system that exists between generations in the community.
"Each generation is supporting each other, is proud of who they are and what they bring to the table, and also lifting the future," Lopez Chavez told WGBH, adding that the use of patterns on the mural's background represents a multitude of cultures.
In a news release announcing the mural, Boston police said, "This amazing art piece has been months in the making and it truly captures the spirit of the East Boston community."
The new mural is the latest in more than 30 public artworks produced by HarborArts in the last three years.
Matthew Pollock, Director of HarborArts, told the Eastie Times that a goal of Beautify Main Streets is "to help capitalize and grow public artwork, and hopefully create a legacy program that makes it more viable and sustainable."
"This is the heart of the community in Central Square," Pollock told the outlet. "We are super grateful to the Social Center for giving us their wall as a canvas for the mural."
Newsletter Signup
Stay up to date on all the latest news from Boston.com