Local News
Former patient files lawsuit against ousted Brigham doc, alleging sexual assault
Lawyers for Mimi DiTrani said they believe former Brigham and Women's physician Dr. Derrick Todd assaulted "well over 100 other victims."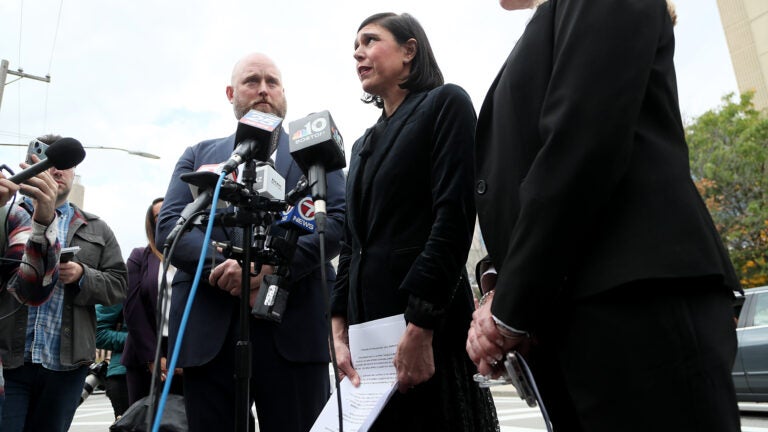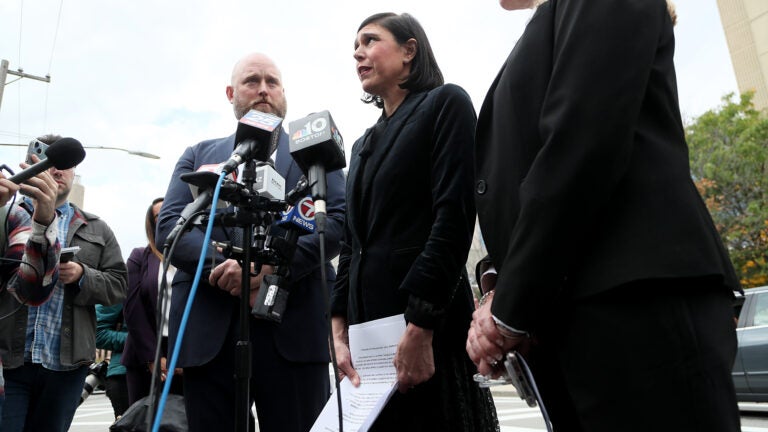 Dr. Derrick Todd, a former Brigham and Women's Hospital physician accused of performing inappropriate breast and pelvic exams, is now facing a lawsuit from a patient who alleges that the rheumatologist "sexually exploited, abused, harassed, and molested" her under the guise of medical care.
Filed in Suffolk Superior Court Tuesday, the lawsuit names Todd, Brigham and Women's, Brigham and Women's Faulkner Hospital, Mass General Brigham Community Physicians Inc., and Charles River Medical Associates as defendants.
Mimi DiTrani, who identified herself in a news conference Tuesday, said she first sought care at Brigham and Women's in November 2022 for a genetic joint and skin condition.
According to the lawsuit, she saw Todd at Charles River Medical Associates in Framingham, where Todd allegedly "began subjecting her to a course of predatory grooming, boundary violating, mental, emotional, and physical sexual abuse that was masked by his position of power and authority over [a patient] in dire need of treatment."
DiTrani accused Todd of asking her invasive questions about her appearance, sexual history, and sexual activity during that first visit. She alleged that he coerced her into disrobing in front of him before he performed medically unnecessary physical examinations.
The complaint alleges that Todd fondled and groped DiTrani during a breast exam and made sexualized comments during a gynecological exam. According to the lawsuit, he also called and texted DiTrani frequently, allegedly contacting her as recently as Sept. 29.
Todd parted ways with Brigham and Women's at the end of July.
"After receiving two anonymous complaints about Dr. Derrick Todd, we immediately launched an investigation and then placed Dr. Todd on administrative leave once we learned more," Dr. Charles Morris, BWH chief medical officer and senior vice president of medical affairs, said in a previous statement. "We made a decision to terminate his employment after the conclusion of that initial investigation."
Charles River Medical Associates said in a statement last week that it had not received and was not aware of any complaints from patients, staff, or other doctors regarding inappropriate conduct. Todd's last day there was July 26.
In early September, Todd also agreed to stop practicing medicine in Massachusetts and other states, though the voluntary agreement does not admit to any wrongdoing.
'Shocking and disgusting'
DiTrani argued that Brigham and Women's and the other medical institutions where Todd practiced knew or should have known that he "had a proclivity to abuse his patients, yet they ignored the warning signs, failed to supervise … Todd, failed to properly train and supervise their staff, and violated the duties they owed to their patients."
In a statement Tuesday, DiTrani said she came forward with her story "because someone must."
"When you trust someone in a position of power, go to them for healing, and are instead hurt, it's frightening, confusing, and difficult to process," she said. "There is no shame. Predators are adept at picking up cues others cannot see."
DiTrani added: "I want anyone who was harmed in the way that I was to know they are not alone, and there is nothing to fear. I want to be the voice for the voiceless and encourage them to speak."
In Tuesday's press release, her attorneys at Peiffer Wolf Carr Kane Conway & Wise and Justice Law Collaborative alleged that Todd assaulted "well over 100 other victims." Another law firm, Lubin & Meyer, said its lawyers are already representing 34 of Todd's former patients.
"It's shocking and disgusting that a doctor would use his position of authority and trust to prey on his patients, but what's even more stunning is that this could happen at such a world-renowned hospital," Peiffer Wolf partner Brian Perkins said in a statement. "We're sending a clear message today that this will not be tolerated. Ever."
Todd is simultaneously facing an impounded medical malpractice lawsuit filed in Middlesex Superior Court on Sept. 29. The Boston Globe also reported that the Suffolk County District Attorney's Office and the Boston Police Department are investigating sexual assault allegations made against Todd, citing an anonymous law enforcement official familiar with the case. The Boston Police Department did not respond to a request for confirmation, and the Suffolk DA's office said it is not commenting at this time.
In a statement last week on Todd's behalf, his lawyer, Ingrid Martin, said Todd has not seen the allegations "in any lawsuit filed against him." Boston.com has reached out to Martin for comment on Tuesday's complaint.
"Over the course of his career he has been an outstanding rheumatologist and internist," Martin said. "To the extent that anyone is bringing claims against him, Dr. Todd believes that he has done nothing wrong and will defend against such claims vigorously. We are cooperating fully with any investigation by the Board of Registration in Medicine."
Newsletter Signup
Stay up to date on all the latest news from Boston.com