Local News
The MBTA promised extra trains to Salem, then canceled them Sunday due to staffing issues
The company that operates the Commuter Rail said the extra trains should run as planned next weekend.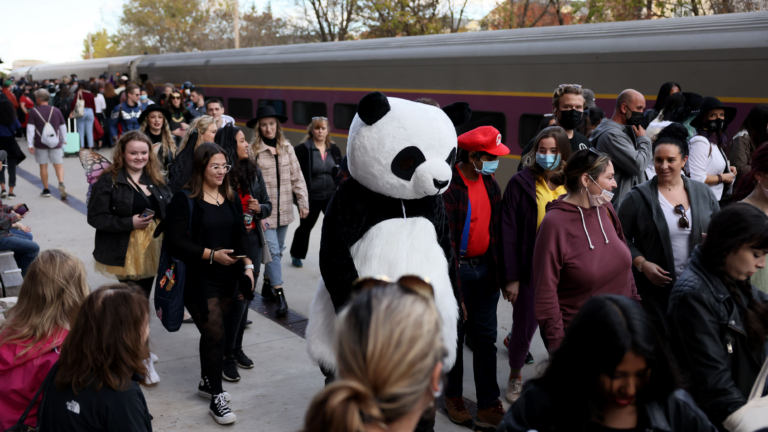 Less than a week after the MBTA announced it would be doubling weekend Commuter Rail service to and from Salem for the month of October, the agency backpedaled Sunday morning, tweeting that the extra trains were "cancelled until further notice today," and that "extra service will be restored when crew availability improves."
Keolis, the company that operates the Commuter Rail, told Boston.com that it canceled 11 out of the 56 Newburyport/Rockport Line trains scheduled to run on Sunday.
"Despite these cancellations," Keolis spokesperson Alana Westwater stressed, "there were still trains each hour from Boston to Salem and the full scheduled service was able to resume on Sunday late afternoon."
According to Westwater, the extra Salem trains should be back up and running next weekend.
"We do not anticipate future disruptions to service," she said.
Westwater did not respond to a question from Boston.com about how the Commuter Rail is addressing its staffing issues.
Salem welcomes crowds of tourists each October for Haunted Happenings, its month-long, citywide Halloween festival. As many as 1 million people flood the small city of 40,000 each spooky season, according to WBUR. Every year, residents and local officials alike implore visitors to leave their cars at home and use public transportation instead, since parking is scarce.
"Take the train, take the ferry, come by bike, or come by broom – but leave your car at home," Salem Mayor Dominick Pangallo said last week in an MBTA press release. "You'll have a much more enjoyable visit!"
The T estimated that weekend ridership on the Newburyport/Rockport Line reached an all-time high during last year's Haunted Happenings, "exceeding more than 400% of the pre-COVID ridership" as Halloween enthusiasts flocked to Witch City.
To meet the surging demand, the Commuter Rail said it would offer more weekend service to and from Salem than ever before this October — with two trains arriving and departing per hour. That comes out to eight extra outbound trains per day from North Station to Salem, and 10 extra inbound trains from Salem to North Station.
The announcement that the extra Salem trains would be canceled Sunday came early that morning via the MBTA Commuter Rail's X account.
"Larger sets will be provided on regularly scheduled trains to accommodate passengers," the agency wrote.
The Newburyport/Rockport Line serving Salem wasn't the only Commuter Rail route that experienced staffing-related problems on Sunday. The T reported 25-55 minute delays on the Providence Line throughout the day "due to crew availability issues." Trains running on the Lowell Line were also delayed due to crew availability.
Newsletter Signup
Stay up to date on all the latest news from Boston.com