Local News
Live updates: Massachusetts reacts to Israel-Hamas war
Many with Massachusetts ties are feeling the impacts of the war.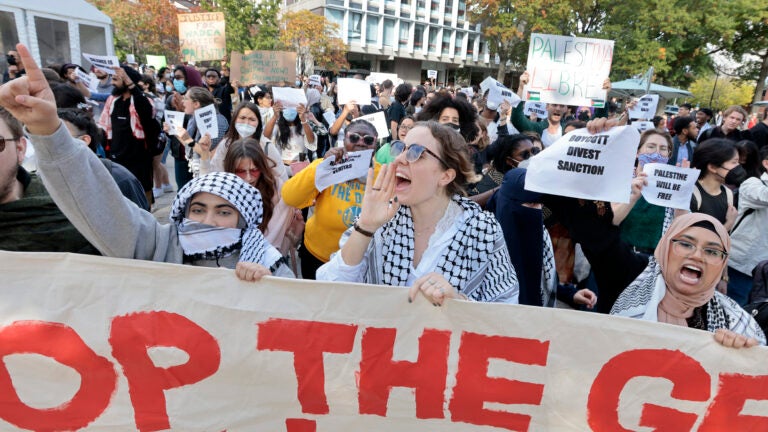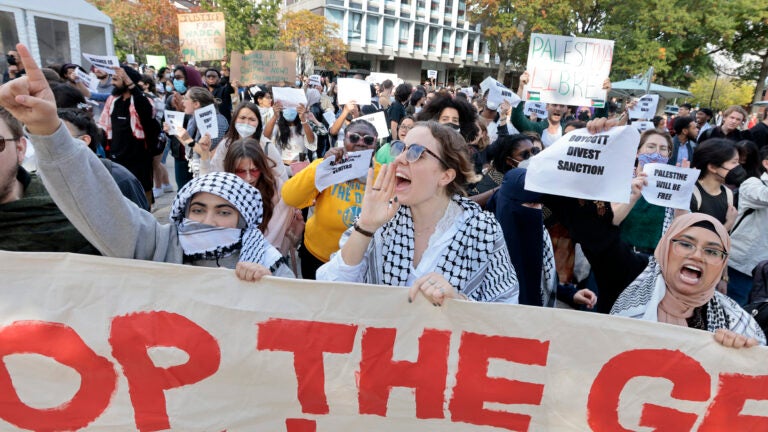 More than two weeks after Hamas fighters in the Gaza Strip launched a brutal surprise attack on Israelis, thousands have died on both sides. Israeli Prime Minister Benjamin Netanyahu has declared the country at war, calling up hundreds of thousands of reservists and pummeling Gaza with airstrikes in retaliation.
Israeli troops have continued amassing at the border of the enclave ahead of a widely expected ground invasion. The Biden administration advised Israel to delay a ground invasion early this week, hoping to buy time for hostage negotiations and for more aid to arrive in Gaza. Israel told those in northern Gaza to evacuate, sending more than half a million people streaming into the south, even as bombs rained down on that area too.
The humanitarian crisis in Gaza grows worse by the day, as fuel, food, and clean water run out. After weeks of stalled talks, trucks loaded with food, water, and medicine were finally allowed to enter Gaza from Egypt over the weekend. One aid convoy entered Saturday, with another following Sunday. After President Biden spoke with Netanyahu, the White House said that "there will now be continued flow of this critical assistance into Gaza."
The war has sent reverberations around the globe, affecting many in Massachusetts. Follow here for live updates.
Have you been impacted by the Israel-Hamas war?
As multiple families from Massachusetts remain trapped in Gaza, U.S. State Department officials said this week that Hamas members were blocking anyone from leaving the enclave.
"We were in conversation with the government of Egypt, as we have been for some time, about being able to process those American citizens if they were able to get through the Gaza side and to the Egyptian side of the crossing. None of them were able to because the reports we were given on the ground is that Hamas was there blocking anyone from coming through the gate from the Gaza side out to the Egyptian side," State Department spokesperson Matthew Miller said at a press conference Monday.
U.S Officials are not in direct contact with Hamas, but messages pushing for the release of U.S. citizens have been relayed to the organization through multiple proxies, he added.
One family caught in Gaza — Medway residents Abood Okal and his wife, Wafaa Abuzayda, with their 18-month-old son, Yousef — said this week that supplies are running low as Israeli airstrikes rain down.
The family has been staying in a house with 40 others near the southern border for the past 10 days, they told MassLive.
"At night bombing causes Yousef to wake up frequently. He woke up last night and wouldn't go back to sleep and kept crying until he passed out of exhaustion," Okal told MassLive Monday. "He has lost his appetite and is constantly attached to at least one of us to the point where he would freak out if none of us was by his side."
Finding milk for their young son has been particularly difficult for Okal and Abuzayda. They have been trying to wean him off of it to no avail. Okal told MassLive that he ventured out of their shelter to try to find milk, but was forced to turn back due to Israeli bombardments.
After weeks of negotiations, much-needed supplies began flowing into Gaza from Egypt last weekend. But as a humanitarian crisis spirals, the demand for supplies is still pronounced.
U.S. officials acknowledged that many more convoys need to be let into Gaza.
"We are working on a sustained mechanism to ensure that aid comes through the Rafah Crossing consistently. You're right that we do not think the delivery of one convoy, two convoys, three convoys is sufficient; we want to see sustained traffic going through Rafah, delivering humanitarian assistance," Miller told reporters.
If Okal and his family are injured or become ill, their situation could rapidly deteriorate. Hospitals in Gaza have said they desperately need fuel to remain operational, but Israeli authorities have balked at the idea of allowing fuel in, as it could be used by Hamas to power weapons.
"The humanitarian organizations that are operating inside Gaza to distribute the humanitarian assistance that we have flowing in from Rafah need to have the ability to do so; they need fuel to be able to do so. Fuel is important for the desalination of water; it's important to the provision of medical care. As you said, the Israelis do have legitimate concerns about the diversion of any fuel to Hamas," Miller said.
Former Massachusetts Gov. Mitt Romney and four other Harvard Business School alumni co-signed an open letter to the university accusing its administration of threatening the safety of Jewish students.
In the "Open Letter to Harvard Leadership Regarding Antisemitism on Campus," the alumni said Jewish students at Harvard have been locking themselves in their dorm rooms due to "threatening" demonstrations, referring to the pro-Palestine protests recently held on campus in response to the ongoing war.
"Your silence as the situation intensifies is both astounding and frightening," the letter said.
The alumni also urged the campus to check IDs during protests and to keep outsiders off of school grounds — something Harvard was doing for the safety of students until this week. Also in the letter, they wrote that protestors shouldn't be allowed to cover their faces.
The Boston Globe reports that Harvard declined to comment on the letter, but president Claudine Gay said she was "100% committed to making sure that Jewish life thrives here on our campus" during an alumni relations event Monday.
A dental specialist was fired this week after reportedly being filmed taking down posters that showed hostages taken by Hamas during their attacks in Israel earlier this month.
The woman, formerly employed by Nevins Dental Institute, was seen taking down the posters at a shopping center in Chestnut Hill, NBC10 Boston reported.
She has been accused of antisemitism.
"Our health care center will not employ anyone who has been found to further hate or discrimination," Dr. Marc Nevins said a statement to NBC10.
The footage was reportedly taken without the woman's consent, and circulated widely on social media before her employer took action. She told NBC10 that she was not prepared to speak publicly on the matter, but was going to contact police.
The posters were put back up in the shopping center after their removal, NBC10 reported. They were still hanging as of Monday night.
The posters have been taken down in other places throughout America, including in New York recently. A dispute over the posters on the campus of Stanford University reportedly led to a physical altercation.
On Monday evening, activists rallied on Boston Common to form a "human chain" to demand the release of the hostages. Organized by the Israeli American Council, Combined Jewish Philanthropies, and Jewish Community Relations Council, the event had people line the Common along Tremont and Park streets, continuing towards the State House.
"We're not going to rest until everybody joins us in our attempt to get them back home," IAC volunteer Michael Kimeldorfer Rabinowitz told Boston 25 News. "These are faces of regular people who woke up Saturday morning and just wanted to do a regular rest day and found themselves hostages of a terrorist organization."
More than 200 hostages are believed to be held in Gaza by Hamas militants. Four have been freed so far, including 85-year-old Yocheved Lifshitz. After being released Monday, Lifshitz said she slept on mattresses on the floors of the tunnels that Hamas uses to hide their activity. She was given the same food as Hamas fighters, and received regular treatment from doctors, CNN reported.
She described the morning of Oct. 7, when her kibbutz was overrun.
"All of a sudden on a Saturday morning, everything was very quiet. There was a hard pounding on the settlement," Lifshitz said, according to CNN.
Then "hordes" of Hamas fighters smashed through the kibbutz's fences. She was driven away on the back of a motorcycle. Lifshitz said she was beaten during the kidnapping, before descending into the Gaza tunnels. There, members of Hamas told her that they believed in the Quran and promised not to harm her.
Lifshitz called out the Israel Defense Forces and the country's internal security service, Shin Bet, according to CNN.
"The lack of awareness by Shin Bet and the IDF hurt us a lot," she said. "They warned us three weeks beforehand, they burned fields, they sent fire balloons and the IDF did not treat it seriously."
The founder of Boston-based public relations firm Regan Communications Group said in a statement this week that the firm wouldn't hire "anyone who protests against Israel," following other CEOs who imposed similar hiring bans in response to a controversial Harvard student letter.
The statement specifically said Regan wouldn't hire the Harvard students who were part of the more than 30 groups who signed onto the letter that blamed Israel for the violence started by Hamas.
The communications firm shared the statement with Boston.com via email.
George Regan, also the chairman of the national communications agency, said he stood with Israel "and its response against the terrorist group Hamas."
"I also stand with other companies that are holding [accountable] those who blame Israel and its people for the sheer brutality committed against them," Regan said in his statement. "I will not hire anyone who has pledged their support for or has marched in favor of murderous terrorists. These people must be held accountable for their actions and their misguided beliefs."
Mounting criticism hasn't slowed for Harvard amid the letter controversy and how the administration responded not just to the letter, but to the ongoing violence in Israel and Gaza.
Larry Hogan, Maryland's former Republican governor and a potential presidential candidate for 2024, said on X that he would no longer participate in fellowships he was offered several months ago at Harvard this fall because he "cannot condone the dangerous anti-Semitism that has taken root on their campus."
At least two Massachusetts families, one from Medway and another from Plymouth, remained stuck in Gaza as Israeli shelling of the enclave continued Monday. With fears of a ground invasion mounting, the families were reportedly still waiting on word from U.S. officials about how they could possibly cross through into Egypt, more than two weeks after the surprise Hamas attacks that began the war.
Even as aid begins to flow into Gaza from Egypt through the Rafah border crossing, necessary supplies remain extremely limited for the families, which include children.
Plymouth residents Hazem Shafai, 47, his wife, Sanaa Shafai, 36, and their children, Seera, 13, Yomnah, 10, and Jaser, 2, were visiting family in northern Gaza when Hamas launched their attacks on Oct. 7. They are currently staying at a shelter in the south, where the psychological impacts of the war are becoming apparent, Hazem's brother Hani told The Boston Globe.
In the middle of the night, Hani's 10-year-old niece woke up screaming that the family needed to evacuate, and began putting her shoes on, he told the Globe.
"She said, 'There is a bombing, let's go!'" Shafai said, despite the fact that there was no bombing at the time."They are really beginning to see the damage to their kids … It is very difficult."
Elsewhere, at a school where Hani's 85-year-old father is sheltering with thousands of others, supplies are scarce. Arguments over water sharing have forced Hani's father to intervene and mediate, he told the Globe.
Abood Okal; his wife, Wafaa Abuzayda; and their 18-month-old son, Yousef are also trapped near the southern border. The Medway family has traveled to the Rafah crossing multiple times recently, sometimes because U.S. officials said that there was hope that American citizens would be able to enter Egypt. But they have been denied each time, even though trucks loaded with food, water, and medicine are now allowed in through the crossing.
"Morale is pretty low … but in general there is an overwhelming feeling of devastation," Okal wrote in a message Sunday that was shared with the Globe.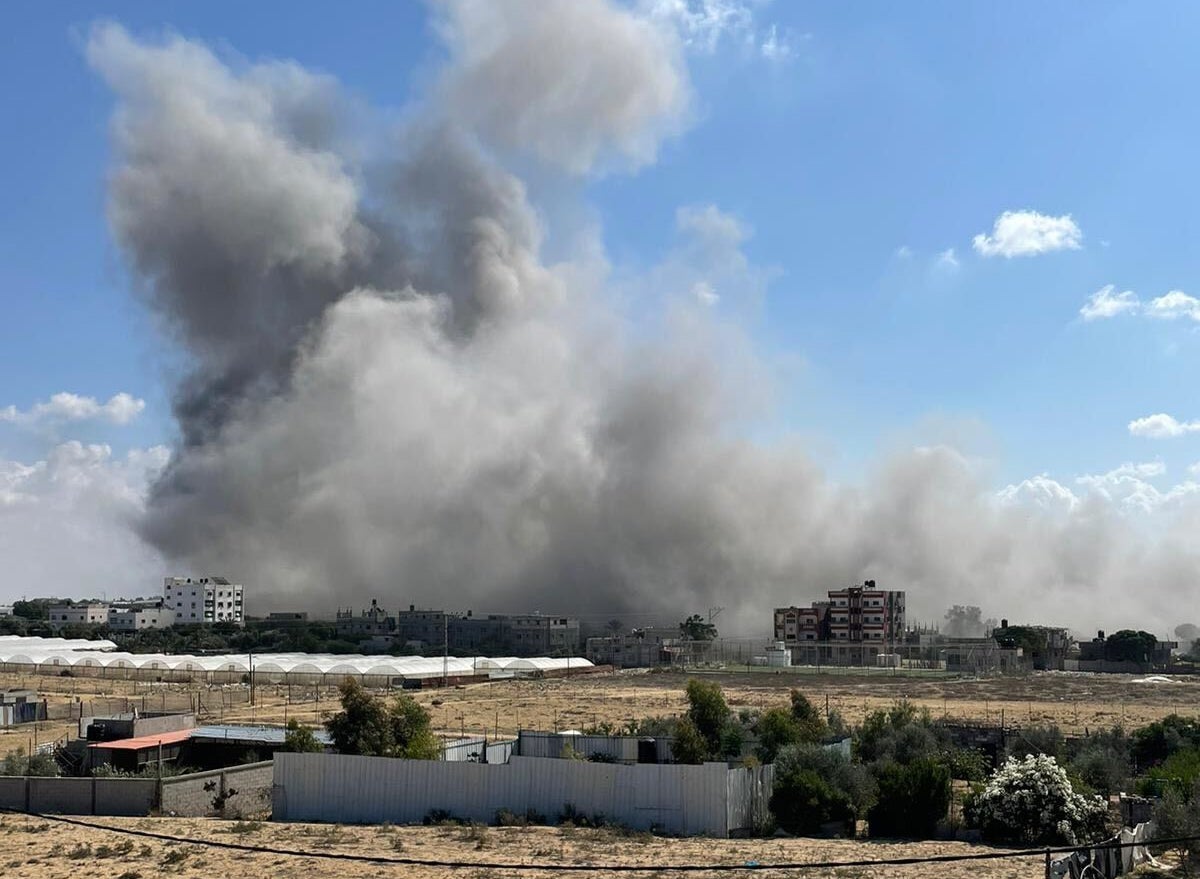 Okal's sister and her three children, who live in New Jersey, are also sheltering in Gaza with the family. Water is limited, so the family has described cutting back on showers and decreasing the number of times they flush the toilet. Canned food like tuna and beans are essential, and conditions are not noticeably improving.
Okal learned that his parents' home in the north was hit by Israeli attacks.
"The reality is that even my parents don't care about what happens to the home, everyone's attitude is that it doesn't matter what we would lose, as long as we don't lose our lives," Okal said, according to the Globe.
Sleep deprivation is beginning to set in, as bombs keep the family up at night.
"Last night there was intense bombing and shelling, and no news of us getting out. We feel like being house jailed, whether you step outside and risk your life or stay [indoors] cramped up," Okal said.
What do the Massachusetts representatives and senators think about a possible Gaza ceasefire?
Rep. James P. McGovern
According to the Worcester Telegram & Gazette, McGovern, alongside six other Democrats, released this statement:
"We remain outraged by the horrific terror attacks carried out by Hamas against Israeli civilians. We are also deeply alarmed by the rising civilian death toll in both Israel and Gaza, including nearly 1,400 Israelis and 3,000 Palestinians. This is a moment that calls for moral and strategic clarity. That is why we believe that the United States must help achieve an immediate cease-fire, or at minimum, a temporary cessation of all hostilities that stops the threats to civilians in Israel and Gaza."
This statement was released alongside Reps. Pramila Jayapal of Washington, Greg Casar of Texas, Barbara Lee of California, Joaquin Castro of Texas, Veronica Escobar of Texas and Jesús G. García of Illinois.
Sen. Ed Markey
Earlier this month, Sen. Ed Markey spoke at a pro-Israel rally in the Boston Common where he called Hamas' attack "vicious murder."
When he called for de-escalation of the conflict he was booed by the crowd, according to The Boston Globe.
Rep. Jake Auchincloss
At the Oct. 9 rally, where Markey also spoke, Auchincloss said, "Now is not the time for equivocation. Hamas is an internationally recognized terrorist organization. … Israel is a liberal democracy with the right and responsibility to defend itself and its citizens."
Auchincloss disagreed with the public statements put out by Harvard, his alma mater, and encouraged Harvard to condemn students who blamed Israel for the Hamas attack, according to WGBH.
Rep. Ayanna Pressley
Pressley called for an immediate ceasefire, describing the attacks by Hamas as "devastating" and "deeply alarming."
"It is long past time to stop this cycle of violence & trauma, and work toward a just & lasting peace in the region," she said.
McGovern and Pressley both signed a letter expressing extreme concern for the ongoing humanitarian crisis in Gaza.
An open letter signed by more than 200 former staffers who worked for U.S. Sen. Elizabeth Warren's 2020 presidential campaign urged the Massachusetts Democrat to push for an immediate ceasefire in the Israel-Hamas war.
"We can achieve a just peace only when Palestinians are free in their homeland and we recognize that the safety of the Jewish people — in Israel and around the world — is not predicated on the suffering of the Palestinian people," the Warren staffers wrote.
The open letter also urged the return of Israelis who were taken during the surprise and deadly attack by Hamas, and for Warren to push for "de-escalation in the region" and "Israeli violations of international law" and human rights.
The Boston Globe requested comment from Warren's office but did not hear back. However, she did release a response following a Wednesday pro-Palestine demonstration outside her Boston office, where six people involved were arrested.
"Israel has both a right to defend itself from terrorist attacks and an obligation to protect innocent civilians under the international laws of war," Warren said. "Palestinian civilians have a right to humanitarian aid including food, water, shelter, and medicine. There is an urgent need for safe corridors in Gaza to deliver humanitarian aid, and I will continue to emphasize the imperative to protect civilians."
Republican presidential candidate Tim Scott, a U.S. senator from South Carolina, has proposed legislation that would pull federal funding from universities "that peddle antisemitism or authorize, fund or facilitate events that promote violent antisemitism."
Scott specifically called out Harvard University and several other colleges that have made headlines for pro-Palestinian activism in response to the ongoing violence in Israel and Gaza. Scott was joined by six other lawmakers in introducing the legislation in the Senate, called the "Stop Antisemitism on College Campuses Act." U.S. Rep. Mike Lawler, a Republican from New York, also introduced companion legislation in the House.
This legislation comes amid mounting criticism over the Harvard administration's response to the Hamas attacks and a controversial letter signed by dozens of student groups that blamed Israel for the attacks.
Since then, university officials have closed off the campus to anyone without a Harvard ID. This included a reporter for The Boston Globe who was trying to cover a "general strike" on campus, in which students walked out of class Thursday to show support for Palestinian people.
"These restrictions have been taken as part of ongoing steps to address concerns for individual and community safety," a university spokesperson, Jason Newton, said in a statement to the Globe.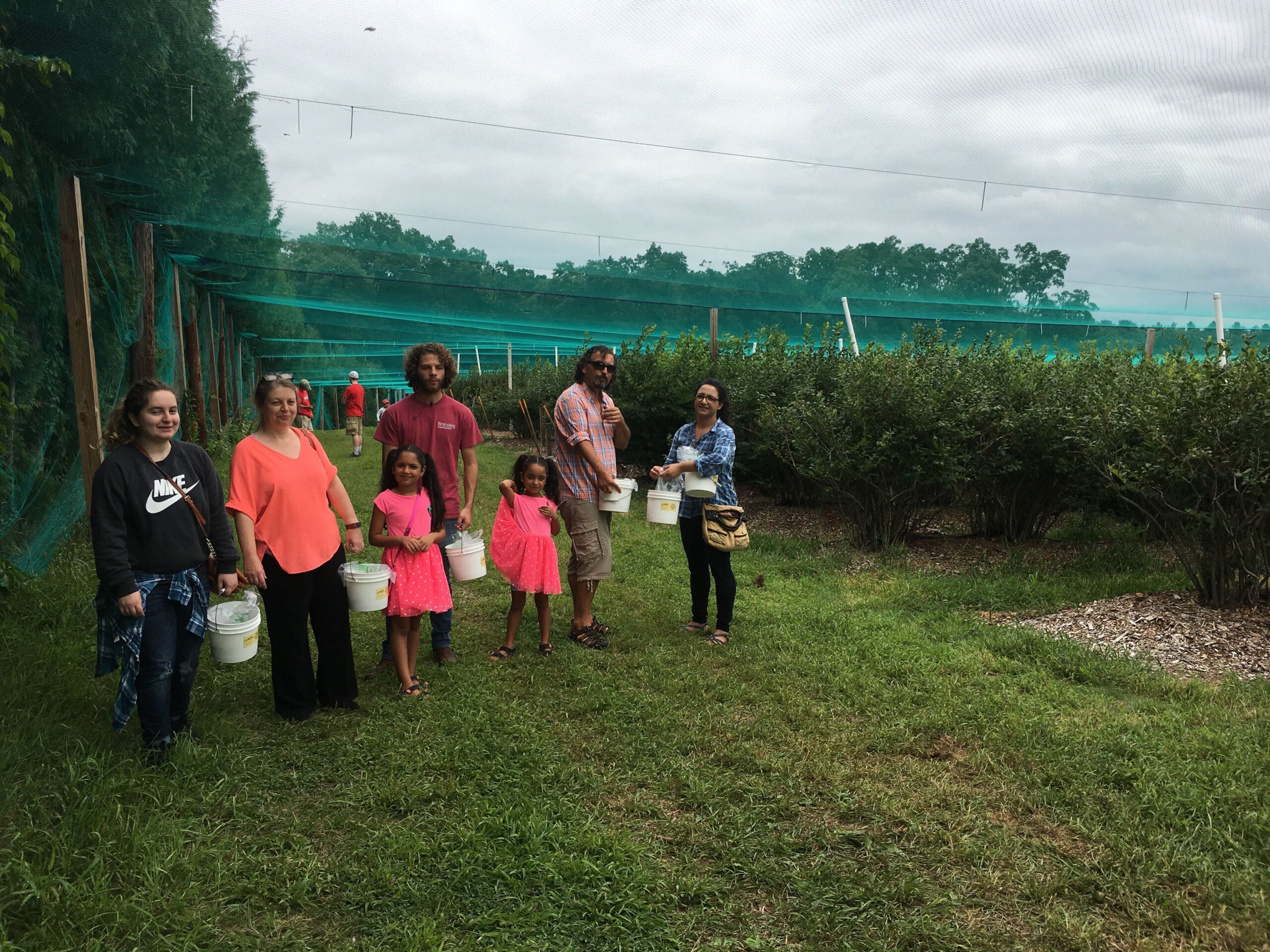 A Plymouth family of five, including multiple children, is trapped in Gaza after being turned away from the border crossing with Egypt multiple times. As the Shafai family tries to escape the enclave, New England senators are calling on Secretary of State Antony Blinken for help in freeing multiple New England residents from Gaza.
Hazem Shafai, 47, his wife, Sanaa Shafai, 36, and their children, Seera, 13, Yomnah, 10, and Jaser, 2, have been holed up in an apartment in southern Gaza since Monday, The Boston Globe reported.
The family was reportedly visiting Hazem's father and stepmother in northern Gaza on Oct. 7 when the surprise Hamas attack on Israel initiated the latest conflict. As Israel prepares for a likely ground invasion, bombards Gaza with airstrikes, and blocks basic necessities from moving across the border, thousands are dying in a spiraling humanitarian crisis.
Hani Shafai, Hazem's brother who lives in South Dakota, told the Globe that his relatives traveled to southern Gaza with the hopes of making it into Egypt. They have been turned away twice, and are staying in a friend's apartment. Hazem has left the apartment once since Monday, waiting in a two-and-a-half hour line for bread. The rest of the family has stayed put, according to the Globe.
Nine of their relatives were killed in an airstrike, Hani told the Globe.
"My brother was almost in tears," he said. "We lost my cousin…nine of my extended family members got killed."
U.S. Sens. Elizabeth Warren and Ed Markey of Massachusetts and Jeanne Shaheen of New Hampshire sent a letter to Blinken and National Security Advisor Jake Sullivan Wednesday urging them to help. While "fully" supporting Israel's right to defend itself, the senators called for the protection of innocent civilians in Gaza. Their offices have received requests from families all over New England asking for help in getting their family members to safety.
"These families are terrified for their lives and growing more frustrated as promises of escape through the opening of the Rafah crossing remain unfulfilled. As with all civilians in Gaza, these families' situation only grows more concerning as Gaza runs out of food, water, fuel for hospitals, and other critical supplies," they wrote.
The senators referenced Wafaa Abuzayda, Abood Okal, and their 1-year-old son Yousef, the Medway family trapped in Gaza. They are running out of supplies as Yousef battles a fever and ear infection, CBS Boston reported.
"The situation is, frankly, extremely dire to them… A couple of days ago, they ran out of drinking water, I'm not sure exactly what they're doing to get water supply. Food supply is limited," Sammy Nebulsi, a family friend and attorney, told CBS. "President Biden should not be getting on a plane and coming back to the United States until he secures a safe and immediate departure of every American citizen in Gaza, period."
Biden traveled to Israel Wednesday, hugging Prime Minister Benjamin Netanyahu and pledging to support Israel while cautioning the country not to be "consumed" by rage. Biden is expected to address the nation from the Oval Office on Thursday night.
As diplomats try to negotiate a way for the border crossing with Egypt to open and for the killing of civilians to cease, people like Hani are left numb.
"You don't know how to cry, you don't even know how to breathe, you become desensitized," he told the Globe.
A Brookline synagogue held a multi-faith vigil Tuesday evening to mourn the lives lost in the ongoing Israel-Hamas war.
The Boston Globe reports that Jews, Christians, and people of other faiths were in attendance at Congregation Kehillath Israel, which hosted the prayer vigil alongside St. John Missionary Baptist Church – Boston and Bethel AME Church in Jamaica Plain. Also among the dozens were Brookline elected officials, and people watched over Zoom during the hour of prayer through songs and psalms.
Rabbi Marc Baker of Combined Jewish Philanthropies, who spoke at the vigil, also called for support for Israel.
"Many of those who've been considered our closest friends and allies don't seem to be able to find the moral clarity or the moral courage to simply call terrible what it is," he said. "Call this horrific, brutal organization what it is, and to stand clearly and firmly with our community and our people and with Israel."
A controversial letter that blamed Israel for the violence that started with attacks from Hamas has divided Harvard University's campus, outlets report.
A pro-Palestine rally hosted by the Harvard Palestine Solidarity Committee and the Harvard Graduate Students 4 Palestine saw more than 1,000 people in attendance. NBC10 Boston reports the crowd outside the Widener Library could be heard shouting "Free Palestine," but students they spoke to said they heard concerning chants at the rally as well.
"When you hear people saying 'by any means necessary' or that 'it's not terrorism, it's freedom fighting,' to me it strikes me as a justification of violence against civilians," Harvard freshman Charlie Covit told the news station.
Meanwhile, PSC has made its website private and removed the letter and the names of the student groups that signed it from public view. In a New York Times article, some of the students involved in the letter spoke to the paper on condition of anonymity, and said even their families' names and information were being put online as part of ongoing doxxing by critics of the letter.
They said they've felt unsafe and that the university isn't doing enough.
Jewish students at Harvard's Hillel house, meanwhile, told the newspaper they similarly felt threatened on campus, noting that more students have shown up wearing a kaffiyeh — a checkered headdress that symbolizes support for Palestine — and that there's been an uptick of offensive comments on social media.
A startup incubator that supports Israeli and Palestinian entrepreneurs, overseen in part by former Mass. Gov. Deval Patrick, is under pressure from graduates as the war between Israel and Hamas escalates.
Our Generation Speaks, based at Brandeis University, is a nonprofit dedicated to building an "entrepreneurial community of leaders committed to shaping a peaceful Israeli-Palestinian future built on trust." It fosters the ventures of people looking to create change in the region and "inject optimism back into the public discourse and promote a more productive conversation" around the Israeli-Palestinian conflict.
As that conflict has turned increasingly deadly, alumni of OGS are saying that the organization has not taken a strong enough stance on the violence. Almost four dozen Israeli OGS graduates sent a letter to the organization's leadership following the initial Hamas attacks, saying that it needed to take a "decisive stance" against other graduates who had allegedly made comments supporting the attack, Politico reported.
A group of Palestinian graduates also requested that OGS release a statement expressing concern for "the impact of this crisis on innocent lives, including their own lives and families," Patrick told Politico.
OGS was the brainchild of an Israeli who was called up as a reservist soldier during the 2014 war between Israel and Hamas. He grew disillusioned after his military service, telling Haaretz that lasting peace would not be brokered by leaders on either side. Instead, OGS grows the ideas of Israelis and Palestinians that want to improve life for everyday people where they come from.
OGS has the backing of Patriots owner Robert Kraft, and Patrick serves as chair of the Advisory Board.
In a statement to Politico, Patrick acknowledged that the current situation is stressing the work done by OGS.
The "horrific war has and will continue to test whether the personal bonds of trust and shared experience we have worked so hard to build will hold up under the current crisis. I am confident that they will endure," he told Politico. "I believe in the power of this organization and its members now more than ever. But it is a question they should not have to answer under the extreme stress of this moment."
A WhatsApp chat used by graduates devolved into bitter fighting in the wake of the Hamas attack, and some graduates were accused of spreading antisemitic or pro-Hamas content. CEO Lobna Agbaria told Politico that any alumni who "expresses support for Hamas or any act of terrorism" would be expelled.
In an email to alumni, Patrick said that OGS would continue to build an entrepreneurial community focused on shaping a peaceful future instead of responding directly to the recent attacks.
"Any response from our organization can place our alums' safety across the border at great risk due to their affiliation with OGS," he wrote, according to Politico. "This is especially important during an active war. These are terrible times, and the unimaginable can happen, as we have already witnessed. Our approach is to protect all involved and support future connections."
U.S. Rep. Ayanna Pressley, a Democrat from Massachusetts, is among the more than a dozen progressive lawmakers in the House who backed a resolution that calls for an immediate ceasefire in Israel and Gaza.
"Let me make it plain: The murder of Israeli civilians by Hamas is horrific and unacceptable. And the murder of Palestinian civilians is a horrific and unacceptable response from Israel," Pressley posted on X, formerly known as Twitter, Monday. "Vengeance should not be a foreign policy doctrine. Our humanity is at stake."
The resolution also calls for aid to be sent to Gaza, as the humanitarian crisis worsens and Israel continues its "full siege" — which has left Palestinians without electricity, fuel, food, and safe drinking water — in response to Hamas's deadly attacks last weekend. The Washington Post reports that 1 million people have been displaced.
As of Tuesday, the reported death toll was 2,778 killed in Gaza and at least 1,400 killed in Israel.
Criticisms over Harvard University leadership's response to the deadly Hamas attacks and a controversial student group letter that followed continue to mount, after a nonprofit announced it would cut financial ties with the school.
The Wexner Foundation, a group dedicated to developing Jewish leaders, said in a letter to Harvard on Monday it was "formally ending its financial and programmatic relationships with Harvard and the Harvard Kennedy School," citing the administration's delayed response as a reason Wexner will no longer financially support the school.
The Boston Globe reports that in fiscal year 2021, Harvard received about $1.8 million for its Kennedy School fellowship program from Wexner and $667,000 to the university.
​​"Our core values and those of Harvard no longer align," the foundation wrote in the letter.
More than a week after scores of Israelis were kidnapped by Hamas militants, posters showing the hostages continue to pop up around Boston.
The posters have been attached to trees, utility poles, and more in the city as well as Cambridge, Brookline, and Newton, NBC10 Boston reported. Artists in New York began the initiative and made the digital files of the posters free to download online.
Now, people like Shiri Frydrich-Barniv are helping to spread the word about the people waiting on some form of rescue. She told NBC that doing so could both help the hostages and raise awareness stateside.
"It's a win-win, because we educate people, but it also gives us purpose. It gives them strength," Frydrich-Barniv said.
Israeli officials said that 199 people had been kidnapped by Hamas when gunmen rampaged through Israeli villages in a surprise attack. Hamas released the first video of one of the hostages, 21-year-old Mia Schem, Monday.
The video, lasting only a minute, shows Schem receiving medical care for a wound on her arm. A person off-camera wraps it in bandages before Schem speaks directly to the camera in Hebrew, The New York Times reported.
Schem said that she is in Gaza, and that her arm was operated on for three hours. She ends the video by pleading to return home.
"I just ask that I am returned as fast as possible to my family, to my parents, and to my siblings," she said. "Please get us out of here as quickly as possible."
Schem was reportedly kidnapped from the music festival in southern Israel, near the border with Gaza. Parts of the video were filmed early last week, according to an analysis of its metadata conducted by the Times.
Jake Donnelly, an activist with the Israeli American Council of New England, told NBC that his friend's father is another one of the hostages. He expressed frustration at reports that some of the posters were being taken down.
"If you're taking down a poster of a Holocaust survivor who has been kidnapped, or of a 3-year-old child who has been kidnapped, I'm sorry, but I'll call them out whenever I see it and whoever does it," Donnelly said.
Last week, a student group at MIT placed fliers around campus with photos and information about the hostages. Passersby were asked to take photos of the hostages and share them widely.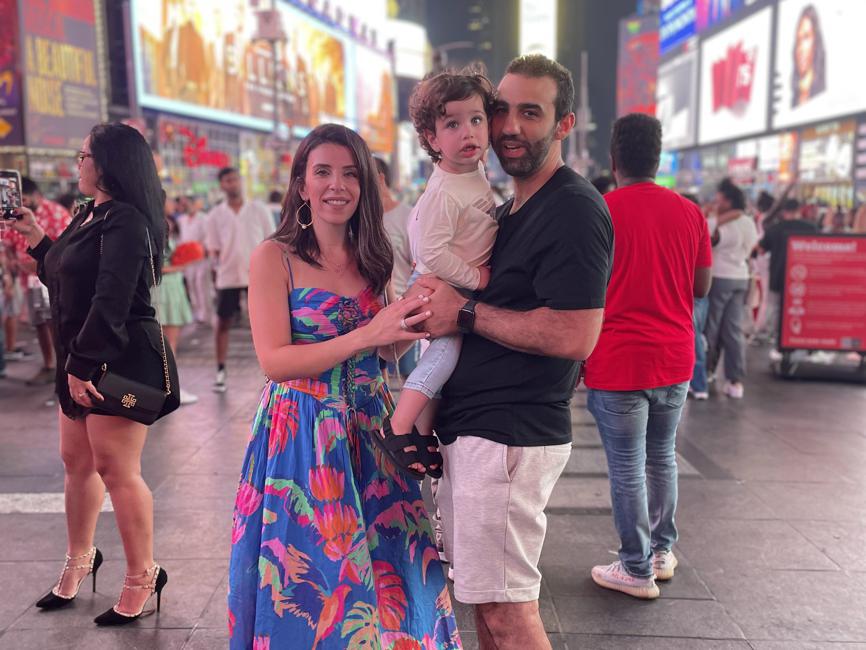 A Massachusetts family trapped in southern Gaza is reportedly entering "survival mode" as they struggle to secure clean water and food until the border crossing with Egypt is opened.
Abood Okal; his wife, Wafaa Abuzayda; and their 18-month-old son, Yousef, were visiting family in Gaza when Hamas militants attacked Israel earlier this month, leading to a punishing Israeli response and a worsening humanitarian crisis in the enclave. The situation for the family and hundreds of thousands of others in Gaza has grown increasingly dire following the evacuation of civilians from the north.
The family from Medway was staying in a rural area about 10 miles from the Rafah crossing, which links Gaza and Egypt, as of Sunday, The Boston Globe reported.
Despite being "exhausted and sleep-deprived," the family is trying to stay strong for their young son.
"The hardest feeling is to hide your fear, and show the opposite, just to keep my son positive," Abuzayda told NPR. "He doesn't understand anything. He thinks this [is] fireworks."
Secretary of State Antony J. Blinken said Sunday after a meeting with Egyptian President Abdel Fattah el-Sisi that the Rafah crossing would open, according to The New York Times. But the crossing remained closed Monday, despite a message from the U.S. Embassy in Jerusalem to Americans trapped in Gaza that it could open at 9 a.m. local time.
"We anticipate that the situation at the Rafah crossing will remain fluid and unpredictable and it is unclear whether, or for how long, travelers will be permitted to transit the crossing. If you assess it to be safe, you may wish to move closer to the Rafah border crossing – there may be very little notice if the crossing opens and it may only open for a limited time," officials said.
Egyptian security sources told Reuters that a ceasefire, needed to open the border, had been agreed to Monday. But representatives from both the Israeli government and Hamas denied that.
The family was told that they could cross the border at 9 a.m. Monday by U.S. officials, the Globe reported. They arrived early Monday and waited for hours, but were eventually turned away around 3 p.m. local time.
"My update is that there is no update, and that's significant," Sammy Nabulsi, a Boston lawyer and friend of the family, told the Globe Monday. "The U.S. has lost all ability to get its citizens back home."
Okal, Abuzayda, and their son also traveled to the crossing Saturday in hopes of making it through to Egypt. Before dawn, they received news that the crossing could open for a five-hour window later in the day. But a lack of communication between Palestinian and Egyptian officials stymied efforts to open the crossing, The Washington Post reported.
The family spent several hours waiting at the crossing Saturday with several hundred people, the Post reported. Among them was another American family from New Jersey and people from Canada, Sweden, Spain, and Norway.
Trucks loaded with supplies for those in Gaza have been waiting for days at the Egyptian side of the crossing, as Palestinian hospitals warn that they are on the verge of collapse and those sheltering in U.N. facilities resort to drinking less than 1 liter of water per day, The Associated Press reported.
Israeli officials have cut off the flow of fuel or any other supplies into Gaza, and people there are "trying to be very strategic" about when they use their cars in case of emergency, Okal told the Globe.
Many Massachusetts elected officials are calling for the need to evacuate people safely from the region and get residents back to the states.
"It is gutting that families, including Abood and Wafaa's family, arrived at the Rafah crossing at the time advised by [the State Department] on Saturday and have not yet been able to cross. They have a one-year-old in their arms. It must be an imperative for President Biden and for all nations involved to safely evacuate Americans and save civilian lives," Rep. Ayanna Pressley said in a statement to the Globe.
Harvard's president responded once again to the backlash stoked after a letter from student groups blamed Israel for the week of violence that started with a surprise attack from Hamas.
In a video posted to Harvard's YouTube account, Claudine Gay condemned terrorist attacks and hate of anyone based on their religious views. But she also added that the university doesn't tolerate the intimidation of students for expressing their beliefs, and said Harvard welcomes free expression — even "outrageous" views.
"We can issue public pronouncements declaring the rightness of our own points of view and vilify those who disagree. Or we can choose to talk and to listen with care and humility, to seek deeper understanding, and to meet one another with compassion," Gay said in the video.
Those who criticized the letter, penned by the Palestine Solidarity Committee and co-signed by more than 30 student groups, went as far as doxxing the students, and a conservative group drove around trucks with LED screens that featured the students' pictures and called them anti-Semetic. Some Harvard alumni and CEOs have said they want the students blacklisted, and philanthropist couple Idan and Batia Ofer quit the Harvard Kennedy School executive board over the university's response to the letter.
A group of 30 Salem parishioners who were visiting Israel last week scrambled to evacuate after Hamas attacked the country near the Gaza border.
On the day of the attacks, members of the Immaculate Conception Church in Salem arrived in Israel to see landmarks of Jesus's life, The Boston Globe reports. They heard bombs and gunshots in the distance, but were told by their tour guide that they were safe.
That was until Monday, when the group was in Bethlehem, located in the West Bank.
"We were advised by the tour group: 'We're going back to the hotel; you get 30 minutes to pack up and hop back on the bus,'" church member Bill Card told the Globe. "[That] was, I think, really when it hit home for me."
It took the group days to get out of the war-torn country, and by Wednesday they were crossing the border to Jordan, where they then boarded a plane to Turkey. The parishioners arrived in Boston on Saturday.
Previous live updates can be found here.
Newsletter Signup
Stay up to date on all the latest news from Boston.com