Local News
Clown busker who carries 'bloodied torso' becomes Salem celebrity after Reddit post
When you visit Salem around Halloween, you should expect to see costumed street performers. But when one person on Reddit complained that a "bloodied torso" prop carried by one busker was too gruesome, it made Art the Clown a local celebrity.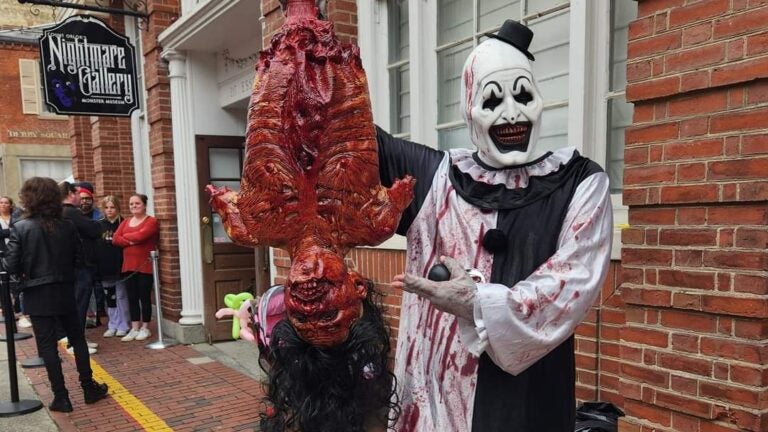 From ghosts and witches to monsters and Satan, Salem turns into the destination for Halloween and horror film fans all year long, but especially in the month of October.
So it shouldn't come as a surprise that someone would dress up as a creepy clown. On Essex Street, the pedestrian mall in Salem that usually features several buskers in character snapping photos with visitors for tips, horror podcaster Joe Manganaro showed up dressed as "Art the Clown," the main character in the horror franchise "Terrifier."
Frightening-looking clowns are not unique on Salem's streets. But what did catch the attention of passersby was what Manganaro was holding: a bloody top half of a fake human, from head to torso.
The sighting prompted one visitor to complain about Art on Reddit.
"Art the Clown is too much," read the subject line on Salem's Subreddit. The original poster has since deleted their account, but said they are a Salem local and enjoy taking their toddler downtown to see the costumed street performers. At times the scary appearance of the buskers has made their toddler cry, but the parent said they've taught the child "that skeletons, ghosts, clowns, and monsters are all part of the fun."
Art the Clown is too much
by inSalemMA
Except when they turned the corner and saw Art holding the bloody torso, apparently.
"Art the Clown proudly holding up a bloodied torso by the severed spine with the head attached is way over the line, though," the original poster said. "This was at noon on a Sunday — I could see a kid winding up in therapy after seeing this."
While some who commented agreed with the parent, the post eventually went locally viral, and in Manganaro's favor.
"I had this little tiny cosplay page (on social media) that no one was paying attention to," said Manganaro, a podcaster for the Horror Squad Podcast. "All of a sudden I gained 1,000 followers overnight. I had everyone asking, 'When are you going to come out? We want to see Art the Clown.'"
Manganaro moved to Salem about seven years ago because of his love of horror movies, but as recently as April, he took his love for horror cosplay to the streets of Salem as a busker. He's dressed as other characters, like the Creeper from "Jeepers Creepers," but he's stuck with Art for most of the Halloween season because of its popularity.
He posts on Facebook and Instagram to let people know when he's busking on Essex. And when Manganaro is out there, a crowd of all ages — even children — form around him wanting a picture with the nightmarish clown and his gory prop, as seen in pictures and videos shared on the Salem, MA – The Witch City Facebook page, which provides information about Salem events and businesses.
Joey Colomba, who manages the page, said the content he's shared of Art the Clown and about the Reddit post has received hundreds of comments, with commenters sharing their own pictures of Art or words of encouragement.
"He stands across from me, and people love him," said Brian Sims, who dresses up as one of the most beloved and popular street performers, a witch named BORAH! "Kids run up there and hug him — hug the torso."
Sims, who also officiates weddings as BORAH!, has been busking in Salem as his witch character for nearly a decade. He disagrees with some of the Reddit post's complaints that Salem's street performers are dressing up more gruesome. But the number of street performers has grown, possibly to an overwhelming amount, he said.
Cosplaying up as BORAH! and other characters and performing for tips used to require permits in Salem, Sims said. But that changed in the last couple of years, and now anyone can busk as long as they follow a few rules (don't be too loud, don't use real weapons or those that appear real, don't obstruct a public way).
Not everyone follows those rules, Sims said, though it's a minority of the street performers.
Dan Lavoie, who dresses up as Salem Satan and carries a sign that advertises free hugs, said those who have been busking for several years now have formed a sort of informal group on Facebook, where they talk about their love for the gig and the issues that come with it. One of those issues is the small minority of buskers who break the unspoken rules: Don't make people uncomfortable, don't chase people, and no jump scares.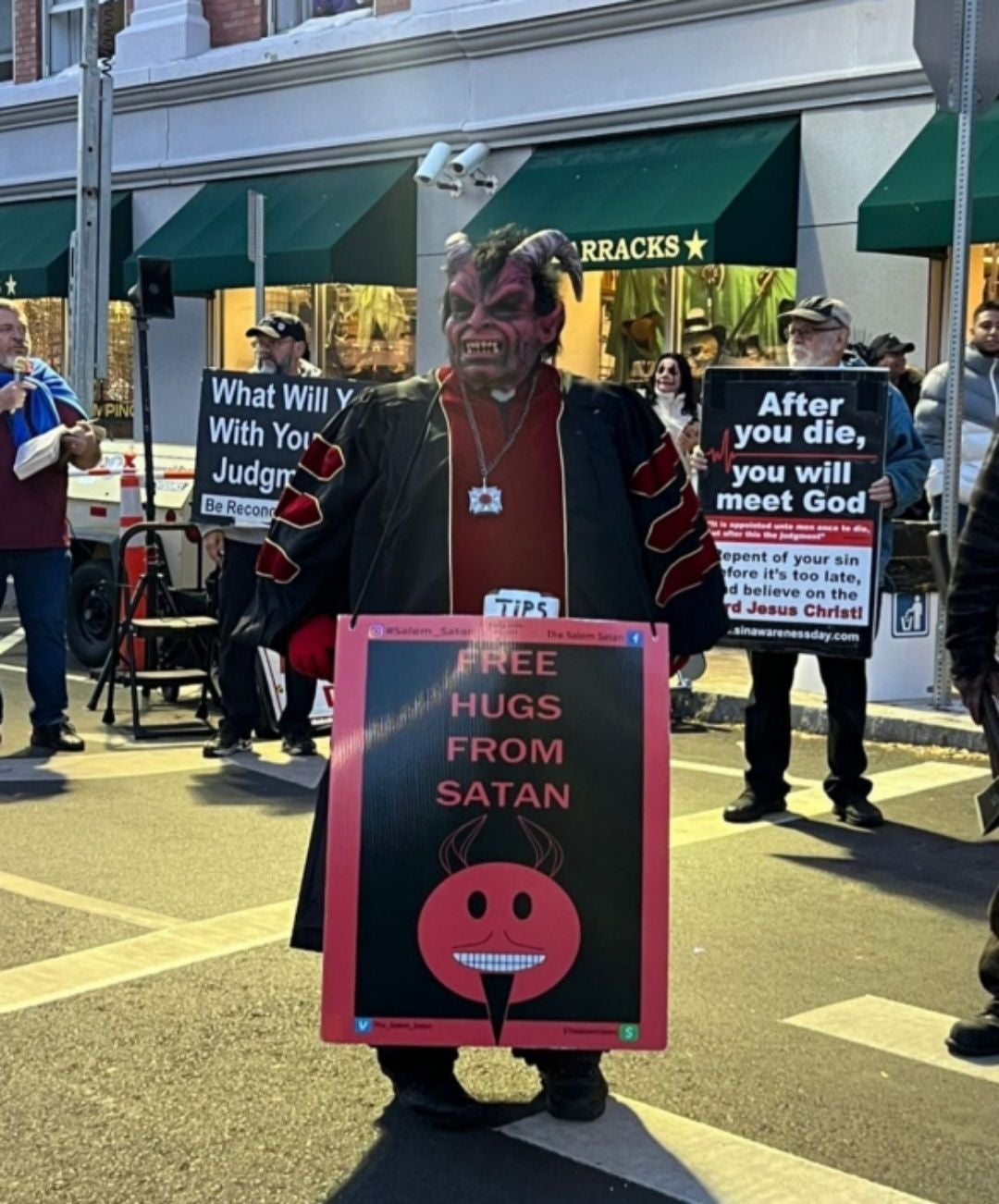 "We actually discourage that," Lavoie said. "We want everyone to have a good time while they're there."
Manganaro is especially cautious of that. His character is a mime, so while the silence from Art may come off as eerie to some, he also said he doesn't interact with people unless they choose to approach him.
At the end of the day Manganaro said he isn't offended by the poster's opinion. But he also isn't sure why he was singled out — it's Salem right before Halloween, and he isn't the only one using blood and guts for his costume.
"It's October," Manganaro said. "It's spooky, it's scary, and it's a fun time of the year to do it. I'm just out there to spread Halloween joy and fun to everyone, and it seems to be what people are enjoying and loving."
Has Salem gotten too gory?
Newsletter Signup
Stay up to date on all the latest news from Boston.com