Local News
Six Jewish protesters arrested at pro-Palestine rally outside Sen. Elizabeth Warren's Boston office
"The events of the last 10 days have shown us that there is no such thing as safety for some unless there is safety for everyone."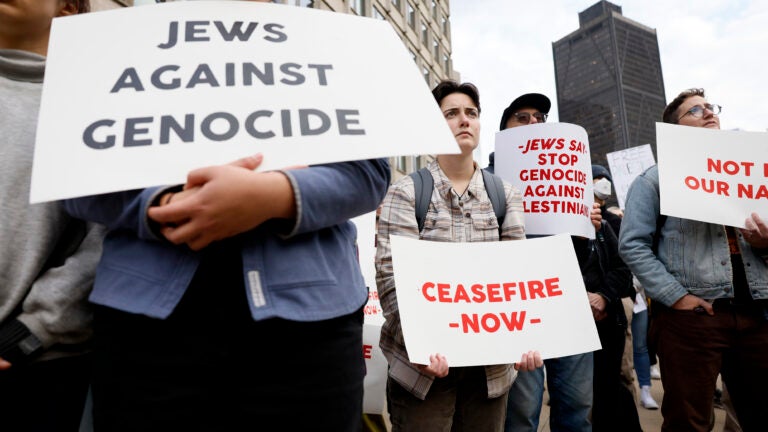 At least six Jewish protesters participating in a pro-Palestine rally outside Sen. Elizabeth Warren's Boston office were arrested on Wednesday, The Boston Globe reported.
Participants in the demonstration, organized by the group IfNotNow, were calling for the senator to push for de-escalation in the war between Israel and Hamas and a ceasefire in Gaza.
According to the Globe, those who were arrested entered into the John Fitzgerald Kennedy Federal Building and refused to leave in an attempt to stage a sit-in outside Warren's office.
Videos posted by the group showed individuals being escorted out of the building.
Rabbi Rebecca Zimmerman Hornstein was one of several speakers at the rally outside of the building, according to the Globe. She called on Warren to work toward allowing humanitarian aid in Gaza and ensure the release of the Israelis who were taken hostage by Hamas.
"The events of the last 10 days have shown us that there is no such thing as safety for some unless there is safety for everyone," she said, according to the newspaper.
The rally outside Warren's office was not the only pro-Palestine demonstrations in the area on Wednesday. According to the Globe, about 200 people participated in a "die-in" outside of Harvard Business School, protesting the Israeli government's airstrikes and blockade of the Gaza Strip.
According to the Associated Press, more than 4,000 people have been killed since the war began on Oct. 7 when Hamas militants launched a brutal surprise attack on Israelis.
Newsletter Signup
Stay up to date on all the latest news from Boston.com