Local News
New poll finds 70 percent of Mass. voters support establishing safe injection sites
"It's encouraging that an overwhelming number of citizens agree that overdose prevention centers are a commonsense way to help keep people safe."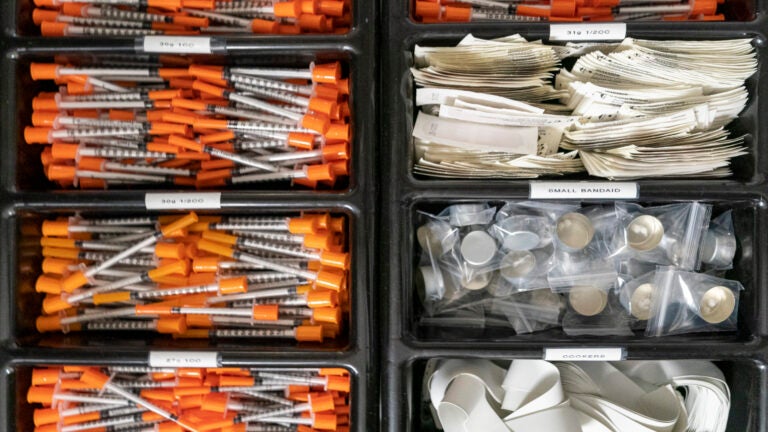 A majority of Massachusetts voters say they would support establishing facilities in the state where individuals could use drugs under the supervision of health care workers in order to prevent overdose deaths, a new poll has found.
Seventy percent of the Massachusetts voters surveyed in a new Beacon Research poll said they support passing state legislation that would allow cities and towns to establish the centers, referred to as safe injection sites, supervised consumption sites, or overdose prevention centers.
The survey, conducted by Beacon Research and sponsored by the ACLU of Massachusetts, interviewed 603 registered voters online. More than three-quarters of the participants (76 percent) indicated that they think opioid use in the state is a major problem, with 73 percent of voters saying they believe the state must do more to address the issue. Seventy-seven percent of the respondents said they think the opioid crisis should be responded to as a public health issue, rather than a law enforcement problem.
Medical professionals and advocates for supervised consumption sites hailed the poll's findings, which were released Thursday.
"As a medical provider, I know overdose prevention centers will save the lives of many people struggling with addiction," Dr. Miriam Komaromy, medical director of Boston Medical Center's Grayken Center for Addiction, said in a statement. "It's encouraging that an overwhelming number of citizens agree that overdose prevention centers are a commonsense way to help keep people safe."
The Massachusetts Medical Society has been advocating for the facilities since 2017, and Dr. Barbara Spivak, president of the group, said in a statement that research in the years since has "only fortified our position that such facilities save lives and offer pathways to medically appropriate treatment and rehabilitative services."
"As disparities and overdoses caused by synthetic drugs like fentanyl continue to rise and ravage families and communities, it is clear the majority of residents of the Commonwealth agree with physicians in their belief that the time is now to deploy a proven harm reduction tool that can save the lives of our patients," Spivak said in a statement.
There have been legislative efforts to establish safe consumption sites in Massachusetts going back years, and leaders in several communities across Massachusetts — including Somerville, Cambridge, Northampton, and Northwestern District Attorney David Sullivan — have expressed support and interest in opening the facilities.
There are almost 200 safe consumption sites operating around the world, according to the Drug Policy Alliance. New York City opened the first such facility in the United States as part of a pilot program in 2021, despite a federal law, known as the "crack house statute," that makes it illegal to maintain a site for the purpose of using a controlled substance. It was using the statute that the Justice Department, under the Trump administration, sued to stop the establishment of a safe consumption site in Philadelphia in 2019.
A spokesperson for Gov. Maura Healey said in a statement to Boston.com in March that the governor "believes harm reduction strategies are an important part of mitigating the opioid crisis" and that she "supports allowing communities to decide what's best for their residents, including the option of setting up safe consumption sites, given the urgent need to help connect people with treatment services, address stigma and save lives."
Currently, the Massachusetts Legislature is considering a bill that would give municipalities the authority to establish overdose prevention centers.
According to Thursday's poll, when voters were given more information about overdose prevention centers and the impact of the opioid crisis, 8-in-10 said they would support the passage of the legislation allowing municipalities to establish the sites.
The number of people who died from overdoses in Massachusetts reached a new high in 2022. A total of 2,357 confirmed and estimated opioid-related overdose deaths were recorded for 2022, up from the 2,300 recorded in 2021, according to semiannual data released by the Department of Public Health in June. The number of deaths recorded in 2021 was also a record at the time.
Newsletter Signup
Stay up to date on all the latest news from Boston.com