Local News
State Police Association says $100 penalty for violating 'move over' law isn't nearly enough
Law enforcement officers and their loved ones gave emotional testimony in support of higher fines for drivers who fail to move over for stopped emergency vehicles.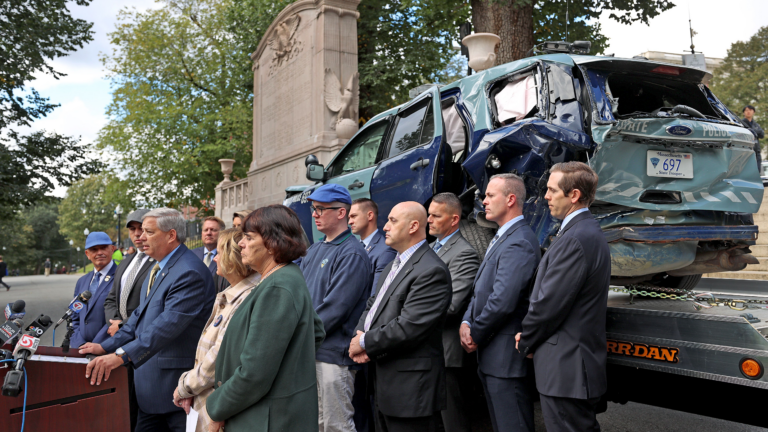 The State Police Association of Massachusetts wants stricter penalties for violations of the "move over" law, which instructs drivers to slow down and change lanes for emergency vehicles stopped on the side of the road. Advocates of strengthening the law say the current maximum penalty of $100 is grossly inadequate.
Three bills proposed to the state legislature's Joint Committee on Transportation would raise the minimum fine for a first-time violation to $250, with higher penalties for subsequent offenses. For a violation that causes someone to be injured, that penalty would go as high as $2,500-$5,000 or up to one year of jail time, according to the different bills.
Several public officials, police troopers, and family members of law enforcement spoke in support of the bills at Tuesday's joint committee meeting.
Middlesex District Attorney Marian Ryan called the proposed legislation "very reasonable," since law enforcement officers and firefighters are routinely struck by vehicles on the road.
According to a National Law Enforcement Officers Memorial Fund database, 166 law enforcement officers were struck by a vehicle and killed from 2012-2022 in the U.S. This number does not account for non-fatal injuries.
"What we really want," Ryan continued, "is never to enforce this bill, but actually to have it be the basis for an education campaign."
All three of the proposed bills would have two-time offenders complete an educational program about road safety and the importance of the move over law. The version proposed by Representative Kenneth Gordon would go a step further, establishing an annual, multi-agency public awareness campaign about the dangers of distracted driving.
Nancy Devlin spoke to the committee about how her husband, Massachusetts State Police Trooper Thomas Devlin, "sustained severe and catastrophic injuries" when he was struck by a moving vehicle while performing a traffic stop in 2018. He died two years later, after six "grueling" surgeries, due to complications from his blunt force injuries, she said.
"Tommy put his life on the line every day as he served, and he did his part in keeping our roads safe. He adored me and our kids and he wanted nothing more than to come home safely to us," Devlin said. "I would never want another family to have the ending that we had."
When Thomas Devlin was struck, the penalty for violating the "move over" law was $100. The driver who hit him was sentenced to 18 months in prison in 2022.
State Police Association President Patrick McNamara asked the committee to recognize the proposed legislation as the "Trooper Thomas Devlin Bill."
"It's happening again and again and again," McNamara said of roadside law enforcement injuries and fatalities. "They're all preventable. All of them."
Representative Steven George Xiarhos, a Republican who represents the 5th Barnstable District and had a 40-year police career before running for office, proposed one of the bills that would raise the maximum penalty for violating the "move over" law to $2,500 or up to a year of jail time.
At the committee meeting, Xiarhos recalled his own days as a police trooper and the danger of performing highway traffic stops with cars speeding by in the next lane.
All of the testimony to the joint committee about strengthening the "move over" law was supportive. Xiarhos told NBC10 after the hearing he expects the biggest obstacle to passing one of the bills will be the slow legislative process.
A group of first responders gathered outside the State House on Tuesday to express theur support for the "move over" law updates, as well as separate legislation that would make it easier for officers who retire due to injury in the line of duty to access their full salary and benefits.
Newsletter Signup
Stay up to date on all the latest news from Boston.com