Local News
Mattapan woman charged with striking, killing UMass Dartmouth student with car
Danasia Sampson allegedly hit a fellow student, Frank Petillo Jr., on campus in April.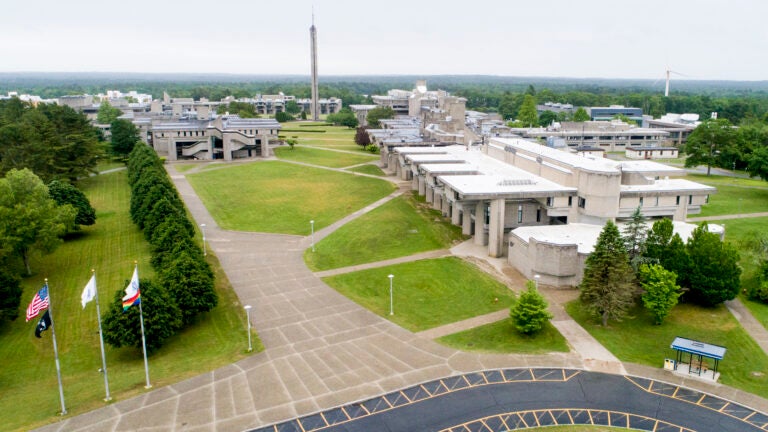 A 22-year-old Mattapan woman was charged in connection with the death of UMass Dartmouth student Frank Petillo Jr., who was struck and killed by a car on campus in April.
Danasia Sampson faces a charge of Motor Vehicle Homicide by Negligent Operation, according to Bristol County District Attorney Thomas M. Quinn III. She will be arraigned in New Bedford District Court on Nov. 7.
Campus Police responded to a call regarding a pedestrian who was struck by a car on campus at about 5:30 p.m. on April 6. Petillo, a 19-year-old freshman who was studying bioengineering, was found lying in the road with "significant injuries," Quinn's office said. He was brought to St. Luke's Hospital, where he was pronounced dead.
Sampson, also a student, was found at the scene. She was driving a gray Honda Accord, officials said. Witnesses told WCVB that Petillo was walking with a friend in front of his dorm.
Petillo grew up in Manahawkin, N.J., according to an online obituary. He was a natural performer, appearing in theater productions from the age of 6. A member of two theater companies, Petillo also took tap, jazz, ballet, and voice classes. He performed in multiple plays and musicals in high school, as well as joining the jazz ensemble and choir. Petillo was on the varsity track team, where he competed as a sprinter.
At UMass Dartmouth, Petillo " immersed himself in campus life," his family wrote. He worked in the library, served as chair of professional development for the Student Alumni Association, joined the lacrosse club team, performed in the UMass Dartmouth Theatre Company's production of "The Addams Family," and volunteered in the College of Engineering's tutoring program.
"I wouldn't wish this on anybody in the world," his father, Frank Petillo Sr., told WCVB in September. "It's been a tough road these past few months. It's been really tough."
After authorities concluded their investigation into the matter last month, police filed a criminal citation against Sampson. A hearing was held Thursday, where the clerk magistrate determined that probable cause existed and Sampson was formally charged.
Newsletter Signup
Stay up to date on all the latest news from Boston.com