Local News
Congressional report says failure to replace Cape bridges could be 'catastrophic'
Without total replacement, experts warn of the need for constant repair that will create a serious gridlock.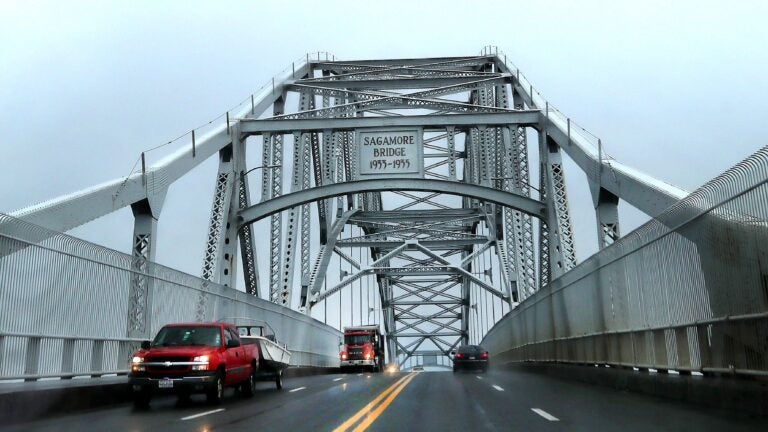 A new Congressional report warns that failure to replace Cape Cod's federally-owned Bourne and Sagamore Bridges could result in "catastrophic" consequences for the region.
The report, titled "Cape Cod Bridges Replacement: An Urgent Need," urges federal funding and outlines how the deteriorated state of the 88-year-old bridges affects local residents, businesses, and emergency services.
Created with input from Cape leaders and released by Sens. Elizabeth Warren and Ed Markey and Rep. Bill Keating, the report warns that the bridges' structural deficiencies present "an ongoing risk to the accessibility and economic stability" of the Cape.
The bridges are the only access point for the more than 35 million vehicles that cross the canal each year. More than 260,000 people live in the Cape and the Islands, and over 5 million tourists visit annually.
"The current condition of the bridges is untenable, and without replacements, problems will only grow," the report states. With the current "fix it as it fails" approach, experts warn the bridges will continue to decay and will require both bridges to be in the midst of constant, ongoing repair.
Eventually, there will be a need for a permanent reduction to single-lane traffic on the bridges by the 2030s, which will create "unfathomable congestion" that will impact the Cape's economy and public safety, the report says.
Experts warn that traffic backups could create major gridlock that impedes the ability of responders to quickly access emergencies. The report estimates the bridge congestion would add up to 15 minutes to the average emergency response time.
According to the Cape Cod Chamber of Commerce, replacing the bridges will provide "a sense of certainty" for Cape Cod's economy, which supports nearly 10,000 businesses, a labor force of nearly 118,000, and a $1.5 billion tourism industry.
"The bridge replacement project 'is essential to the region as it will not only benefit our region socially, and economically, but it will confirm the Cape and Island's status as one of the most beloved vacation destinations in America. …Replacing the bridges will ensure that the regional tourism economy is allowed to fully thrive and flourish,'" the report states. "We cannot allow for further delay in moving forward with this vital project."
Newsletter Signup
Stay up to date on all the latest news from Boston.com