Local News
Worker who died in fall from downtown Boston office tower identified
Boston police said the worker fell while cleaning the high-rise building at 100 Summer St. in the Financial District.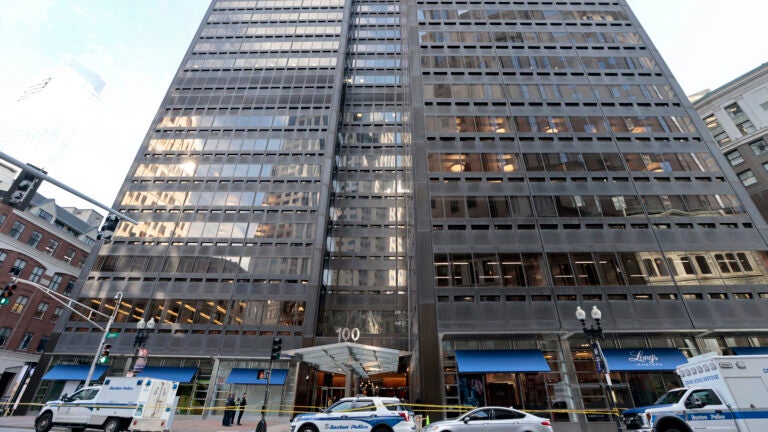 A window washer died Monday morning after falling from an office tower in Boston's Financial District, according to police.
Officers responded to 100 Summer St. just before 8 a.m. for a report of a person who fell while cleaning the high-rise, a Boston police spokesperson said. He was pronounced dead at the scene.
The Suffolk County District Attorney's office identified the man Monday evening as Nicholas Marks, 40, of East Weymouth.
It was not immediately clear what caused the fall or how many stories Marks fell, according to the police spokesperson. The Occupational Safety and Health Administration confirmed it was notified and responded to the scene.
"Our deepest sympathies go out to Mr. Marks's family and friends at this tragic time," Suffolk County District Attorney Kevin Hayden said in a statement. "The investigation being conducted by OSHA will determine what role, if any, our office will have moving forward in this matter."
According to The Boston Globe, a man who knew Marks told reporters at the scene, "He's a great guy, he's got two beautiful children at home. There's nothing else to say."
The man said Marks was on a platform held by two ropes and while it's common for one rope to fail, two usually do not, according to the Globe. He also said the 40-year-old was likely in a harness, the newspaper reported.
According to the Globe, three ropes could be seen hanging from one side of the building late Monday morning, while a fourth rope that appeared to have snapped was visible about 16 stories up.
Located a short walk from South Station, the 32-story tower is one of the tallest buildings in Boston, according to the 100 Summer website.
"We are deeply saddened by this incident, and our thoughts and prayers are with the individual's family and loved ones," a spokesperson for 100 Summer Street said in a statement, confirming that the incident involved a window cleaning service.
"We are actively supporting the local authorities in their investigation of the incident, which remains ongoing," the spokesperson said.
Newsletter Signup
Stay up to date on all the latest news from Boston.com