Local News
Funeral today for Mass. airman whose remains were identified after 80 years
First Lieutenant Alfred W. Pezzella, of Newton, was 27 when he was shot down in Romania.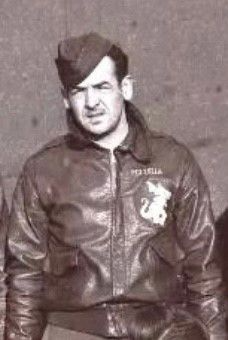 A Newton-born World War II airman will be buried with full military honors Tuesday at the Massachusetts Veterans National Cemetery in Bourne, 80 years after he was shot down in Romania in 1943.
Army Air Forces First Lieutenant Alfred W. Pezzella was 27 when he was killed during a bombing mission of the 328th Bombardment Squadron, 93rd Bombardment Group called Operation TIDAL WAVE, according to a death notice posted by the Waltham-based Brasco and Son Memorial Funeral Home.
It was a dangerous, low-altitude mission, according to the funeral home: the entire ten-man crew of Pezzella's B-24 Liberator Bomber was killed by German anti-aircraft fire.
Pezzella's remains couldn't be identified at the time, and were classified as unknown in the Hero Section of the Civilian and Military Cemetery of Bolovan, Ploiesti, Prahova, Romania. After the war, the unidentified remains from the Bolovan cemetery were moved to two American cemeteries in Belgium. In 2017, the Defense POW/MIA Accounting Agency tried yet again to identify the unknowns believed to have been killed during Operation TIDAL WAVE, this time using mitochondrial DNA analysis.
Finally, in August, the DPAA announced that Pezzella's remains had been identified through a DNA match with a relative.
Pezzella was born on Dec. 23, 1915 in Newton to Raffaele Pezzella and Consiglia (Anzivino) Pezzella. Though his parents and four sisters died before his remains were identified, he is survived by one niece and many great-nieces, great-nephews and other extended family.
His remains were escorted back to Boston on Friday by his great-great-nephew, a current U.S. Army Captain, according to the funeral home.
Vinny Papia of Revere, Pezzella's great-nephew, told NBC10 that Pezzella "had a love for airplanes" and volunteered for military service in 1939. Pezzella received a Purple Heart, a World War II Victory Medal, and numerous other medals for his service.
Papia told NBC 10 he was stunned when he got the call that Pezzella's remains had been identified: "It was traumatic, phenomenal, I was on the verge of tears."
Pezzella's burial will be preceded by a funeral service at the Mary Catherine Chapel of Brasco & Sons in Waltham on Tuesday morning.
Newsletter Signup
Stay up to date on all the latest news from Boston.com