Local News
Here's how Arroyo wants to amend Wu's Mass. and Cass tent plan
Boston City Council is set to vote on Wu's plan for clearing tents from Mass. and Cass this week.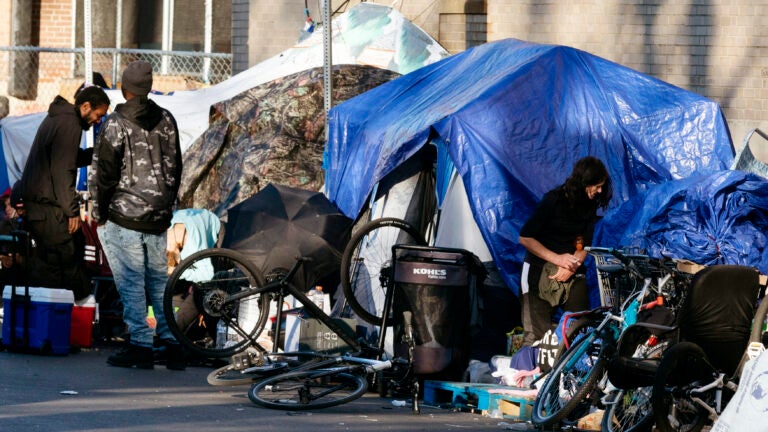 Days before Boston City Council is set to vote on Mayor Michelle Wu's plan to clear encampments from Mass. and Cass, Councilor Ricardo Arroyo put forth a new version of the ordinance. The amendments would eliminate fines, loop in public health officials when shelter is unavailable, force the city to provide clarity on transportation services, track shelter space daily, and notify people of tent removal in multiple languages.
Arroyo, who chairs the Committee on Government Operations, clarified that he personally does not back the plan. But he filed a report recommending that the ordinance "ought to pass" with the new changes.
"The chair of the committee does not support this ordinance," Arroyo wrote in the report. "These amendments, however, clarify implementation of this ordinance for city departments and city employees, and also make efforts to strengthen the legality of the ordinance as a whole."
Wu introduced the plan back in August, after officials said Mass. and Cass experienced a notable uptick in safety concerns over the summer. The area, where the twin crises of homelessness and substance abuse collide at the intersection of Melnea Cass Boulevard and Massachusetts Avenue, sees a variety of criminal activity on a regular basis, officials have said.
Much of this activity is shielded from watchful eyes by tents and tarp structures, Wu said. Her plan would enable police to clear the structures more quickly, while creating a framework to help those that are being displaced. The goal is to at least restore Atkinson Street to a functional roadway.
The plan would automatically go into effect at the end of the month if it is not struck down by City Council. It has been the topic of much debate during a public hearing in late September and a 7-hour-plus working session earlier this month.
It was initially scheduled to be voted on during last Wednesday's council meeting, but Arroyo came down with COVID-19 and pushed the vote to this week's meeting, The Boston Herald reported. Wu urged councilors to take swift action when she introduced the plan, and said in an interview with WBUR last week that the delay was "disappointing."
Councilors grilled city officials during the working session. They sought clarity on what will happen when the city declares "a Period When Shelter Is Unavailable." This would be a rare event, officials said, and the camping restriction would not be enforced during this time. In his amended version of the ordinance, Arroyo specified that the Boston Public Health Commission and the Inspectional Services Department must consult with Wu's office and Boston Police when "a Period When Shelter Is Unavailable" is declared.
City officials were asked about who will actually engage with the people living at Mass. and Cass while their encampments are being removed. Councilors sought to ensure that outreach workers would be present, and that the responsibility would not fall solely on police. City officials said that the "goal would be a co-response system," according to the report.
Councilors asked whether shelter for those displaced by the plan would include Boston Housing Authority developments. City officials replied that most of the people displaced would not be qualified for BHA housing, but that the city must follow a pre-existing plan for determining BHA eligibility and cannot discriminate, according to the report.
Councilors raised concerns over the amount of shelter space that is available, as Massachusetts deals with a state emergency regarding its overburdened emergency shelter system. Gov. Maura Healey said last week that the system will soon reach capacity, and waitlists will be implemented. Boston officials acknowledged the crisis, and that some have been forced to sleep on floors inside shelters. But shelter space is already being reserved for those that would be displaced by the plan, and efforts are underway to find longer-term housing for those living in shelters, according to the report.
While the original ordinance said that homeless individuals affected by the ordinance must be offered shelter space, the amended version adds that they must also be informed that transportation to the shelter is available upon request.
The amended ordinance specifies that the leaflets distributed when the plan goes into effect should be in a multitude of languages. It also eliminated a $25 fine for those that violate the ordinance and put in language requiring city officials to present an end-of-year report about the ordinance to City Council.
Newsletter Signup
Stay up to date on all the latest news from Boston.com