Local News
Boston officials prepare to enforce Mass. and Cass tent clearing ordinance
The city has been working with those living in tents at Mass. and Cass to offer them shelter. Enforcement will begin Nov. 1.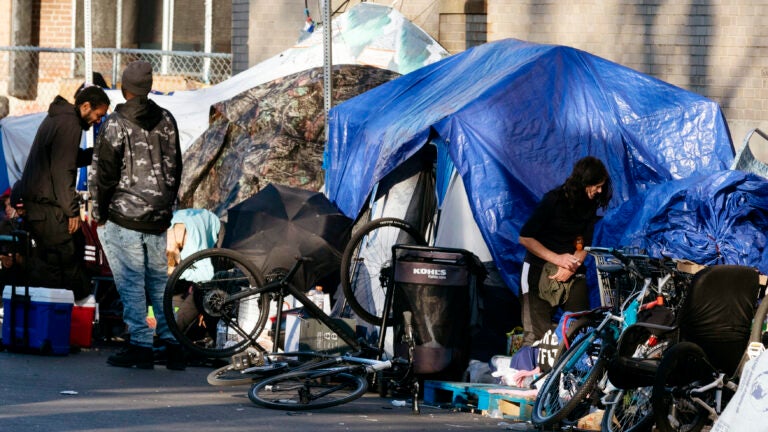 One day after City Council approved an amended version of her plan to clear tents from Mass. and Cass, Boston Mayor Michelle Wu updated the public on plans to begin enforcement of the ordinance.
"At its core, what we are talking about is health, safety, comfort, and dignity. No one in the city of Boston should be living in a tent on the street, especially as the temperatures fall. With no running water, no heat, the transmission of illnesses given the conditions of living outside … in a city with so many resources, we cannot let that stand," Wu said at a Thursday morning press conference.
After officials said the area of Melnea Cass Boulevard and Massachusetts Avenue experienced a surge in public safety concerns over the summer, Wu filed an ordinance in late August that sought to address the tent encampments there. Officials said that clearing tents and tarp structures is necessary because they hide a variety of criminal activity, are unsafe to live in, and block places like Atkinson Street from being used as functional roadways.
The ordinance gives police officers the power to remove tents in a quicker manner, while establishing a framework for getting the people living in them connected with housing and services. It also lays out strategies that officials say will prevent other encampments from being created throughout the city.
When and where
Teams began distributing fliers about the plan in 11 languages Thursday to people living at Mass. and Cass. Wu emphasized that the enforcement of the ordinance will not be catching them off guard, as city workers have been meeting with those residents for months. Workers are now offering people individualized plans to transition them into either low-threshold housing, shelters, treatment clinics, or to be reunited with family.
"The teams on the ground know the people that they are serving by name, they're aware of their life stories, they're aware of the triggers that they experienced, and they've been in conversation with them for many weeks planning for the best pathway to exit a situation that unfortunately has become dangerous, unsafe and, simply said, untenable," Director of the Coordinated Response Team Tania Del Rio said.
Tents will only be removed when those living in them have been offered shelter, transportation to that shelter, and a place to store their belongings. People living at Mass. and Cass will begin moving early next week, with the tent-clearing slated to begin Nov. 1, officials said.
To accommodate the people currently living in tents on Atkinson Street, the city is opening 30 "temporary transitional beds" at a Boston Public Health Commission facility located at 727 Massachusetts Ave. These beds are reserved only for those who are currently engaged in services with BPHC. They are not intended to be populated with anyone beyond the current group identified by the city, and the beds will only be available until those individuals can move into permanent or low-threshold housing. Just over 100 beds are being reserved at shelters throughout the city in anticipation of the ordinance being enforced, Housing Chief Sheila Dillon said.
The BPHC will partner with the Boston Health Care for the Homeless Program to open a temporary clinical services site at 774 Albany St. so that people can receive continual access to care during the transition. It will be open 24/7, with security stationed inside and outside.
Increased police
Police Commissioner Michael Cox said Thursday that there will be an increased police presence at Mass. and Cass during this time.
"It's been perceived as being an area of permissiveness more recently. We're going to have a heavy police presence throughout the area, and with an increased police presence I can promise you there will probably be an increased enforcement presence in the area, so that's not the place to come to do any type of criminal activity," he said.
Although more than 100 people regularly gather at Mass. and Cass, most of them do not actually live there. They have housing options elsewhere, officials said, and come to the area simply to engage in illegal activity and prey on the more vulnerable members of the population.
Mobile units will work with a central operations post to prevent criminal activity at Mass. and Cass and ensure that Atkinson Street is returned to an operational roadway. City officials will be restricting access to Atkinson Street during this period.
At the same time, teams of police and outreach workers will be tasked with preventing outdoor encampments elsewhere in the city. Residents who see encampments are encouraged to report them to 311. The city's Coordinated Response Team will handle these reports. The goal is to make sure any person in Boston found to be living outside receives an outreach visit, is offered services, and has an opportunity to receive the help they need, Del Rio said.
Mass. and Cass by the numbers
Wu touted the city's efforts to improve Mass. and Cass since she took office. More than 500 people who were living on Atkinson Street have gone through the city's low-threshold housing program since January 2022, and 172 have moved into permanent housing. Officials said 133 of these people are currently living in low-threshold sites, 72 of whom "have a housing resource in hand and are looking for a housing unit."
The city tracks a variety of data relating to Mass. and Cass through an online dashboard. Last week, more than 120 people on average gathered on nearby Southampton Street at night. This count has remained relatively steady throughout the fall, but fluctuated wildly over the summer. At one point in July, an average of more than 250 people gathered there.
There were 372 EMS incident responses at Mass. and Cass last week, according to the dashboard. The week before, there were 420 EMS incidents, nearly matching the highest-ever recorded weekly EMS incident count.
Wu said that the city is more prepared than ever before to initiate a plan like this.
"Today, we are in a different place than the city has ever been before," Wu said. "Never before have we had this scale of infrastructure built up for housing, services, treatment, all coordinated with a team that is around-the-clock dedicated to understanding and connecting with everyone's individualized situations and needs."
Newsletter Signup
Stay up to date on all the latest news from Boston.com