Local News
Live updates: Maine embarks on healing and searches for answers a day after mass killing suspect is found dead
At least 18 people were killed in mass shootings at a restaurant and a bowling alley in Lewiston, Maine.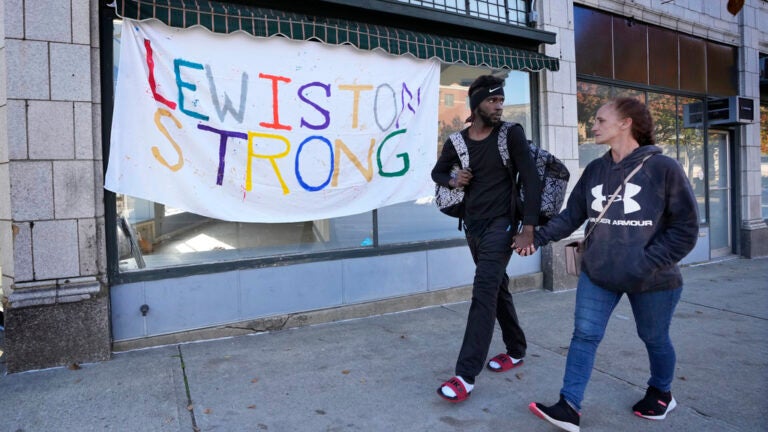 At least 18 people were killed in shootings at a restaurant and a bowling alley in Lewiston, Maine, on Wednesday night, sparking a massive search for a person of interest who is a trained firearms instructor.
The suspect, Robert Card, was found dead from an apparent self-inflicted gunshot wound Friday night.
The latest on the Lewiston, Maine shootings: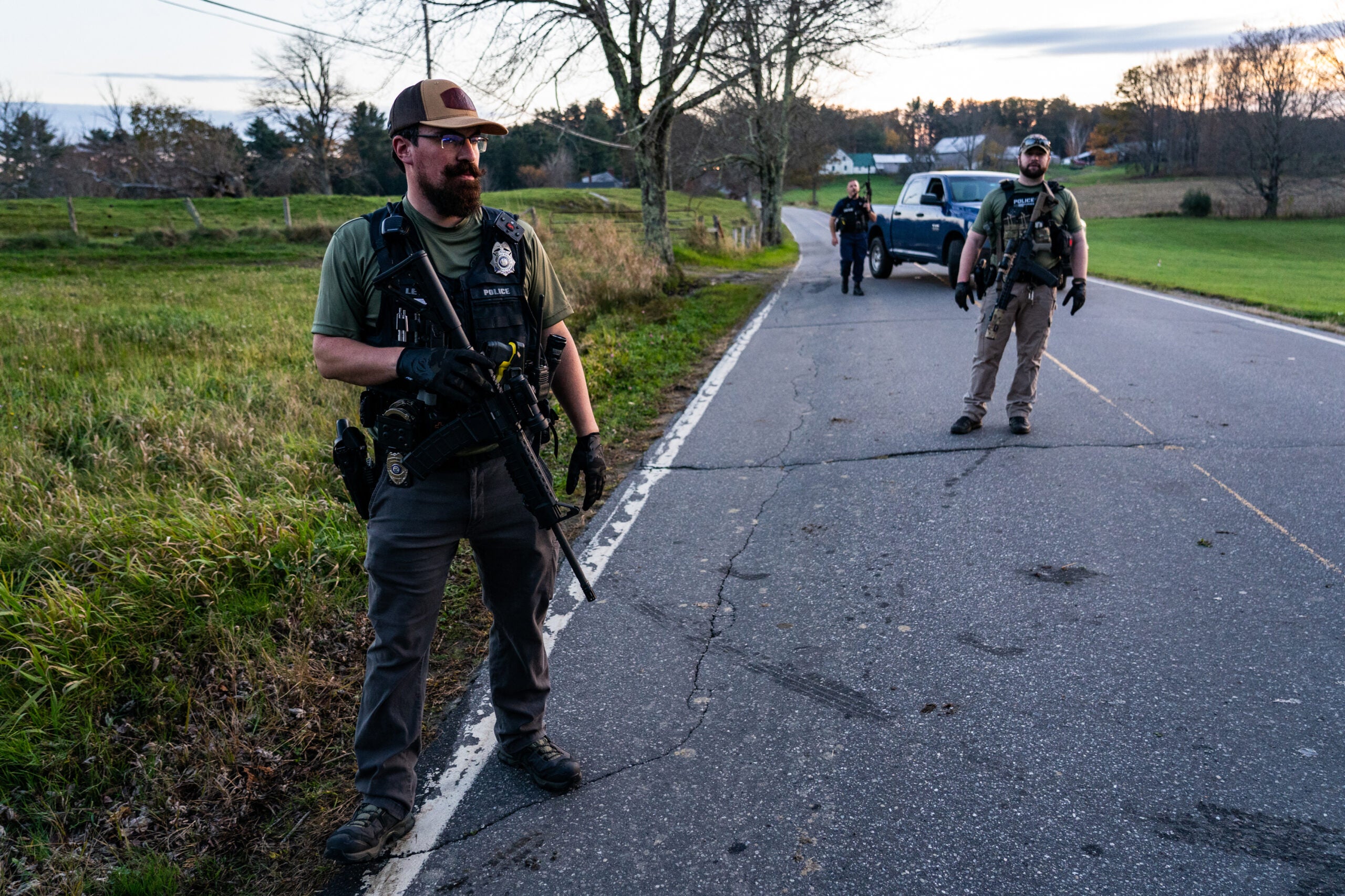 Live updates:
Police teams had already searched a recycling center in Maine twice before eventually finding the body of the man suspected of killing 18 people in Lewiston was found, authorities said Saturday.
Department of Public Safety Commissioner Michael Sauschuck said the teams that scoured the Maine Recycling Corp. property, including a tactical team, on Thursday night. He said another state police team returned to the site Friday and found Robert Card's body in a location that hadn't been searched.
Card died of an apparent self-inflicted gunshot wound, Sauschuck said.
At a press conference Saturday, Sauschuck also said Card's family called investigators to provide his name to law enforcement soon after police released surveillance pictures of the shooter.
"This family has been incredibly cooperative with us," Sauschuck said. "Truth be told the first three people that called us … were family members."
— Associated Press
Maine Gov. Janet Mills confirmed at a news conference Friday night that the suspect wanted for killing 18 people at a bowling alley and bar has been found dead in Lisbon, Maine.
"Like many people, I'm breathing a sign of relief tonight knowing that Robert Card is no longer a threat to anyone," Mills said. "I also know that his death might not bring solace to many. But now is a time to heal."
Maine's public safety commissioner, Mike Sauschuck, said at the conference that Card was found at 7:45 p.m. near the Androscoggin River. He declined to provide a specific address.
Lewiston Police Chief David St. Pierre said the community can now "breathe a sigh of relief."
"This is vitally important to all of us that this conclusion came to light tonight," St. Pierre said. "We're going to grieve for the families that lost loved ones.
— Associated Press
Authorities announced at a press conference on Friday evening that the shelter-in-place order is rescinded, effective immediately, even as police continue their manhunt for the suspect in Wednesday's mass shooting.
Maine Department of Public Safety Commissioner Michael Sauschuck said at the 5 p.m. press conference that even though the shelter-in-place order is being lifted, a prohibition on hunting is in effect for the towns of Lewiston, Lisbon, Bowdoin, and Monmouth starting Saturday and until further notice. Police are continuing to search for Robert Card in those locations, and Saturday is Maine's "Resident Only Day," a kickoff to the deer hunting season in the state.
"There are going to be communities that hear gunshots from time to time, because they're' going to be hunting," Sauschuck said. "So we would ask everybody to use caution and not think that every one of those gunshots is directly regarding this particular crisis situation, this investigation."
Still, he urged individuals to contact 911 if they see anything suspicious.
"We want our residents to remain vigilant and pay attention to what we share for information," he said.
Sauschuck said that with the shelter-in-place order lifted, businesses could choose to open or remain closed. However, authorities are recommending that all individuals remain vigilant as the search for the suspect in Wednesday's mass killings continues. 
As the search for Card continues, Sauschuck said officers will continue to canvas neighborhoods. A search of parts of the Androscoggin River will continue on Saturday, he said. 
While more than 500 tips have poured into law enforcement since the shootings, Sauschuck said authorities have not seen Card in the last two days.
The public safety commissioner clarified the timelines for when police responded to the shooting scenes. He said the initial 911 call from Just-In-Time Recreation bowling alley came in at 6:56 p.m. and the first Lewiston police officer arrived at 7 p.m. Four plainclothes officers who had been at a shooting range in the area responded to the bowling alley about a minute and a half after they heard the call on the radio, he said.
Meanwhile, the call for the shooting at Schemengees Bar and Grille came in at 7:08 p.m., and the first Lewiston officer responded to the scene at 7:13 p.m.
Sauschuck began the press conference by reading the names of the 18 victims in the shooting,  whose ages ranged from 14 years old to 76 years old. 
Lewiston Police Chief David St. Pierre said during the press conference that he and other members of law enforcement knew some of the people who were killed.
"It's been very difficult," he said.
"You try to go into a situation very objectively and do a very thorough job knowing that you know that this person that's affected, or you know a family member or a friend," he went on to say. "Very difficult. I can tell you that all of the police officers that I know from the area remain very professional at all times and we press on and we get the job done."
— Dialynn Dwyer
All 18 of the people who died in a mass shooting in Maine have been identified, according to the state medical examiner
The 16 males and two females killed Wednesday night ranged in age from 14 to 76, the medical examiner said Friday.
According to Maine State Police, seven people died at Just-In-Time Recreation bowling alley and eight more died at Schemengees Bar and Grille. Three others died after being taken to hospitals.
Investigators found a note at a home associated with Maine mass shooting suspect Robert Card on Thursday that was addressed to his son, two law enforcement officials told The Associated Press.
The officials described it as a suicide note but said it didn't provide any specific motive for the shooting.
Card's cellphone had also been recovered in the home, making a search more complicated because authorities routinely use phones to track suspects, the official said.
A gun was found in the white Subaru that Card abandoned, the officials said. Federal agents were testing the gun to determine if it was used in the shooting and conducting a trace to determine when and where the gun was obtained, the officials said.
Federal agents conducted several searches of properties associated with Card on Thursday, collecting a number of items, including electronics. Investigators are also analyzing Card's financial information and reviewing his social media posts, writings and his mental health history, the officials said.
The officials were not authorized to publicly discuss details of the investigation and spoke to The Associated Press.
Several communities remained under a shelter-in-place advisory, and many businesses and schools were closed Friday as officials continued to search for the suspect in the Lewiston mass shooting that killed 18. 
The shelter-in-place orders have not been changed in any way at this point, said Mike Saushuck, Maine's public safety commissioner. "We realize we want to keep our community safe — that's at the forefront of our minds — but we know a shelter-in-place order in general can have some negative impacts on families and businesses," he said at a press conference Friday morning.
Updates on motive and the suspect's whereabouts remained sparse during the press conference, but officials detailed their search efforts, showing the maps of three locations that had heavy law enforcement presence. 
One of those places is in Lisbon just along the Androscoggin River, where authorities found Robert Card's white Subaru abandoned. 
Saushuck said a team of divers and sonar devices were being used in and around the river. Reporters asked Saushuck if police believed the river was where Card went after the shootings, and also if they believed he was dead at this point. 
"The river is a big piece of this," Saushuck said. "The car was located there. Evidence was located either in the vehicle or right along the shores of the river."
But he reminded the media, and the public watching, that just because there is a law enforcement presence in an area, it does not necessarily mean that's where the suspect is. 
Saushuck said law enforcement has received more than 530 tips from residents and said authorities are investigating all possible avenues and areas around Lewiston, Lisbon, Bowdoin, and Auburn — the four communities that remained under the shelter-in-place. 
There would also be a large law enforcement presence at the Just-In-Time bowling alley and Schemengees Bar & Grille, the two businesses where the shootings occurred, as they continue their investigation. 
— Katelyn Umholtz
One person who was injured in Wednesday's mass shooting in Lewiston, Maine, is now receiving care at Massachusetts General Hospital in Boston.
A hospital spokesperson confirmed that MGH received one patient from Maine who is currently in stable condition, though they were unable to provide specifics about the patient's case. 
Nearly all the victims who initially survived the shooting were brought to Central Maine Medical Center in Lewiston, CMMC confirmed in a statement. 
The first patient arrived at 7:24 p.m. — roughly 30 minutes after gunfire initially erupted at Just-In-Time Recreation, a bowling alley. More shots followed at nearby Schemengees Bar & Grille. 
Within an hour, 14 patients had been rushed to Central Maine Medical Center. Eight were admitted, three died after arriving at the hospital, and two were discharged, according to CMMC's statement. One patient was transported to Maine Medical Center in Portland, and another was brought directly from the scene to St. Mary's Medical Center in Lewiston. 
Of the eight patients who were admitted, CMMC said five are in stable condition and three are in critical condition. 
"Our team provided high-level expertise. They train regularly for this type of situation, and I think it showed," Chief Medical Officer Dr. John Alexander said Thursday, according to the statement. 
Central Maine Healthcare President and CEO Steve Littleson added: "Words cannot describe our collective sense of loss." 
"I want to acknowledge the absolutely heroic efforts of our entire CMH team who responded and provided expert and compassionate care during the most challenging event in our history," Littleson said.
— Abby Patkin
Search for suspected shooter prompts dread in Maine
The ongoing search for Robert Card, an Army reservist who authorities say fatally shot 18 people at a bowling alley and a bar in Maine, has prompted dread around the state.
Much of Thursday's search focused on a large property belonging to one of Card's relatives in rural Bowdoin, where concerned locals said Card could have the upper hand in navigating the rural, wooded area that he knows well.
In Portland, some restaurants and bars closed their doors, bringing an unusual early evening quiet to the typically bustling downtown of the state's largest city.
One popular seafood joint posted a sign on its door saying it would remain closed while the staff awaited word on the manhunt. Another restaurant canceled reservations Thursday "for the safety of our guests and staff."
Lewiston schools to close as police search for mass shooting suspect
Lewiston Public Schools will be closed again on Friday, according to a post by Superintendent Jake Langlais on the district's website.
"We remain in a shelter in place situation," the post said. "We will not open buildings or run bus transportation."
The superintendent said students and staff have been directly impacted by the shooting and the events since 7 p.m. Wednesday are "unimaginable."
School officials in Maine's largest city of Portland will decide by 5 a.m. Friday whether to open based on information received from police, according to a post on the district's website.
Bates College in Lewiston also canceled classes Friday and postponed the inauguration of the school's first Black president, Garry Jenkins, the school's website said.
Officers have left home they surrounded, saying they were executing a search warrant
Most of the law enforcement officers and a helicopter that surrounded a home connected to a relative of the suspect in the Maine shootings have left after executing a search warrant and calling for anyone inside to surrender.
Officers had yelled through a megaphone at the home near Bowdoin, Maine, for suspect Robert Card or anyone inside to "Come out with your hands up."
Maine State Police said afterward that the announcements were standard.
"It is unknown whether Robert Card is in any of the homes law enforcement will search," the statement posted on Facebook said.
Richard Goddard, who lives on the road where the searches were taking place in Bowdoin, said he knows the Card family and that Robert knows the terrain well.
"This is is his stomping ground. He grew up here. He knows every ledge to hide behind, every thicket," he said.
Officers at home where suspect's relatives live call for surrender
Heavily armed officers surrounding a home where relatives of the suspect in the Maine shootings live near Bowdoin, Maine, are calling for a person or people inside to surrender.
Law enforcement officers asked TV crews to turn off their lights nearby before officers could be heard yelling into a megaphone shortly after 7 p.m.
"You need to come outside now with nothing in your hands. Your hands in the air," officers shouted outside the home owned by suspect Robert Card's relatives.
Officers were speaking through the megaphone, waiting, then speaking again. At one point, officers said they could guarantee safety if the person or people walked outside the house.
FBI, other officers gather at home where suspect's relatives live
Several FBI agents and other heavily armed officers gathered off a road where several relatives of shootings suspect Robert Card live near Bowdoin, Maine.
A military-style vehicle and a white van arrived and moments later someone repeatedly yelled, "FBI! Open the door!"
Loud booms could be heard a few seconds apart as helicopters circled overhead. Nearby, several armed police officers stood on alert in the back of a pickup truck.
Hospital treats patients injured in shootings
Eight people injured in the Maine shootings remained hospitalized at Central Maine Medial Center on Thursday afternoon, officials said.
Hospital officials said five of the patients are in stable condition and three are critical. The hospital has not released the ages of the patients. All of the patients had been identified by late afternoon, said Dr. John Alexander, the chief medical officer.
Alexander said the hospital is not used to dealing with this level of emergency care, but the staff was trained for it.
"It's unprecedented in terms of the severity of the injuries and the tragedy to the community," he said.
Coast Guard searches by boat as shooting suspect remains at large
Authorities have been searching both on land and water for the suspect in Wednesday's shootings in Maine that killed 18 people.
The Coast Guard sent out a patrol boat Thursday morning along the Kennebec River. But after hours of searching, authorities found "nothing out of the ordinary," said Chief Petty Officer Ryan Smith, who is in charge of the Coast Guard's Boothbay Harbor Station.
The suspect's car had been discovered by a boat launch near the Androscoggin River, which connects to the Kennebec, and his 15-foot (4.5-meter) boat remains unaccounted for, Smith said.
But he added that officials didn't have any specific intelligence that the suspect, Robert Card, might have escaped aboard his boat. "We're just doing our due diligence," he said.
Standing outside her Lewiston home Thursday while police searched for the suspect in the Maine shootings, April Stevens cried as she described being frustrated and worried.
Stevens, who lives close to the scene of the shootings, said she knew someone who was killed at the bar and another person who was injured and needed surgery.
"We're praying for everyone. We're just hoping everyone gets through this, that the people who are injured recover safely," she said. "Our hearts go out to all of those who didn't make it."
Stevens said she was working from home Thursday while authorities continued their search for the suspect. She said she locked her doors and turned on her home's outside lights Wednesday night in case the shooter was nearby.
"We're just here to support our friends if they need us. If they need a hug — they need anything — we're here," she said.
Biden urges residents in search area to heed law enforcement warnings
WASHINGTON — President Joe Biden on Thursday urged residents of the area where police are searching for the suspect in the Maine mass shootings to heed the warning of local law enforcement.
"For countless Americans who have survived gun violence and been traumatized by it, a shooting such as this reopens deep and painful wounds," he said in a statement, adding that he and first lady Jill Biden were praying for the families of the victims. "Far too many Americans have now had a family member killed or injured as a result of gun violence. That is not normal, and we cannot accept it."
Biden once again called for the passage of a ban of so-called assault weapons. The president also ordered flags at half-staff to honor the victims of the shooting.
What we know so far about the mass shooting suspect in Lewiston, Maine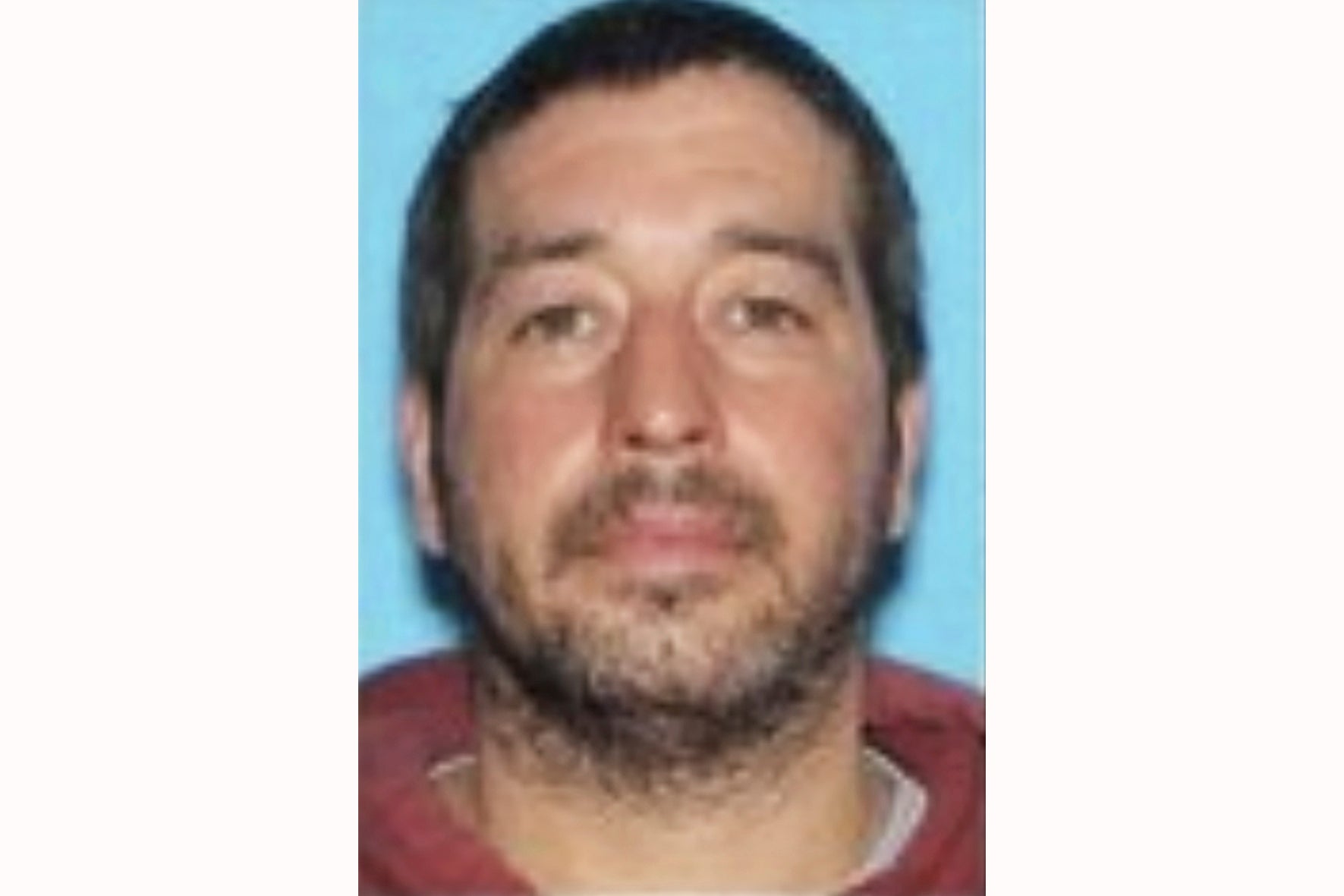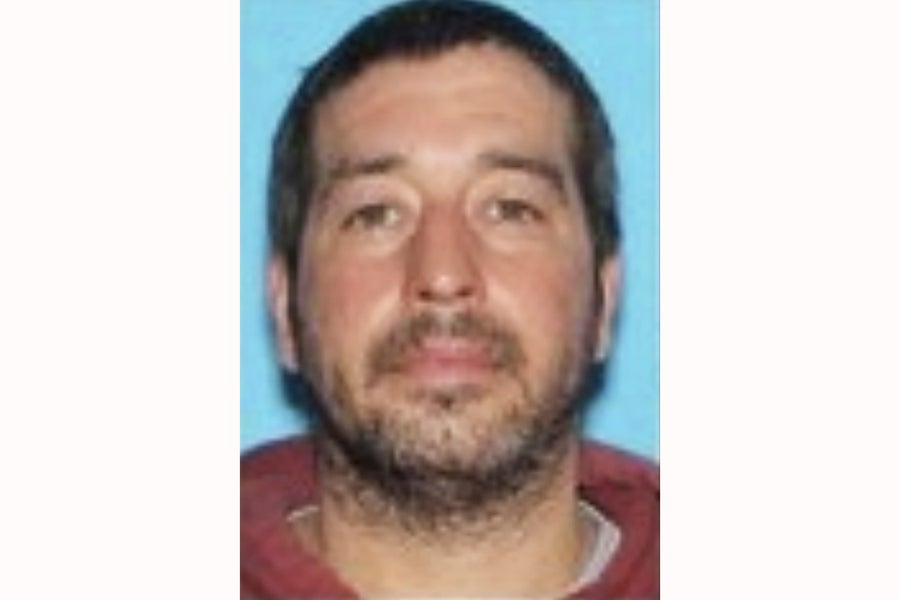 Authorities say a U.S. Army Reservist fatally shot at least 18 people at a bowling alley and restaurant in Lewiston, Maine, on Wednesday night.
A warrant is out for the arrest of 40-year-old Robert Card of Bowdoin, Maine.
Maine State Police Col. William Ross said police have issued a warrant for Card on eight counts of murder. He said those counts will increase when the other 10 victims are identified.
A U.S. official told The Associated Press that Card had been taken by police for an evaluation after military officials became concerned that he was acting erratically in mid-July.
— Associated Press writer Lolita Baldor in Washington contributed to this report.
Arrest warrant issued for suspect in Maine shooting
An arrest warrant for eight counts of murder has been issued for the suspect in the shootings at a Maine bowling alley and a restaurant, according to state police.
As more victims are identified, the counts against suspect Robert Card will probably grow to 18, Maine State Police Col. William Ross said.
Police responded to a "very fast moving, very dangerous scene," Ross said, noting that seven people were found dead at the bowling alley and eight at the bar, including one victim who was outside. All had gunshot wounds. Three people who were taken to hospitals also died, Ross said.
The death toll in the shooting at a Maine bowling alley and a restaurant has risen to 18 people killed, according to Gov. Janet Mills. Another 13 were injured in the shootings Wednesday night, she said.
Mills said law enforcement is still searching for shooting suspect Robert Card, who is considered armed and dangerous.
The governor warned that people should not approach Card under any circumstances. She asked people to call 911 if they see anything suspicious.
The "full weight" of her administration is behind the law enforcement effort to capture Card and hold whoever is responsible accountable and seek justice for the victims and their families, Mills said.
"We cannot and we will not rest in this endeavor," Mills said.
Support for those affected by the Lewiston, Maine shooting
Extra News Alerts
Get breaking updates as they happen.