Local News
City reportedly begins clearing tents from Mass. and Cass
A plan approved last week seeks to clear encampments and relocate people living in them to shelters.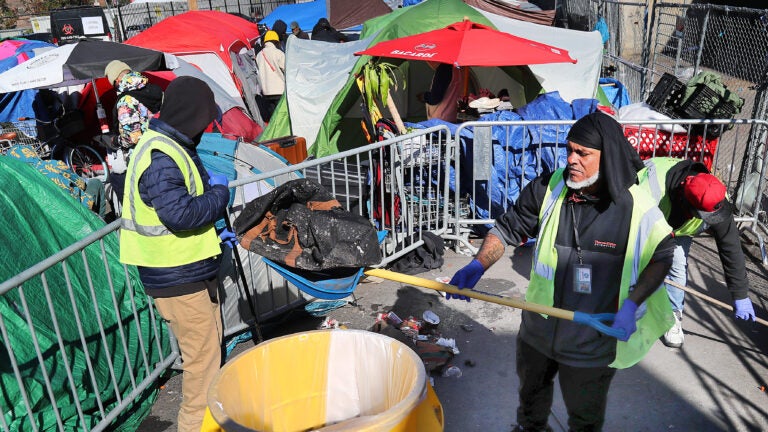 Following Boston City Council's approval of Mayor Michelle Wu's plan to clear tents around Mass. and Cass and elsewhere, city workers are now reportedly enforcing that ordinance.
Since Monday morning, teams of police officers, city employees, and outreach workers have been working to remove encampments and get the people living there to suitable shelters, GBH reported. Around 90 people are living in about 75 tents at Mass. and Cass, the center of the city's homelessness, mental health, and substance use crises.
After the City Council vote, Wu said that the enforcement would not be catching anyone living in the encampments off guard. Fliers in 11 languages were distributed, and city workers have been communicating with the people set to be displaced for weeks in preparation for the plan's approval. Officials said that they would work with people living there from Monday through Wednesday to get them to shelter, before enforcement of the ordinance starts Wednesday.
But one woman living there said she returned from a quick trip to McDonald's to find that her belongings had been moved. Danielle, a 39-year-old woman who did not give her last name to GBH, told the outlet that she was confused because the city had told her that Wednesday was the deadline to clear out. City workers told her Monday that her tent was likely seen as abandoned, and she was given information about a shelter with room for those who can no longer reside on the street.
"Nobody cares where we go," she told GBH. "They're just throwing us out, that's it."
The plan, introduced by Wu in August, gives police the power to clear tents and tarp structures more quickly while setting aside shelter beds for the people being displaced.
Wu, Police Commissioner Michael Cox, and other officials said that the plan was a response to a surge in public safety concerns at Mass. and Cass that began over the summer. Tents hide drug and human trafficking, among other criminal activities, from watchful eyes, officials said. Clearing them will not only decrease crime, they said, but will give the people who had been living in them a safer place to reside as temperatures drop.
Officials said a major goal of the plan is to restore Atkinson Street to being a functional roadway, but the ordinance applies citywide. Teams of city workers and police officers are being tasked with preventing new encampments from popping up throughout Boston.
At a Boston Public Health Commission facility located at 727 Massachusetts Ave., 30 "temporary transitional beds" have been set up for people being moved from their tents. These are reserved only for a predetermined group of people working with the BPHC and are not meant to be a long-term shelter. Just over 100 beds are being reserved at shelters throughout the city to accommodate those being moved.
More than 100 people regularly gather at Mass. and Cass, but most come to the area to engage in criminal activity and have housing options elsewhere, Wu has said.
Newsletter Signup
Stay up to date on all the latest news from Boston.com