Local News
It's goodbye Red Line slow zones after successful diversion, says T
A 16-day shutdown of the Ashmont Branch and Mattapan Line shaved more than 10 minutes off of riders' travel times, according to the MBTA.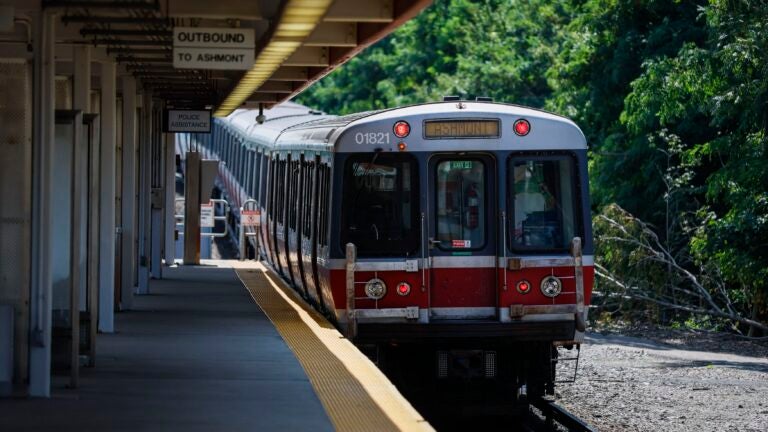 After months of slow trains and a shutdown that lasted more than two weeks, the Red Line's Ashmont Branch and Mattapan Line are back up and running — sans slow zones.
The MBTA celebrated the start of speedier service Monday as the Red Line segments reopened, claiming that crews were able to shave more than 10 minutes off of riders' travel times with 16 days of track work.
Shuttle buses replaced train service between JFK/UMass and Mattapan stations during the partial shutdown, which saw MBTA crews working around the clock to replace 9,700 feet of rail and lift 38 slow zones, according to the T.
Today, the transit agency's speed restrictions dashboard shows no slow zones on the entirety of the Ashmont Branch and the Mattapan Line, though the rest of the subway system is another story.
"The MBTA is proud to have successfully completed this critical work on an expedited timeline," MBTA General Manager Phil Eng said in a statement. "As a result, Red Line and Mattapan Line riders are now experiencing safer, faster, and more reliable service."
For many, the change was noticeable on Monday.
According to The Boston Globe, one driver on an Ashmont-bound Mattapan trolley was brimming with enthusiasm while gliding along the upgraded tracks.
"They did good, they did good!" he said out loud to himself, according to the Globe. "It's smoooooth, now you don't feel none of that stuff. I'm impressed."
UMass student Sam Gregory told the newspaper that he began keeping track of his Red Line travel times when the T first announced the 16-day closure. He said his trips between Ashmont and JFK/UMass ranged from 15 minutes by train on Sept. 14 to 38 minutes by shuttle bus a month later.
On Monday, his travel time was down to just 10 minutes.
"Usually you start and stop quite a bit, but now you glide straight through," he said.
Some riders remained frustrated and skeptical, however, in light of remaining Red Line speed restrictions and continued delays due to disabled and malfunctioning trains.
"Absolutely awful experience once again," rider Alanya Leslie told CommonWealth Magazine after getting stuck on a defective train on her way to work Monday. "This is my first time back on the Red Line. It's their first opening. I didn't have this much disruption when the Orange Line in the '70s was being constructed. This is awful. I'll be an hour late for work."
Still, Eng remained optimistic.
"What we've demonstrated is that we do have the ability to follow through on our commitments," he told the Globe. "I just want the riders to know that moving forward, because there is so much more need across our system, we're going to take what we learned from this and we want to apply it because the intent is to restore service, ensure safety to the riders."
In a video shared by the MBTA Monday, one Red Line passenger confirmed he could feel a difference, telling Eng, "This reminds me of the old Boston."
"Hopefully it stays like this," he added later.
"It will," Eng replied. "We're going to keep improving."
Newsletter Signup
Stay up to date on all the latest news from Boston.com