Local News
See the giant sleeping troll statue a Marblehead architect built in his driveway
The troll moves, breathes, and conceals an enchanted forest behind its scraggly beard.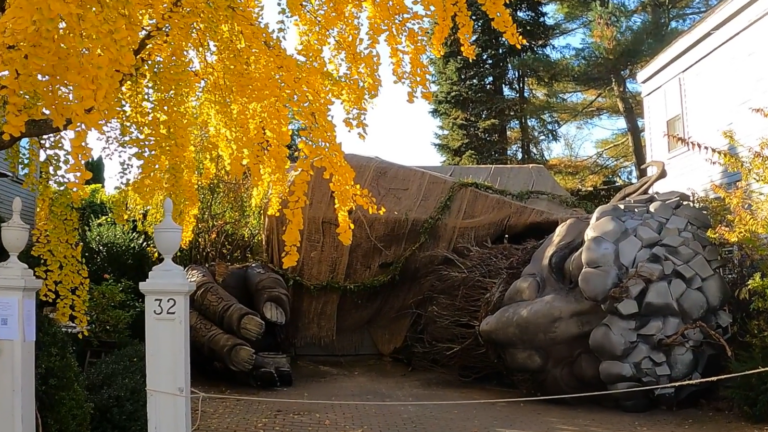 A larger-than-life Nordic troll has taken up residence in Marblehead just in time for Halloween.
The 9-foot-tall sculpture is the handiwork of local architect Tom Saltsman, who has been building giant sculptures in his Pleasant Street driveway each October for the past eight years, according to WBZ News Radio.
Saltsman engineered the stony-faced troll to move its fingers and breathe through its nose. Behind its scraggly beard (made of sticks and brush from the local dump) is a secret passageway into an enchanted forest.
The forest is actually Saltsman's garage, which he's transformed to be totally unrecognizable using mirrors, woodland sets, real plants and rocks, spooky lights, and eerie sound effects. Visitors can walk through the troll's mouth, into the forest, and out the back for the full folklore-inspired experience.
In a video produced by Marblehead TV, Saltsman revealed that he began designing the troll statue in August and started construction in September.
The Forest Troll by Tom Saltsman from MHTV – Marblehead TV on Vimeo.
The statue was "a daunting amount of work," he said, involving scale models of the garage area, several iterations of the troll design, and a team of neighbors and friends who helped build the final product.
"We enjoy making it. I love… having the freedom to make whatever we want to make, and the sculpture factor" Saltsman told Marblehead TV.
Saltsman is running tours of his sculpture from 4 to 8 p.m. on Halloween, Friday, and Saturday, according to the Marblehead Current.
Newsletter Signup
Stay up to date on all the latest news from Boston.com