Local News
Most of the tents at Mass. and Cass now cleared, officials say
A three-day effort to clear the encampments was set to wrap up Wednesday.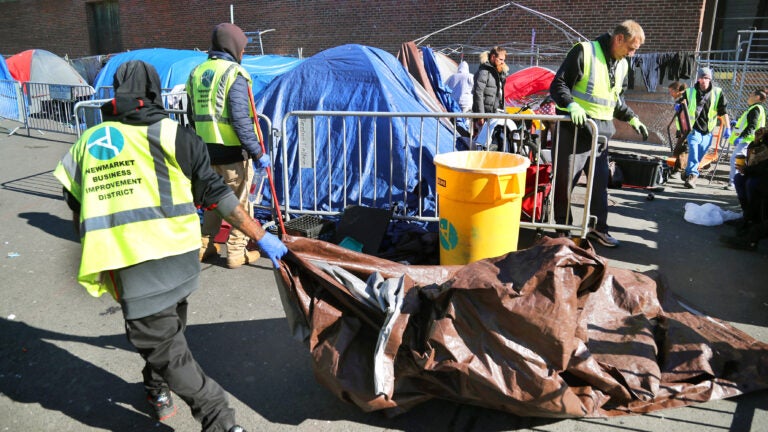 Workers with the city and other groups continued clearing encampments around Mass. and Cass Wednesday, connecting those living there with shelter ahead of the enforcement of a new ordinance designed to prevent people from living in tents there.
The work, which began Monday, has been very productive, Mayor Michelle Wu said at a press conference outside The Engagement Center on Atkinson Street. Her plan, filed as an ordinance months ago and recently approved by the City Council, seeks to make Atkinson Street a functioning roadway again. It gives police the ability to clear temporary structures more quickly, while providing shelter beds and other resources to those that had been living outside at Mass. and Cass.
The ordinance was spurred by a rise in criminal activity at Mass. and Cass, but applies citywide. Teams of outreach workers and police will work in tandem to prevent new encampments throughout Boston.
"We have been committed since November 2021 to trying to show that a different way is possible," Wu said Wednesday. "We've made progress at every phase, and today will hopefully be the next step that we're taking, a big one, for the city. "
Large crowds have routinely gathered at Mass. and Cass, but officials have said that most of those people have had access to housing and came to the area to seek services or engage in criminal activity. In recent weeks, outreach workers have been identifying the people who were living there full-time and working with them to find suitable alternatives.
As of Tuesday, 52 people had completed their move from the encampments to another location, mostly shelter beds throughout the city that had been reserved for them. An additional 25 people have accepted relocation offers from the city and were in the process of packing up their belongings Wednesday morning, Coordinated Response Team Director Tania Del Rio said. Nine people have been reunited with friends or family, and seven people were identified Tuesday for placement Wednesday. Teams were "re-triaging" the area Wednesday morning to identify others in need of shelter.
In total, there were between 50 and 55 temporary structures at Mass. and Cass in recent weeks, Del Rio said. Only 14 remained Wednesday morning, with Del Rio saying that "great progress" had been made.
No one living there has outright declined a shelter offer from the city yet, Del Rio said. Some have said that their initial placement was not to their liking and are working with the city to find other options. No arrests have been made yet.
The Public Works Department will ideally clean Atkinson Street Wednesday afternoon as workers continue to collect debris and abandoned items. There were two tons of debris collected by the end of Tuesday, Wu said, and she expected no more than three additional tons Wednesday. In January 2022, when the city conducted a similar operation, workers removed 44 tons of debris.
In interviews, Wu has stressed her optimism that her administration's current actions will stop or significantly impede the cycle of encampments being created at Mass. and Cass and elsewhere in Boston.
"This pipeline has been working really well, and the team has been refining it over the last year-and-a-half, almost two years. We're in a really different place." Wu said Wednesday morning on the online "Java with Jimmy" show. The ordinance, while it has received a lot of attention, is "one small piece" of the larger equation, she added.
"Mobile outreach teams" are being tasked with preventing encampments citywide by connecting people living on the street with shelter and services. Some have dedicated jurisdictions, such as Clifford Park, or Moakley Park and Andrew Square, Wu told host Jimmy Hills. Others will focus their work wherever the need arises throughout Boston.
Wu said she still expects difficulties, and that people will inevitably still try to erect tents in different parts of Boston.
"It will take sustained effort, and we will expect to see other tents pop up in different parts of the city, and we will look to connect people as quickly as possible and take down those tents. But there is no magic wand to being able to say that now the city is in a bubble and we've moved on," she said. "We're going to keep at it."
Sorry. This form is no longer available.
Newsletter Signup
Stay up to date on all the latest news from Boston.com