Local News
Plymouth couple told they can leave Gaza — but not their kids
The Shafai family, of Plymouth, was visiting family in Gaza when the war broke out.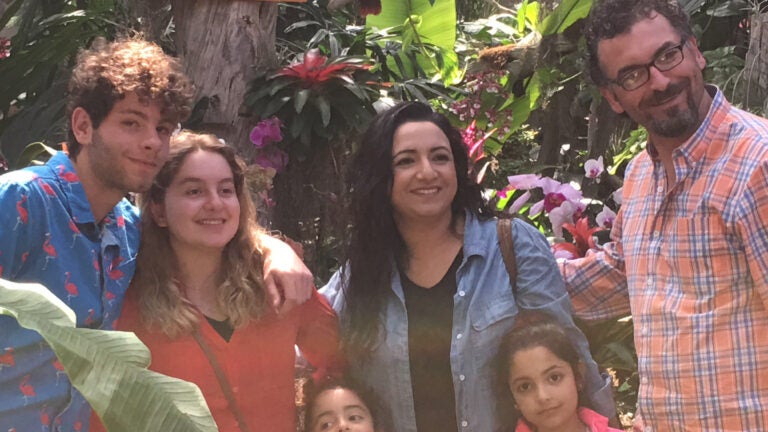 A Plymouth family that has been trapped in Gaza since the Israel-Hamas war began is still inside the enclave, after being told at a border crossing that the children would not be allowed through to Egypt.
Hazem Shafai, 47, Sanaa Shafai, 36, and their children, Seera, 13, Yomna, 10, and Jaser, 2, had already been turned away at the Rafah Crossing at the Egyptian border with Gaza multiple times over the past few weeks. Diplomatic talks produced a breakthrough earlier this week, allowing injured Palestinians and foreign nationals to escape the war zone.
So the Shafai family traveled to the crossing again Thursday but "they were expected to leave the children behind," Hazem's brother Hani Shafai told The Boston Globe.
According to Hani, Hazem and Sanaa's names were on a list of people who would be allowed to enter Egypt, but their children's names were not. They made the decision to return to the place where they had been sheltering.
The fact that the children were not given safe passage baffled the family.
"Nobody is going to just leave a 2-year-old, a 10-year-old, and a 13-year-old behind," Hani told the Globe. "These kids were born in the U.S., they're citizens just like everyone else, to say 'leave them behind' is just inhumane."
Another Massachusetts family, also with a young child, was allowed to leave Gaza Thursday morning. Medway residents Abood Okal; his wife, Wafaa Abuzayda; and their 1-year-old son are now safely in Egypt, planning a way to return home. An attorney and family friend of theirs, Sammy Nabulsi, shared some details of how the border crossing process works. Nabulsi had been advocating for the Okal family and other U.S. residents to be let through the crossing.
There are two lists of people who are allowed through, Nabulsi told the Globe. One is maintained by U.S. State Department officials and the other by Palestinian officials. It is Nabulsi's understanding that those looking to escape must be on both lists, and that the Palestinian list is subject to frequent changes.
The children's names were apparently not on both lists, forcing the Shafai family to head back into Gaza and hope that the situation changes in the future. They are in touch with the U.S. Embassy, the State Department, and congressional representatives to coordinate an exit plan, the Globe reported.
The humanitarian crisis in Gaza continues to spiral out of control, even with a slow trickle of aid now allowed in from Egypt. The Okal family described staying inside for days on end, surviving off canned goods and, occasionally, saltwater as bombs rained down outside.
The Shafai family has also had trouble getting clean drinking water, Hani told the Globe. Dehydrated already, their situation was made worse when many of them contracted the flu last weekend. Most of them have recovered, but 2-year-old Jaser still has a fever and is throwing up. While he works to care for his family, Hazem is also on the hunt for desperately needed diabetes medication.
Palestinian officials released a list of almost 600 people that were approved to leave on Thursday, Reuters reported. Those names were all checked by Israel, with the country reportedly vetting lists to make sure no Hamas fighters escape. Residents of Belgium, Greece, Sri Lanka, the Netherlands and more were included on the list. But many others were turned away, despite having valid passports.
Egyptian national Ghada el-Saka told Reuters that she was visiting relatives in Gaza when the war broke out. She and her daughter wept in frustration at the Gaza side of the Rafah Crossing Thursday after being told that they could not cross.
"Why are you leaving us in this destruction? We've seen death with our own eyes," she said, according to Reuters. "I want to pass. We are not animals. I have Egyptian rights, we are Egyptian."
Newsletter Signup
Stay up to date on all the latest news from Boston.com