Local News
UMass student charged for allegedly punching Jewish student, spitting on flag
The student allegedly confronted someone with an Israeli flag and shouted, "You think you're so tough waving a flag, Zionist s—bag, let's see how tough you are when I'm out here!"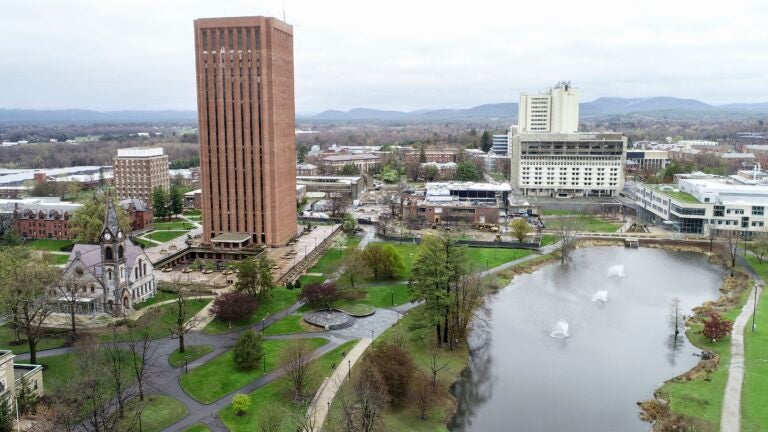 A University of Massachusetts Amherst student is facing charges after allegedly attacking a Jewish student and spitting on an Israeli flag following an on-campus demonstration Friday.
The alleged assault happened just after UMass Hillel held an event calling for the release of Israeli hostages taken during Hamas' Oct. 7 attack on Israel. UMass Hillel said in a statement that as the gathering was ending, a student walked through the crowd "aggressively giving people the middle finger."
"After the event had concluded and event security had left, the same student returned to the site of the event and punched a Jewish student holding an Israeli flag, then took the flag and spit on it," UMass Hillel said.
UMass police investigated and arrested the student Friday night, university officials said in an email to the community.
"What this student is accused of is reprehensible, illegal, and unacceptable," Interim Vice Chancellor for Student Affairs and Campus Life Shelly Perdomo-Ahmed and Chief of Police Tyrone Parham said in the email. "Let us be clear, these were the actions of an individual who did not speak for nor act on behalf of a group or anyone other than themselves."
Neither UMass Hillel nor university officials named the student charged in the alleged attack, identified in court records as Efe Ercelik.
Ercelik pleaded not guilty Monday to two counts of assault and battery with a dangerous weapon; larceny; vandalism; assault and battery; assault and battery with intent to intimidate; and disorderly conduct. Boston.com has reached out to his attorney for comment.
What allegedly happened at UMass Amherst?
According to a statement of facts filed Monday in Eastern Hampshire District Court, Ercelik's alleged victim — a Jewish student — told police that a man "approached him in an aggressive manner" toward the end of the event, called him names, and punched him in the face, followed by a shove and a kick to the stomach.
One witness who was with the Jewish student reportedly told police that Ercelik saw the student waving a small Israeli flag he'd gotten from the event and came charging out of a building, shouting, "You think you're so tough waving a flag, Zionist s—bag, let's see how tough you are when I'm out here! I'll get you; you'll see what happends [sic]!"
Another witness who was with the group told police that Ercelik said, "You aren't allowed to eat pork, so why are you walking around like fat f—ing pigs" as he confronted them, according to the statement of facts.
One of the witnesses told police that Ercelik shoved and struck them as they attempted to break up the conflict, according to the court document.
Ercelik allegedly ripped the Israeli flag from the Jewish student's hands and began destroying it. According to the statement of facts, the student later told officers he saw Ercelik stab the flag with what appeared to be a chef's knife, spit on the flag, and rip up the remnants before throwing them in a trash can.
The student did not have any marks or bruises following the alleged attack and declined medical attention, police wrote in the court document.
Ercelik was released on bail and ordered to stay away from campus, according to university officials.
"The student will be subject to the legal consequences of their actions as well as the Student Code of Conduct," Perdomo-Ahmed and Parham said.
They added: "Antisemitism, Islamophobia, or any form of bigotry have no place in our community, and we are committed to ensuring that our community's engagement with opposing viewpoints is maintained in a respectful manner."
While Perdomo-Ahmed and Parham said there were "no indications of any credible threats to the UMass community," they urged students to report any safety concerns to campus police at 413-545-3111, or 911 in an emergency.
'The disturbing reality for Jewish students on campus'
UMass Hillel said it will provide additional resources for students "in need of personal and communal support, and partner with all voices of care, civility, and reason in this difficult time."
"We know this incident is disturbing to many of us, particularly during a time when tensions, emotion and concern are heightened on our campus," the organization's statement read. "But we must not let the most extreme voices and actions create undue fear or dominate the campus climate."
The alleged assault at UMass comes as college campuses grapple with heightened tension and campus activism surrounding the ongoing Israel-Hamas war.
Rabbi Jonah Steinberg, regional director of the Anti-Defamation League New England, called on UMass to create a task force or advisory council to address Jewish life on campus and to include antisemitism in its diversity, equity, and inclusion programming and new student orientation, among other steps.
Friday's arrest is "the latest proof point that Jewish students are under attack," Steinberg said in a statement posted to the social media platform X. "That this occurred on the Jewish Sabbath, immediately following a peaceful gathering held by [UMass Hillel] calling for the return of the nearly 300 hostages held by Hamas, is an example of the disturbing reality for Jewish students on campus right now."
Newsletter Signup
Stay up to date on all the latest news from Boston.com