Local News
Read: Pro-Palestinian Harvard student group responds to viral video
Harvard's Palestine Solidarity Committee denied that the viral footage of an on-campus clash last month shows protesters harassing a student due to his identity.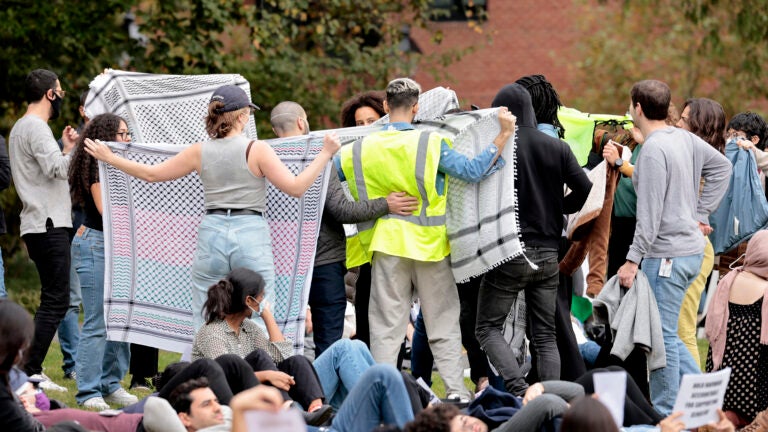 A pro-Palestinian Harvard University student group is disputing accusations of harassment following a viral video of a clash between demonstrators and a student at an on-campus event last month.
The footage shows several demonstrators huddling around a man and holding up Palestinian keffiyehs — traditional scarves — to block his view of a "die-in" that Harvard's Palestine Solidarity Committee held outside Harvard Business School on Oct. 18. Some of the protesters appear to make contact with the man as he attempts to dodge them, and the protesters can also be heard yelling, "Shame! Shame! Shame!"
In a statement last month, Harvard Business School Dean Srikant Datar wrote that the "troubling confrontation" involved one of the school's graduate students. It was not clear whether the student is Jewish or Israeli, as some accounts have claimed.
"Widely circulated footage has been contorted to suggest that the individual was harassed due to his identity," Harvard PSC said in a statement posted to X on Sunday. "Nothing could be further from the truth."
Aerial footage captured by NBC10 Boston appears to show the student walking around the demonstration and holding his phone aloft as protesters attempt to block him.
The Palestine Solidarity Committee alleged that the man "aggressively began stepping over protestors, recording their faces as they laid in a vulnerable position. Protestors reported the individual stepping on their heads."
Students who were serving as safety marshals for the event repeatedly asked the man to leave and "acted with propriety" when he refused, the group asserted.
"We simply wanted to prevent him from putting more students at risk," Harvard PSC said.
Harvard students affiliated with pro-Palestinian groups have faced recent doxxing efforts and national backlash after Harvard PSC circulated a letter in which dozens of campus organizations said they "hold the Israeli regime entirely responsible for all unfolding violence."
That letter appeared online shortly after Hamas's Oct. 7 surprise attack on Israel, which soon spiraled into a full-blown war.
Read Harvard PSC's full response to the "die-in" video on X:
Newsletter Signup
Stay up to date on all the latest news from Boston.com