Local News
Maine looks to pay funeral costs for families of mass shooting victims
The Lewiston shootings killed 18 people, wounded 13 and sent the city into a lockdown until the gunman's body was discovered two days later.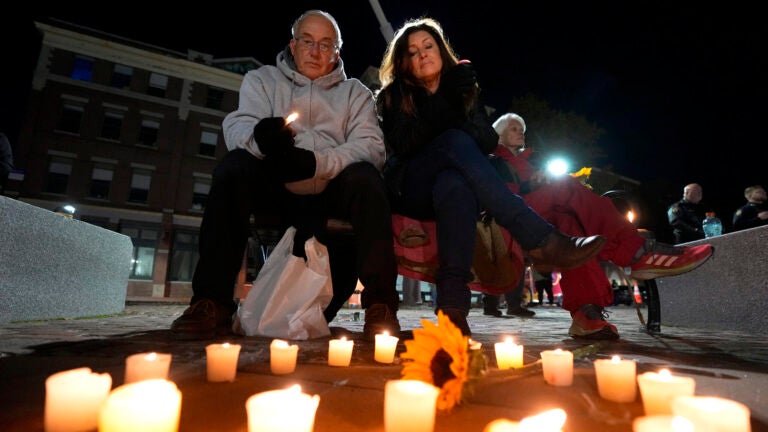 PORTLAND, Maine (AP) — Maine's government is going to cover the cost of funerals for families who lost loved ones in the deadliest mass shooting in the state's history, the office of Gov. Janet Mills said Wednesday.
An Army reservist opened fire inside a bowling alley and a bar in Lewiston, the second largest city in the state, on Oct. 25. The shootings killed 18 people, wounded 13 and sent the city into a lockdown until the man's body was discovered two days later. He died of a self-inflicted gunshot.
Funerals for victims of the shootings began late last week. The administration "is working to ensure that the families of victims do not have to bear any financial costs for the funerals of their loved ones," said Ben Goodman, a spokesperson for the Democratic governor.
The state is getting the money from a victim's compensation program run through the attorney general's office, and supplementing it with money from the governor's contingent account, Goodman said.
The shootings rocked the state, which is well known for high levels of gun ownership and low levels of violent crime. The victims included a shipbuilder, a sign language interpreter and a 14-year-old bowler and his father. The state's deaf community was hit especially hard by the shooting and lost four members.
The Lewiston community is grieving two weeks after the shooting took place, and other cities and towns around Maine have offered an outpouring of support. Signs that say "Pray for Lewiston" and "Lewiston Strong" are common in Portland, the largest city in the state, located 35 miles away. Lewiston was also visited by President Joe Biden last week.
Three injured patients remained in stable condition at Central Maine Medical Center on Tuesday, representatives for the hospital said.
Mills also announced this week that the U.S. Small Business Administration has approved a request to make financial assistance available to Maine businesses that were impacted by the shootings. Businesses in Lewiston and the nearby communities of Lisbon and Bowdoin closed in accordance with a shelter-in-place order issued while authorities searched for the shooter.
"SBA stands ready to help Maine's small business owners impacted by the mass shooting in Lewiston, which tragically took lives and disrupted neighborhoods," said Isabel Casillas Guzman, administrator of the small business administration.
Extra News Alerts
Get breaking updates as they happen.