Local News
800 drivers in Boston find parking tickets with 'positive affirmations' on their cars; here's why
Art students at Tufts went out in the middle of the night last weekend, doling out fake parking tickets with positive messages. The project received plenty of compliments — as well as some criticism.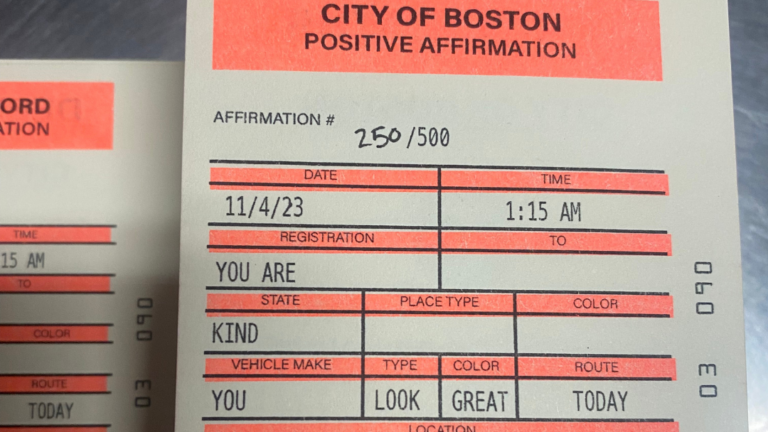 The sight of a bright orange envelope, tucked in by windshield wipers so that it rests securely on your car window, reasonably causes panic over what is likely (and unfortunately) a dreaded city parking ticket.
Collin Serigne, an art student at Tufts University, said he and his friends have gotten plenty to know the feeling.
"Collectively we have a couple thousand dollars worth of parking tickets since we've been here," Serigne joked.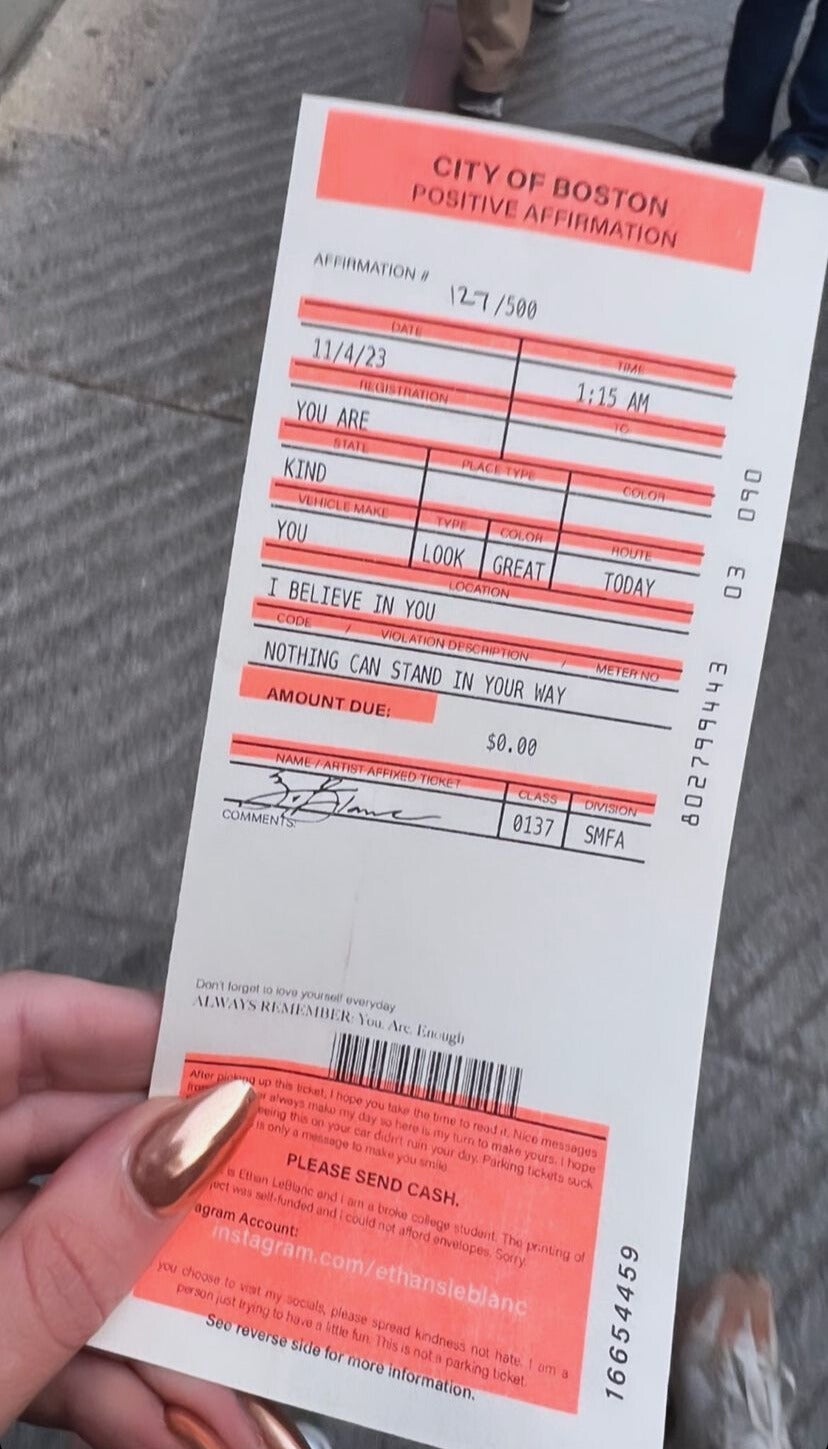 And though he assumed some may initially feel stressed when they saw the parking tickets he and his friends placed throughout Boston on car windshields, dread was not at all the goal.
Around 800 car owners instead found "tickets" with positive affirmations, such as "you are kind" and "I believe in you."
The tickets were part of an art project for a class Serigne's friend, Ethan LeBlanc, who specializes in the printmaking medium, was taking at Tufts's School of the Museum of Fine Arts. With the help of a brainstorming session with Serigne and friend William Casey, all art students originally from Louisiana, they used their own parking tickets to make sure the fake tickets they designed in Photoshop were accurate, then printed them on nice cardstock paper. Friend Aden Malone also helped them put together a word search on the back of the ticket.
Then from midnight to 5 a.m. last weekend, they put them on cars in various Boston neighborhoods and suburbs: Jamaica Plain, Mission Hill, Medford, Somerville, to name a few.
"We felt like the contrast between having something so abrasive like a day-ruining parking ticket, and then when you actually read it and it's like, 'Oh, this is nice,'" Serigne said. "It's a small gesture, and the compliments are nothing crazy deep or emotional or substantive."
They posted the project on LeBlanc's Instagram, expecting to maybe get a few direct messages in response, since they also put LeBlanc's social media handle on the tickets.
The art students did in fact receive messages, as early as 3 a.m., when they were still distributing tickets. LeBlanc's post on Instagram also saw more than 100 comments and nearly 2,000 likes. Then it was discussed on Reddit, picked up by OnlyInBoston, and WBZ's Matt Shearer even interviewed them.
The project going viral resulted in compliments — well, mostly.
"As an alum of SMFA, this is genius," @k_powellll commented on Instagram. "I hope it blows up. Congrats."
The criticisms of the project were mostly from people who were mad — or who would have been mad — to see a parking ticket, even if it was fake, in a city where parking is notoriously difficult.
"I guess I'm a grinch, this would just irritate me," said moveMed on Reddit, which Serigne noted was where the majority of the negative comments were posted. "Don't put fake tickets on people's cars. I don't need an anonymous note from someone that surely doesn't know me and has never seen me telling me they think I look great and that I'm kind."
Some social media users also were skeptical about the part of the ticket that said "please send cash." But LeBlanc told Shearer in an interview that there was no way for anyone to send him money — it was just there because that's how parking tickets usually look.
Serigne added that the comments roasting the project — including some that, for whatever reason, criticized Mayor Michelle Wu — were reason enough to do a project that was meant to be positive, "given the state of the world."
"We just wanted to spread positivity."
Newsletter Signup
Stay up to date on all the latest news from Boston.com