Local News
Here's what the 'Gronk Playground' on the Esplanade will look like.
The design goals for this project include increasing awareness about the importance of staying active.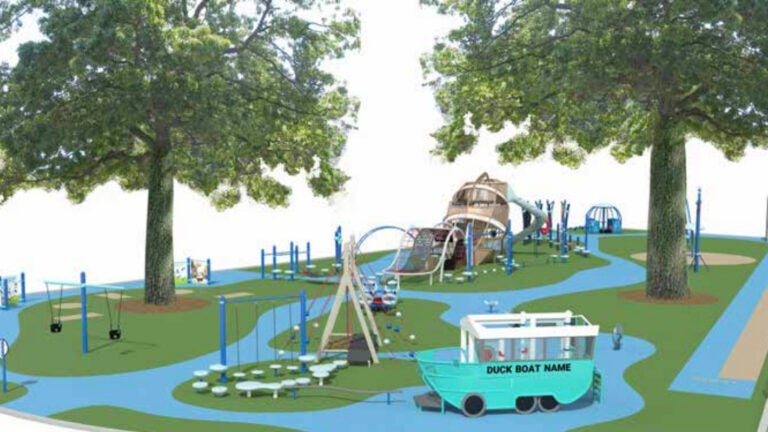 Rob Gronkowski, the beloved former tight end for the New England Patriots, is the namesake for something fun coming to the Esplanade.
The Gronk Playground will be added to Boston's green space along the Charles River, according to the Massachusetts Department of Conservation and Recreation (DCR).
Gronkowski donated $1.2 million in 2021 for the full renovation of the former Charlesbank Playground on the Charles River Esplanade, in what officials described as "one of the largest private gifts ever to a state park in Massachusetts."
The design plan for this recreational space will include a giant football-shaped play structure, with "custom panels with inspirational quotes from athletes on the football," according to a presentation from DCR, as well as an accessible merry-go-round, swings, and a rope climb.
The Gronk theme will continue throughout the playground, with a 40-yard dash area and a Gronk high five high jump cutout showing the player's 6-foot-6 frame.
Bostonians will also recognize the child-size Duck Boat and climbing area modeled after the Zakim Bridge on the site.
This playground was designed specifically for children ages 2-5 in the southernmost section and children ages 5-12 in the northern region.
The renovated playspace will be located on the northeastern part of the Esplanade, past the Stoneman Playground and the Esplanade Playspace.
City officials noted in the presentation that extra care will be taken not to disturb the trees found in the area during the renovation.
Since his retirement from the NFL, Gronkowski has been involved in several charitable causes and corporate sponsorships. His Instagram bio reads, "The one and only Robbie G, former NFL TE who now has a bigger firmer tight end since retiring."
Like the former football player himself, this playground will be focused on fitness, according to city officials.
The design goals for this project include increasing awareness about the importance of staying active as well as encouraging children to play together.
Newsletter Signup
Stay up to date on all the latest news from Boston.com