Local News
Boston no longer pursuing inclusion in program to ban fossil fuels in new construction
Boston was in the running for the final spot in the pilot program, but Mayor Michelle Wu said in an interview recently that she was given "clear indications" the city would not be chosen by state officials.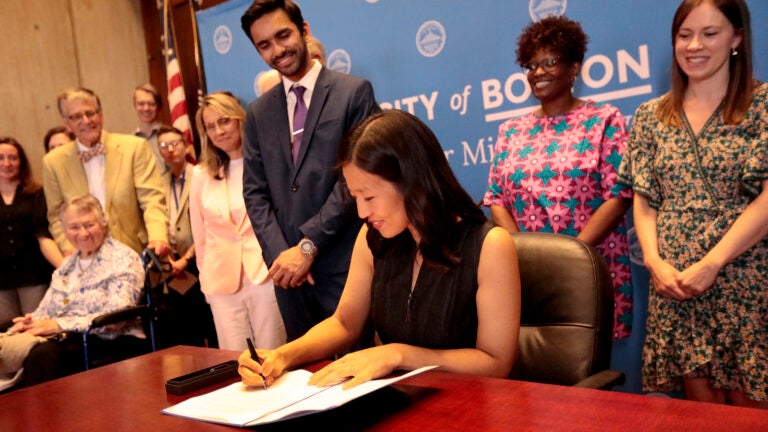 The city of Boston will no longer be pursuing inclusion in a program that would allow it to ban fossil fuels from new construction.
The program was open to 10 Massachusetts municipalities, and nine of those spots have already been taken. Mayor Michelle Wu told The Boston Globe last week that she had received "clear indications that Boston would not be chosen for the one available spot," and that it "breaks [her] heart."
Boston was unlikely to be accepted because it is "electrically similar" to a few other communities that have already been selected, such as Cambridge, Brookline, and Arlington, a spokesperson for the state Department of Energy Resources told the Globe. This means that their infrastructures are of a similar age and face similar demands. The pilot program was designed to collect data from a diverse group of municipalities.
Wu ran on a campaign that heavily emphasized the importance of fighting climate change. Last summer her office highlighted its submission of a Home Rule petition to make it eligible to participate in the program. She repeatedly talked about the potential of the pilot program and her hopes for Boston's inclusion. As recently as July, Wu told WBUR that the city has the resources and partnerships necessary for a transition, and was "waiting to hear back" about inclusion in the program.
Wu issued an executive order over the summer that banned the use of fossil fuels in new city-owned buildings and major renovations of municipal buildings.
Acton, Aquinnah, Arlington, Brookline, Cambridge, Concord, Lexington, Lincoln, and Newton have already been chosen for inclusion. Boston was competing for the final spot alongside Northampton, Salem, and Somerville.
Kyle Murray, Massachusetts program director at the clean energy advocacy group Acadia Center, told the Globe that Boston's new building code already does a lot to prevent fossil fuel usage in new buildings.
"[The code is] strong and will really help drive down emissions," he told the paper. "So I still think Boston is going to do some amazing things, but still — I'm a little disappointed."
In Boston, 70% of greenhouse gas emissions come from the building sector, Wu has said.
The mayor's "Green New Deal for Boston" formed the basis of the legislation that created the pilot program, state Sen. Michael Barrett of Lexington told the Globe.
"The irony here is that one of the inspirations for the language in the legislation was then-candidate Wu's Green New Deal for Boston," he said. "It was very aspirational."
Sorry. This form is no longer available.
Newsletter Signup
Stay up to date on all the latest news from Boston.com