Local News
Does rent control have a fighting chance in Brookline?
Rent control is banned in Massachusetts, so Brookline would have to get state approval to cap rent increases.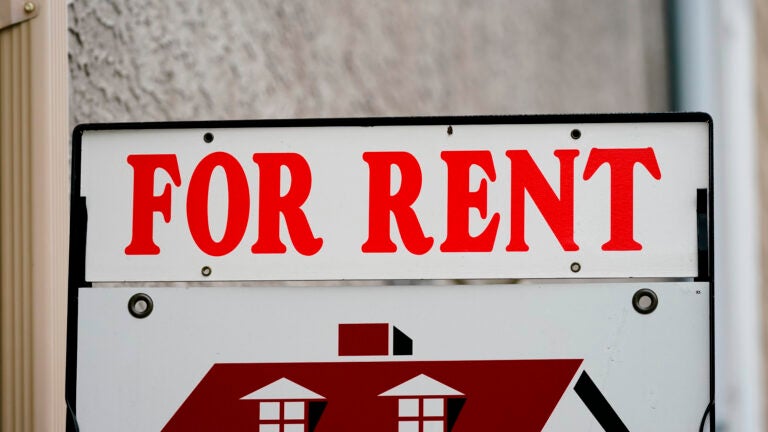 Rents can't seem to stop climbing in metro Boston, up by 6.7% since the start of the year. Brookline, the suburb of Boston completely surrounded by Boston neighborhoods, is no exception — and some Town Meeting members say it's driving people out of town.
That's why three residents are proposing a bill that would stabilize rent.
Town Meeting members Alec Lebovitz and Kimberley Richardson and resident Johnathon Card presented Warrant Article 16, which would keep rent from increasing too much each year, at a base rate increase of 3%, plus inflation, for a maximum increase of 7%.
"The sad reality is in Brookline, not just low-income households, but middle- and even upper middle-income households are being forced out of Brookline because costs are just so high and continue to rise rapidly," Lebovitz said.
He added that there hasn't been a better time than now to strike when it comes to some form of rent stabilization. Public approval for the solution seems to be increasing due to the housing crisis, and Brookline isn't the only city considering such a measure.
But that doesn't mean the proposal will easily pass.
What would the measure do?
Rent would be capped annually, preventing landlords each year from increasing it past that 7% cap. As of November, rent for one-bedroom units had increased by 11% compared to last year, according to real estate website Zumper.
"I've talked with residents … who told me about $800 a month increases in their rent, without any corresponding change in their maintenance or the quality of their housing," Lebovitz said.
It would exclude some properties, such as units built in the last 15 years, buildings with four or less units, dormitories, and public housing.
But the proposal isn't just pushing for rent stabilization. Lebovitz said this article would also include bylaws that would give tenants more protections against evictions and the costly displacement if their landlords switch the building's units to condominiums.
This article is a home rule petition, which means it's actually asking for state legislators to allow Brookline to bypass the rent control ban that has been in place since 1994. Until that ban, rent control had been in effect in Brookline, and it should be noted that Brookline voters were against the ban that essentially killed rent control in Massachusetts.
Why now?
Rents are high, and there are no signs of them dropping because of a much discussed supply-and-demand issue when it comes to housing of any kind in the Boston area — there are more people than there are places for them to live.
This is a major problem in Brookline, where zoning laws have kept new multi-family housing from being built for decades, an issue covered extensively by The Boston Globe's Spotlight team.
Alongside the rent stabilization article, Town Meeting members are also discussing and considering ways the city can — or rather, must — come in line with the MBTA Communities Act. The state law requires municipalities to come up with zoning laws that allow for more multi-family housing near transit lines.
But alongside local conversations of necessary zoning changes is what Lebovitz called a "movement" when it comes to acceptance of rent control.
"We're inspired by some of the organizing we've seen in Boston, Somerville, and Cambridge," Lebovitz said. "Here in Brookline, there's been a lot of activity very recently around this issue."
Both Boston and Somerville are considering home rule petitions that would similarly stabilize rent, capping the percentage of rent increases each year.
According to a statewide poll released in March, 65% of respondents said they support local governments being allowed to make decisions about rent control.
To get rid of the ban altogether, state Rep. Mike Connolly, a Cambridge Democrat, had proposed putting a question on ballots that would ask voters if they wanted to get rid of the ban. But the petition to put the rent control item on ballots didn't earn enough signatures, Connolly said Friday.
Even if it had moved through, it faced an expensive battle against the real estate industry that doesn't support any form of rent control and has vowed to spend the money necessary to squash such legislation.
Does the article have support?
For Brookline's home rule petition, the battle lines drawn are really no different from other rent control measures.
According to Brookline News, the majority of Town Meeting members are homeowners, and Beacon Hill is overwhelmingly made up of property owners, compared to both bodies' share of renters.
And those real estate groups that opposed the ballot question also oppose the home rule petitions. The Greater Boston Real Estate Board spent $400,000 on a mailer campaign against Mayor Michelle Wu's rent control plan.
When asked about Brookline specifically, board CEO Greg Vasil said rent control isn't the answer in a town trying to build more multi-family housing.
"If you pass rent control, then you're going to prevent multi-family development because no developer is going to come in and take the risk of building," Vasil said.
Both the Select Board and the Advisory Committee are recommending no action on the article at this week's Town Meeting.
Groups that have long advocated for more low- and middle-income housing options, like Brookline Equity Coalition and Brookline PAX, came out in favor of the proposal.
"We've always supported (rent control), and now we still need it in some fashion," said Marty Rosenthal, Brookline PAX co-chair. "Brookline is a very expensive community, and it's very hard to buy or rent here. Tenants especially have no protection."
Brookline for Everyone, a pro-housing group that has been pushing for improved zoning laws that build more housing, said their position is neutral. Board member Jeff Wachter said a rent stabilization plan should be studied before implemented.
"Poorly constructed rent stabilization is worse than nothing," Wachter said. "We've seen it create problems in other places in the country where you end up with people who might have their rent stabilized in a high cost place, but their home deteriorates around them without any attention from the owners to actually fix anything."
A major item that will kick off Town Meeting Tuesday is the MBTA Communities Act and how Brookline can comply. The article will also be discussed during Town Meeting this week, and can be streamed on Youtube.
Newsletter Signup
Stay up to date on all the latest news from Boston.com