Local News
Teachers strike ends in Andover as school committee, union reach agreement
"We cannot begin to thank the Andover community enough for their support."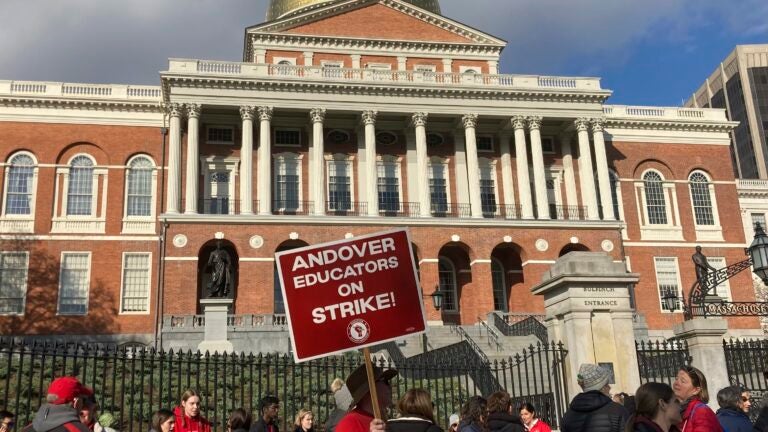 Students will return to class on Wednesday in Andover after the school committee and teachers union reached a tentative agreement, bringing an end to the strike that began last week.
"We cannot begin to thank the Andover community enough for their support," the Andover Education Association wrote on Facebook, announcing that an agreement was made with school officials. "We cannot wait to see our students in school tomorrow."
According to the union, the "transformative" tentative agreement will have "an immeasurable impact" on the district, guaranteeing a living wage for instructional assistants, 12 weeks of paid parental leave, the ability to use accrued sick time to care for family members under the Family and Medical Leave Act, and additional time for recess and lunch for elementary students.
According to the Andover School Committee, the agreement boosts contractual increases over four years for teachers by 15.5 percent and for instructional assistants by 34 percent.
"We heard clearly from the teachers and many in the community that teacher and instructional assistant pay was the priority in this agreement and we responded accordingly," Tracey Spruce, Chair of the Andover School Committee, said in a statement. "At the same time, the final agreement is inconsistent with the principles of the town's long-range financial plan so, to live within our means, we will need to make meaningful program, service, and staff reductions."
The Andover Education Association voted Thursday night to go on strike and schools have been closed since then.
It is illegal for teachers and other public sector employees to go on strike in Massachusetts, and the Andover Education Association was fined Monday for each day the strike continued.
In a statement, the union said it anticipated the fines.
There is a push on Beacon Hill to give teachers and other public sector employees the right to strike. Andover joins other communities, including Woburn, Brookline, Malden, and Haverhill, that have recently seen teachers unions initiate strikes.
Newsletter Signup
Stay up to date on all the latest news from Boston.com