Local News
Wu explains decision not to apply for fossil fuel construction ban, says city will pursue it another way
The city could not meet the application deadline for a state-run program that would have allowed it to enact a ban, and Wu was told Boston would likely not be accepted into the program anyways.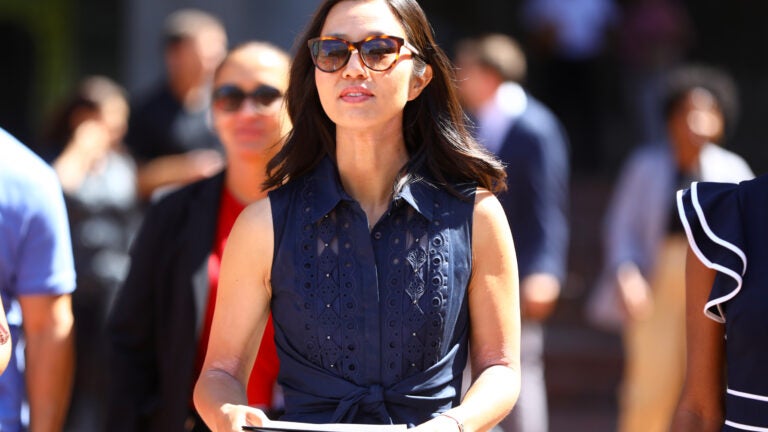 This week, news broke that Boston would no longer be pursuing inclusion in a pilot program that would allow it to ban fossil fuels from new construction. Mayor Michelle Wu fleshed out more details about what went into that decision Tuesday, saying that the city remained committed to sustainability goals and that she would pursue other means of eliminating fossil fuel usage.
The program was open to 10 communities, with nine of those spots already taken. Boston was vying for the final spot, with city officials repeatedly publicizing its importance and the steps they were taking to apply for it. Last summer, Wu's office said it would be launching a community engagement process to, in part, "determine applicability" and lay out a timeline for the transition.
The initial core of the pilot program was not modeled around the idea that Boston would be included, Wu said during an appearance on GBH's "Boston Public Radio" Tuesday. Since the city is so different from the other communities involved, she said there was not enough time to complete the necessary planning and community engagement "in a thoughtful way" in time for the application deadline.
On top of that, Wu said that her administration had received some indications that Boston had a slim chance of getting selected for the program, which is run by the Massachusetts Department of Energy Resources.
"We had to make a choice: do we rush the engagement with community to do this by the deadline for a program that there was little chance we were actually going to get selected for, or to find a way to try to expand the program, advocate, basically give up that last slot to do it a different way for Boston and reach it through a more meaningful and sustained community effort," Wu said on GBH.
She emphasized that the decision to pull out of the application process was not the result of any sort of lobbying efforts.
The majority of emissions in Boston come from buildings, Wu said. In particular, large buildings have an outsized impact. Just 5% of buildings make up 40% of all total emissions in the city, she added. Through various regulations on the books, the largest buildings are already being phased away from fossil fuel reliance.
In April, Boston implemented a new building code that discourages the use of fossil fuels in the construction of new buildings and major renovation projects. New buildings that will rely on fossil fuels are still required to install solar panels and wiring in anticipation of future conversion to electrification. Wu said that the city was looking to be included in the pilot program mainly to "close off that possibility."
"That's the last gap that remains from what we can do on our own and what we could have done with the state program that, again, we were told we probably wouldn't get into," she said.
Now, Wu said the city intends to "grab that last gap" by filing a home rule petition "on the right timeline" that ideally paves the way for more than just 10 communities to move away from fossil fuels in new construction.
The mayor signed an executive order this summer that banned the use of fossil fuels in new city-owned buildings and major renovations of municipal buildings
Wu said she was in constant communication with state officials during the application process. The city was never told outright that it had no shot at being accepted, but city officials understood it to be "very difficult" for Boston to be chosen, Wu said.
Wu reiterated that she still very much intends to transition the city away from fossil fuels.
"Truly, the decision was not about whether we want to move forward and be a fossil fuel-free city or not," she said. "We are doing it, one way or the other."
Newsletter Signup
Stay up to date on all the latest news from Boston.com