Local News
Boston had exactly one elementary school in the U.S. News list of top 100 in Mass.
All of the public elementary schools in the top 10 were in eastern Massachusetts.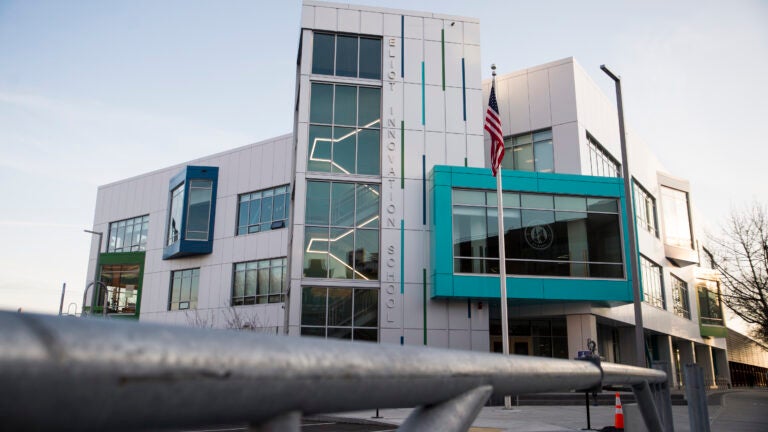 The U.S. News & World Report released its rankings of Massachusetts' top public elementary schools, with one Boston school in the top 10.
But Eliot K-8 Innovation School, which serves students in kindergarten through eighth grade in the North End, was the only Boston school in the list of 100 elementary schools, mostly surrounded by elementary schools in the wealthy suburbs that make up the metro area.
The rankings used standardized test scores to put together state and district lists.
"Half of the formula assessed the scores themselves and the other half incorporated the test results in the context of socioeconomic demographics," U.S. News & World Report said. "In other words, the top-ranked schools are all high-achieving and have succeeded at educating all their students."
The reason Eliot, a school with just under 800 students and a 14:1 student-teacher ratio, ranked so high was because 66% of its students scored at or above proficiency in math and 73% in reading.
The other schools in the top 10 were all located in eastern Massachusetts, and most were in the Greater Boston area.
In fact, the highest rank school in western Massachusetts was Williamstown Elementary — located near the border of New York and Vermont, at No. 49.
The top 10 also included some of the wealthiest communities in Massachusetts, including Wellesley, Weston, Dunstable, and Newton.
Some school districts, like Belmont, Wellesley, and Newton, saw multiple schools make the list — and in the case of Belmont and Newton, those districts had two schools show up in the top 10 alone.
Here are the top 100 public elementary schools in Massachusetts, according to the U.S. News & World Report:
Albert S. Woodward Memorial School, Southborough
Winn Brook Elementary, Belmont
Hunnewell Elementary, Wellesley
Mason-Rice Elementary, Newton
Eliot Elementary, Boston
Mary Lee Burbank Elementary, Belmont
Spring Street School, Shrewsbury
Swallow/Union School, Dunstable
Woodland Elementary, Weston
John Ward Elementary, Newton
Hildreth Elementary, Harvard
John D. Hardy Elementary, Wellesley
Wampatuck Elementary, Scituate
William E. Sheehan School, Westwood
Governor Edward Winslow Elementary, Marshfield
Vinson-Owen Elementary, Winchester
Martha Jones School, Westwood
Paul P. Gates Elementary, Acton
Luther Conant School, Acton
Daniel Butler Elementary, Belmont
Alcott Elementary, Concord
South Elementary, Hingham
Maria Hastings Elementary, Lexington
Bowman Elementary, Lexington
Roger E. Wellington Elementary, Belmont
High Plain Elementary, Andover
Paul Hanlon School, Westwood
Ambrose Elementary, Winchester
John M. Tobin Elementary, Cambridge
Huckleberry Hill Elementary, Lynnfield
North Falmouth Elementary, Falmouth
Margaret A. Neary School, Southborough
Field Elementary, Weston
Joseph Estabrook Elementary, Lexington
Broadmeadow Elementary, Needham
J.F. Kennedy Memorial School, Franklin
Manchester Memorial Elementary, Manchester
J. Harding Armstrong Elementary, Westborough
Peirce Elementary, Newton
Chickering Elementary, Dover
Loker School, Wayland
Downey School, Westwood
Martin Luther King Jr. School, Cambridge
Lincoln Street Elementary, Northborough
Joseph E. Fiske Elementary, Wellesley
Heights Elementary, Sharon
Old Post Road School, Walpole
Elm Street School, Walpole
Williamstown Elementary, Williamstown
William L. Foster Elementary, Hingham
Carlisle School, Carlisle
Bridge Elementary, Lexington
Joshua Eaton Elementary, Reading
Burke/Memorial Elementary, Medway
East Elementary, Sharon
Countryside Elementary, Newton
Hopkins Elementary, Hopkinton
Maria L. Baldwin School, Cambridge
Annie E. Fales Elementary, Westborough
Katharine Lee Bates Elementary, Wellesley
Elmwood Elementary, Hopkinton
Lieutenant Job Lane School, Bedford
Lincoln School, Lincoln
Heath Elementary, Chestnut Hill
L.D. Batchelder Elementary, North Reading
John D. Runkle Elementary, Brookline
Dale Street School, Medfield
John A. Crisafulli Elementary, Westford
Floral Street School, Shrewsbury
Pierce Elementary, Brookline
Schofield Elementary, Wellesley
Old Hammondtown Elementary, Mattapoisett
Johnson Elementary, Natick
Abbot Elementary, Westford
Orleans Elementary, Orleans
South Elementary, Andover
E. Ethel Little School, North Reading
Glover Elementary, Milton
Ivan G. Smith Elementary, Danvers
Deerfield School, Westwood
Horace Mann Elementary, Newton
Willard Elementary, Concord
Winthrop Elementary, Melrose
Day Elementary, Westford
Tisbury Elementary, Tisbury
Plymouth River Elementary, Hingham
Blanchard Memorial School, Boxborough
Fiske Elementary, Lexington
Manomet Elementary, Plymouth
Thoreau Elementary, Concord
J. Turner Hood School, North Reading
Summer Street Elementary, Lynnfield
Franklin Elementary, Newton
Mildred Aitken School, Seekonk
C.C. Burr Elementary, Auburndale
William Mitchell Elementary, Needham
Brackett Elementary, Arlington
Acushnet Elementary, Acushnet
Lincoln Elementary, Winchester
Peter Noyes Elementary, Sudbury
Newsletter Signup
Stay up to date on all the latest news from Boston.com